New Chicago Resident Finds Community and Peace in Caring for Greenspaces
Meet Daily Point of Light Award honoree Sree Ram. Read his story and nominate an outstanding volunteer or family as a Daily Point of Light.
Moving to a new city can be challenging for many reasons. When that city is outside of your native country, it can be even harder. Eight years ago, thirty-one-year-old Sree Ram moved to the US from a small town in India set amongst forests and mountains, but only settled in Chicago at the end of 2020. He took a job as a product owner for an insurance agency, and while he's passionate about his work, he likes to get out of the office and into nature on the weekends. With parents and grandparents in forest conservation, the passion for the great outdoors was bound to be passed down. 
"Being in nature is something that brings me back to the ground and makes me feel like 'Okay, I'm a human again,' when I get caught up with the fast-moving workweek," he states. 
To fill the natural gap in his city-living experience, Sree did a quick web search and found Chicago Cares, an organization that matches volunteers with service opportunities they are passionate about, some of which include working outdoors. Since 2017, Points of Light Global Network member Chicago Cares has engaged over 17,000 volunteers working towards a more vibrant and equitable city for all. 
Aside from feeling more grounded, Sree credits a tradition his mom started when he was a child for his motivation to volunteer. As a kid, each year on his birthday, his mom taught him to give something to others instead of buying or doing something for himself. Sree enjoyed it, and it has become a year-round habit well into adulthood.  
After trying a range of volunteer opportunities from helping out a food pantry to teaching, he landed with the Chicago Park District maintaining greenspaces across the city. He has been a volunteer leader for more than two years now, spending nearly every Saturday caring for the Lincoln Park Conservatory and the Kilbourn Park Organic Greenhouse.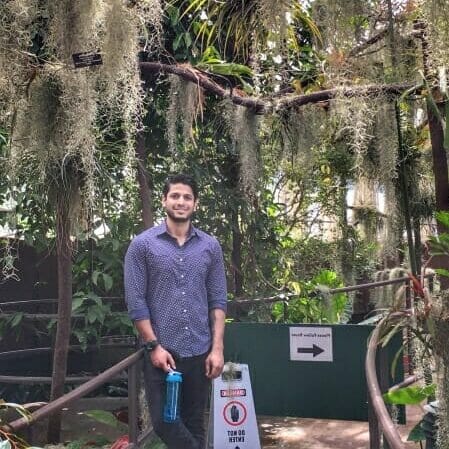 "Both of them are very understaffed, especially Kilburn Park Organic Greenhouse. They only have one staff member who takes care of the entire space. Having some support from volunteers helps a lot," he emphasizes. 
Sree also started volunteering as a way to learn more about the city and to make local connections, connections that Chicago Cares strives to foster through its community-driven programs, which help volunteers increase their engagement over time to become more active participants Chicago's civic fabric. For Sree, the aforementioned staff member in charge of the greenhouse, Renee Costanzo, has become one of his good friends.  
"I met Sree last summer. But it feels like I've known him for a really long time," Renee says. "We get a few different people who come to volunteer, mostly people in the tech industry that want to get their hands dirty or do something with their hands. And there are quite a few people who are new to Chicago and want to get involved or become familiarized with the city." 
Both Renee and Sree like to help people make connections and get involved in tasks they enjoy. Each three-hour volunteer shift starts 30 minutes early for the latter. Sree checks in with staff to see what needs to be done that day and any equipment needed. Tasks might include weeding, planting, mulching, tidying greenhouses or prepping for garden shows. The first fifteen minutes of the actual shift is centered around socializing and making sure volunteers get to know staff as well as each other.  
"I don't want them to just come here and work like a job. I want them to come here and enjoy," he adds. "I believe everyone who spends three hours of time volunteering is a very kind and humble person, because they want to give back to the community. So, I want them all to make a connection of friendship and expand their friends' community in this beautiful city." 
He also makes a point to find out what everyone wants to do and is able to do from the tasks available. Even after the work begins, he checks in with each person individually every half an hour or so, switching people around when needed. 
"There are people who wants to socialize and people who don't want to socialize, because they want to enjoy some green space time. I try to understand that and put them in a task that gives them some time with plants." 
"When he is helping me with placing people for different tasks, he's always eager to take the job that nobody wants, which is really encouraging for me because that's usually my thing," Renee laughs.  
His efforts have paid off. Many volunteers eventually jump from volunteering through Chicago Cares to working directly with the park district. One volunteer, a student in the nursing field, ended up finding friendship and an internship with a fellow volunteer and established therapist.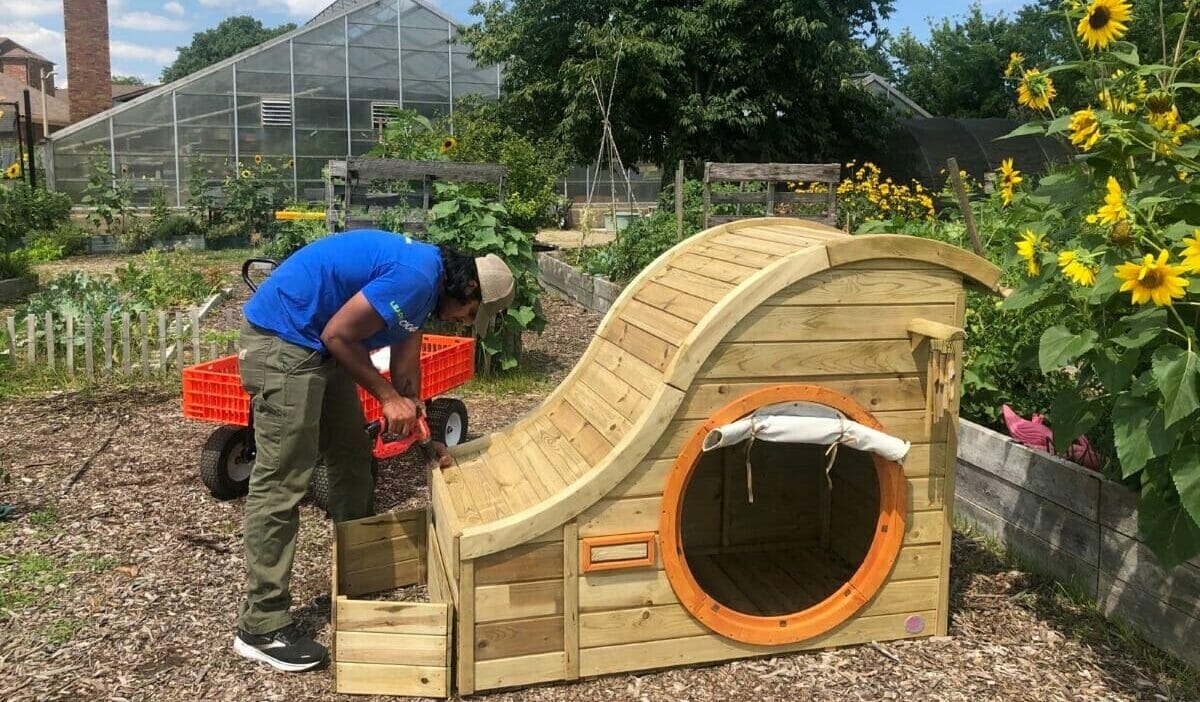 "He's really great about building community, which I think is really important for what Chicago Cares' mission is," Renee says. "It's hard to get acquainted with people, even with these opportunities that are meant to be that portal." 
It's those stories that Sree finds most rewarding. And, of course, simply being in nature. 
But that's not Sree's only weekend service. Living in a building that doesn't allow dogs, Sree also spends two Sunday mornings each month at PAWS, a local dog shelter, to get his puppy fix. After a 60-hour program that includes three weeks of training, a practical and an exam, he is getting ready to move up from his role as a level one volunteer to level two. As part of the change, he'll go from basic tasks like taking the puppies out for walks and cleaning their spaces to handling dogs with behavioral issues or physical challenges. 
It's Sree's dedication and commitment that makes him a pillar of the community. Not only can everyone in Chicago enjoy the nature that Sree has helped maintain, but they can find a welcoming face in the park or at the shelter ready to introduce them to a new friend. 
"Building a connection with selfless minds is always amazing, because they care for you, and they're always there for you," he says. 
And when it comes to choosing where to donate your time, Sree suggests beginning with what brings you joy. 
"Supporting a cause and getting back into the community will help us rediscover ourselves, love ourselves more and care for ourselves more," he muses. "It's always about starting with the love within us so that we can spread the love outwards. Find what makes [you] happy, and that will resonate and make the community happy."
Do you want to make a difference in your community like Sree? Find local volunteer opportunities. 
Share this post