New Jersey Teen Works to Prevent Suicide
Content Warning: Points of Light is proud to share the following uplifting and inspiring story. However, we acknowledge that a small portion mentions suicide and may be difficult for some readers. We encourage you to please care for your own well-being above all.   
Meet Daily Point of Light Award honoree Megan Ruzicka Read her story and nominate an outstanding volunteer or family as a Daily Point of Light.
During the COVID-19 pandemic, a lot of people Megan knew were suffering from isolation, depression, and anxiety. Megan was fortunate to be with her family during this time and didn't experience the emotional effects of lockdown but she could see how drastically it was affecting many of her peers. Mental health had been a big problem in high schools even before the added stresses of the pandemic but social isolation took it to a new level.
One day, Megan was scrolling online and came across a recommendation: the American Foundation for Suicide Prevention. She clicked on the link and immediately recognized that this was one way she could help.
Megan and her sister are active in the Girl Scouts of America, and they have both done volunteer work before, but nothing as substantial as their work with AFSP. Her sister also volunteers for the organization.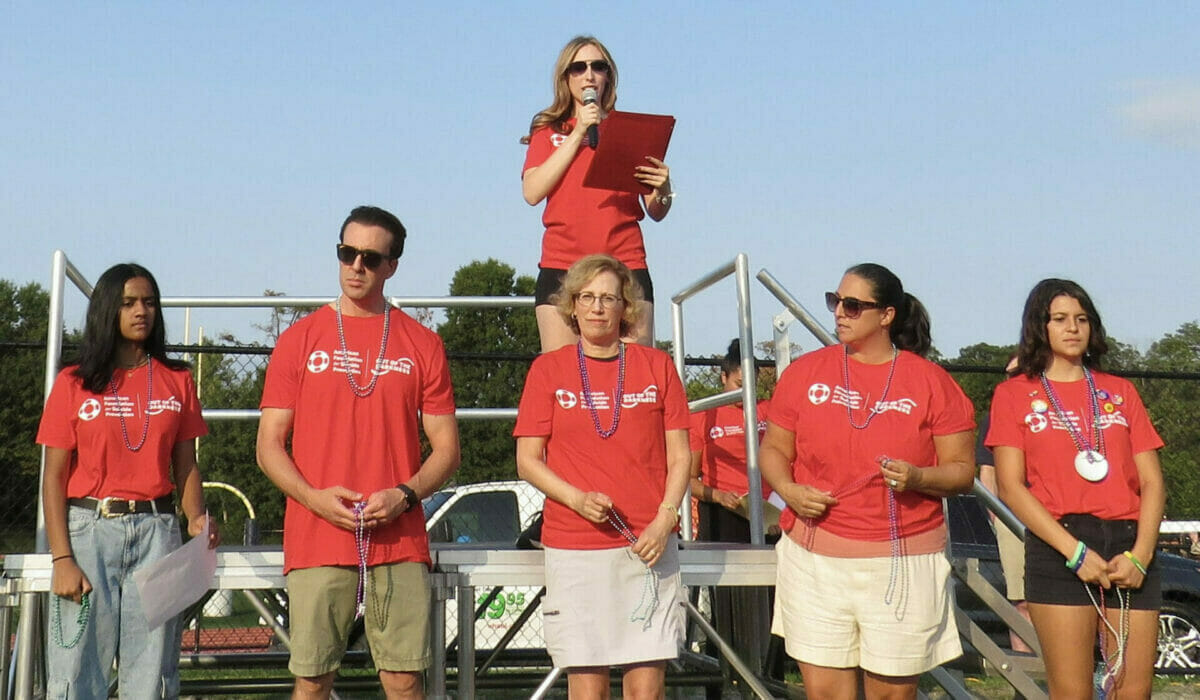 What inspires you to volunteer?
The people I meet are what inspires me to volunteer. I work at the various events hosted by AFSP where I get to talk to a lot of people in the community. I hear many stories of overcoming suicidal thoughts. I hear people whose lives have been forever changed because someone they knew took their life. It's very moving. My heart goes out to each and every one.
Describe your volunteer role with the American Foundation for Suicide Prevention:
The American Foundation for Suicide Prevention is a national organization with chapters in many counties within each state. I don't work as a counselor, but In 2021 and 2022, I was the Volunteer Coordinator and Committee Member for the AFSP Morris County Out of the Darkness Walk. I provide people with resources. AFSP has a lot to offer for veterans suffering from PTSD, people who have lost loved ones to suicide, and of course people who are struggling with severe depression and suicidal thoughts.
I work at community events such as the Morris County Out of the Darkness Walk. Last year, we had 300 attendees and 25-30 volunteers. Many of these volunteers were from local schools along with various community members.
At these events, I assist our special events manager in directing volunteers, manning the T-shirt table that features local sponsors, making sure that other booths are running smoothly, and directing fundraising teams to the various event activities. I also talk to attendees and hand out resource materials about suicide prevention.
Outside of the events, I canvass to raise funds for AFSP and encourage sponsors to attend the event. In 2021 the Morris County Out of the Darkness Walk raised $102,000 and in 2022 it raised $77,000. It's my goal to increase sponsorship this year.
I also was a speaker at the Out of the Darkness Walk where I conducted the Honor Bead Ceremony, and the event chair for the 2023 Food Truck Festival For Hope.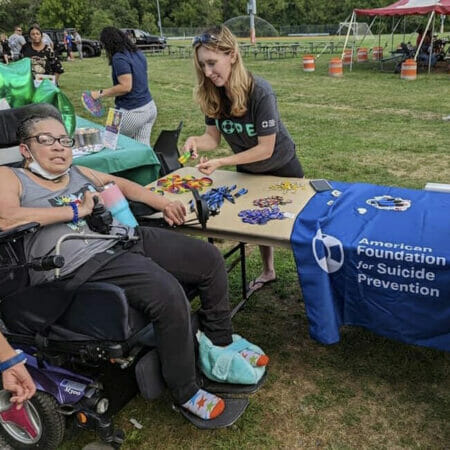 What's been the most rewarding part of your volunteer work?
I love to see people from the community come together for an important cause. Mental health is a huge problem in this country. AFSP is a wonderful resource. It's rewarding to me to be able to help someone by steering them toward the resources that can help them.
What have you learned through your experiences as a volunteer?
I have learned that nothing can be done alone. I've always had someone to support and mentor me. I know it truly takes a community to achieve change whether it's on a personal or community level, and you especially can't do it alone when you're struggling. Having a support system is essential, especially when you might be struggling with mental health.
Are there any future partnerships, programs, or events that you are excited about?
I'm excited about the Out of the Darkness Walks coming later this year. There are walks across the nation that people can attend. Another volunteer and I have been doing sponsorship canvassing today to inform local businesses about how they could contribute. We hope to increase event sponsorship and attendance.
Why is it important for others to get involved with causes they care about?
Making a difference outside of yourself and contributing solely to benefit the lives of others is life-changing. People who aren't struggling in some way may take their lives for granted. They may not need help now, but they may need it in the future. You just never know.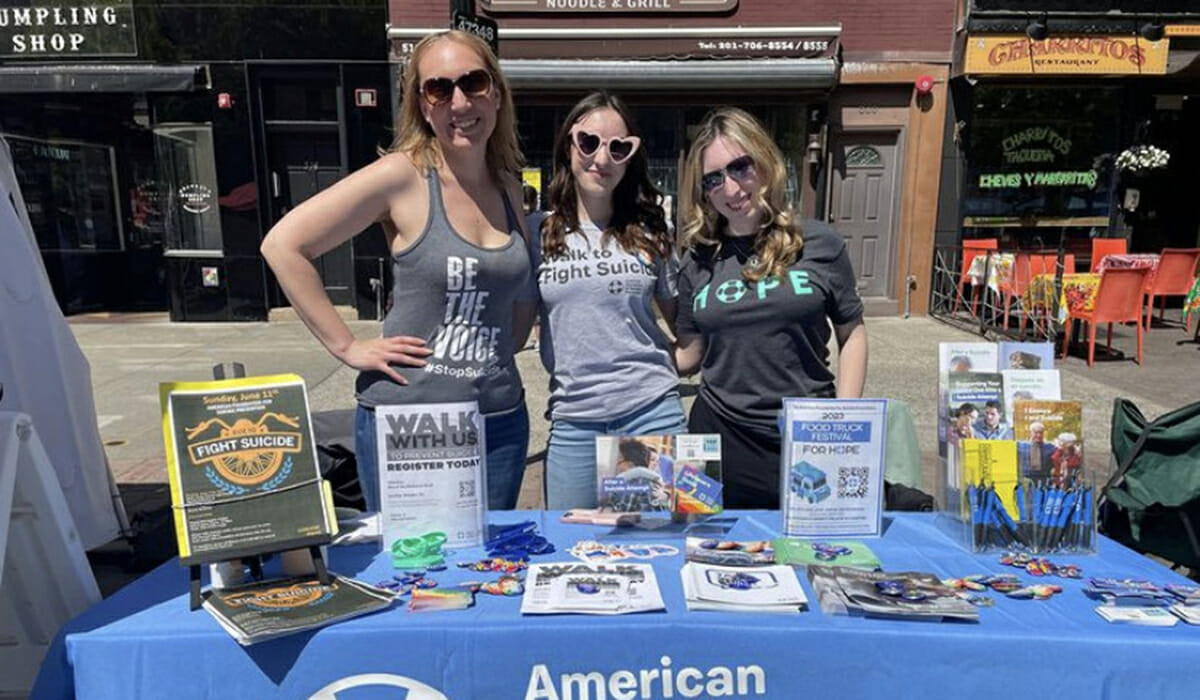 What do you want people to learn from your story?
Anyone can be affected by depression and thoughts of suicide. Through volunteering with AFSP or other organizations, you can find a meaningful way to help and to give back to the community.
If you or someone you know may be considering suicide, contact the National Suicide Prevention Lifeline at 1-800-273-8255, or text HOME to 741741 to talk to a trained crisis counselor through Crisis Text Line. Both resources are anonymous, free and available 24/7.
Do you want to make a difference in your community like Megan? Find local volunteer opportunities.
Share this post