ALS Researcher Volunteers Helping Chicago Neighbors Overcome Hunger
Meet Daily Point of Light Award honoree Hannah Ball. Read her story and nominate an outstanding volunteer or family as a Daily Point of Light. 
Born in Tucson, Arizona, Hannah Ball now lives in Chicago. As a graduate student, she works in a lab aiming to understand the mechanisms of the neurodegenerative disease amyotrophic lateral sclerosis (ALS), also known as Lou Gehrig's disease. Her original interest was genetics, but a happy accident — being placed in an ALS lab — made her fall in love with research. 
Hannah's family has always been active in the community through church events or volunteering at food pantries, so it felt natural for Hannah to continue volunteering once she moved to Chicago. Today, Hannah volunteers at Nourishing Hope, a food pantry whose motto is: "Helping our neighbors overcome hunger, improve mental wellness, and build for the future." 
What inspires you to volunteer?
During the COVID-19 pandemic, I volunteered at a vaccine pod and that's when I really fell in love with volunteering. I'm inspired by the relationships I've built through volunteering. So many people come together from different backgrounds, both on the client side and the volunteer side. It's fun to get to know them and build friendships. 
Describe your volunteer role with Nourishing Hope.
Nourishing Hope is a food pantry where people can come to get food for the week or month. I volunteer several days a week. I am involved in the intake process where we check people in, and give them information they need about the food pantry such as how often they can come, many of a particular item they can take home at one time, and other services. I also "shop" for people, where people will wait outside and I gather their groceries so they don't have to come inside. This is a great option for people who want a faster option and don't mind not picking out items themselves. I also prep and restock pantry shelves for the next day.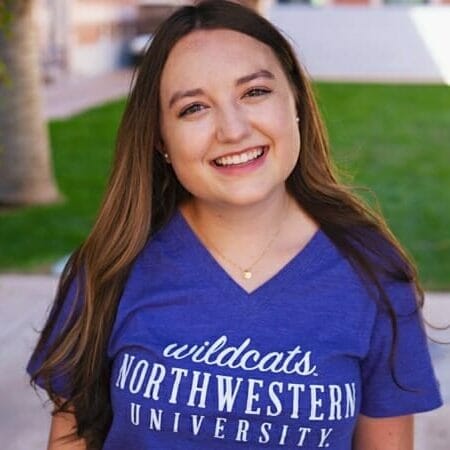 What's been the most rewarding part of your work?
I love seeing how much my efforts benefit people. I've gotten to know a lot of our regular clients but now there's an influx of people from Ukraine and Russia who are new to this. They've been uprooted and need guidance. Many of our clients come from hard situations. It feels good to help them by telling them about available social services, housing, and other resources. 
I've had many clients where it's their first time and are blown away by how much food they can take home. Of course the relationships and friendships I've built are so rewarding! 
What have you learned through your experiences as a volunteer?
I've learned to appreciate the little things. So many times, a client will get so excited when there are extras of a particular item that week. They're excited about the little things. That excitement rubbed off on me! And gratitude! We take food for granted. I see people who have had to make big adjustments in their lives, like coming to a food pantry because they're out of options. They are so grateful for the help.  
Why is it important for people to get involved with causes they care about?
It's important to give back, to learn about people in your community – people you would otherwise never meet. I've met so many different people who have been through a lot. It's rewarding to help with some part of them getting back on their feet. 
What do you want people to learn from your story?
Giving your time to other people can impact their lives in a big way even if it's a little bit of time for you. You can be a bright spot in other people's lives just from one interaction on one day. 
Do you want to make a difference in your community like Hannah? Find local volunteer opportunities. 
Share this post