Texas Teen Enlists Family and Friends to Help Restaurants and Feed the Hungry
Meet Daily Point of Light Award honoree Ethan Poon. Read his story and nominate an outstanding volunteer or family as a Daily Point of Light.
When the COVID-19 pandemic hit, math whiz and cooking-enthusiast Ethan Poon just wanted to save the restaurants he loved while keeping the most vulnerable in his community from going hungry. After all, stories of his grandfather's food insecurity in his younger years had left an impression. At 15, without even having a driving permit, he founded an organization that has been accomplishing both. Now, as the country enters into a new normal, The Food Lounge partners with local restaurants to donate food to those who need it most.
Ethan recently returned from a math competition in Iowa where he and his teammates bonded over the day-long bus rides and midnight gas station stop alongside their interest in numbers. Perhaps that's why so many of them, teammates and competitors alike, were the first to step up to start new chapters of The Food Lounge. Ethan, a natural teacher who has used his skills to help others with math for years, helps willing volunteers learn to run their local branch.
As a freshman, Ethan also brought The Food Lounge to his high school for a couple of events. He has 100-200 volunteers in his chapter and has worked with over 150 restaurants. Every quarter, he hosts meetings with the others. Outside of his volunteer work, Ethan hopes to pursue a career in biology or robotics. With innovative ideas and empathy for others, he would make him an excellent addition to any field.
What inspires you to volunteer?
It all started during the pandemic in 2020. You'd watch the news, and people were dying left and right. Medical staff had to make life or death decisions about who could use the limited number of ventilators. That hit like a brick on my head. It exposed me to the real world. Looking at millions of people losing jobs and ending up on the streets without money to buy food or to take care of themselves resonated me. My grandfather was poor when he was a child, and he had to work really hard to get where he is now.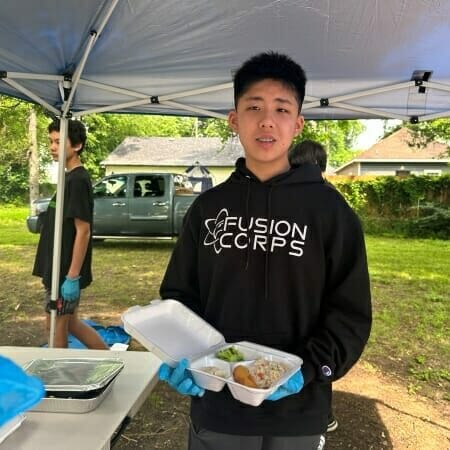 Knowing that and then seeing it right here really emphasized the importance of taking action. I couldn't just sit there and do nothing. So, one day at the dinner table, I was thinking about all of the restaurants closing down and said to my mom, "What if we order a ton of food just for us and a bunch of friends? We get food, and they get money. That's a win-win, right?
We bought the food, and one of them said, "Hey, we want to give back, so pick one or one or two shelters. We'll give you food, and you can go give it to them." This was the turning point from when we went from getting food for ourselves to getting food for other, less-fortunate people. We gave it to Emily's Place, a local woman shelter.  Who wouldn't enjoy giving people the best meal they've had in months? That's how it started. And it snowballed from there.
Describe your volunteer role with The Food Lounge.
I set up The Food Lounge and make sure we know how we are going to raise funds and get donations. I help get the word out using WeChat and social media. Getting the word out there is most of what we did in the beginning.
Because we rejuvenated a lot of restaurants, a lot of them were kind enough to pay us back. They didn't even ask for compensation.  They just started cooking food for us to give to the homeless. Sometimes we go over to their restaurants and cook the food ourselves.
For each chapter we open, I'll go through the process with them and make sure they know what they're doing in order to establish a good chapter that helps its community regularly. We teach them about fundraisers, how to negotiate with restaurants, and how to help the community work with other nonprofits as well.
And we have a few traditions. One of the first events we did, we donated to Children's Hospital. And every Christmas since, we've given donated toys, clothes and food to overworked nurses and doctors to give to kids. They were especially overworked during the pandemic, so we were trying to get back to them to say thanks.
What's been the most rewarding part of your work?
It's seeing the growth. We have ten chapters nationwide now. It's crazy to think that a couple of years ago, we were just buying food with friends and family, and now we have chapters in Detroit, the Twin Cities, Oklahoma and Long Island.
What have you learned through your experiences as a volunteer? What have been some of the challenges?
One of the challenges was getting the word out. When I started this, I was an eighth grader. I didn't have experience talking to people and getting donations. That was a learning hurdle for me. I remember going to my orthodontist one day, and my mom told me, "Okay, this is practice. You're going to ask for a donation." I'm a bit of a quiet person, so I struggled, though when I got my first one, it was a big victory.
Introducing it to my school was a challenge as well. At my old middle school, we had this thing called a National Junior Honor Society. It was primarily dealing with volunteer stuff. Teaching and volunteer work. Introducing The Food Lounge and how to write an email to the president and the teacher who sponsoring the whole thing. Learning how to write an effective succinct email and learning how to talk business to solicit donations. I would never have done any of this before The Food Lounge. Learning all of that and then teaching others so they don't make the same mistakes was very fun but challenging.
Are there any future partnerships, programs, or events that you are excited about?
Yes, but unfortunately, I won't be present for one of them; I'll be at a six-week math research camp at Texas State University. We've donated a lot to the Samaritan Inn, which is a local family shelter in McKinney, and we've been partnering with them for a little over two years now. They're very good friends. So, I organized a summer camp for the kids there. We'll go there to teach, donate back-to-school supplies and function like a daycare. I would like to be there, because teaching is important to me.
Why is it important for others to get involved in causes they care about?
It's not enough to just sit there and watch the TV. If we don't help others, we're just leaving them in the gutter. And I don't think I can sit there and watch them rot and die without doing anything. Consider the impact that you can have on people. That's the main thing that keeps us going.
What do you want people to learn from your story?
Starting out, I was super nervous and hesitant about how it was going to work. Mainly, I was worried about what people would think of me, because I was a middle schooler. If I were to give some advice to someone else and to a past me, it would be 'Don't be afraid. Go for it. What's the worst that can happen.'
Do you want to make a difference in your community like Ethan? Find local volunteer opportunities.
Share this post