New Jersey Volunteer's "Neighborhood Langar" Serves Thousands of Meals
Meet Daily Point of Light Award honoree Sachdeep Arora. Read his story and nominate an outstanding volunteer or family as a Daily Point of Light.
In the Sikh community, a "langar" is a community kitchen, where according to Pennington, New Jersey resident Sachdeep Arora, people join together as equals to eat.
Since 2015, Sachdeep has volunteered alongside many dedicated volunteers to serve more than 50,000 meals and distribute thousands of essentials through Neighborhood Langar. Connecting with the hungry and homeless in areas of need across the state, Sachdeep's community service even takes to the streets of Trenton to serve free hot meals. His volunteerism is a "movement," in Sachdeep's words, that is empowering individuals through service and kindness.
What inspires you to volunteer?
My family has been serving for generations. Prior to that, our bloodlines have been doing this for generations. It was instilled in us to help those around us. With all the negativity that happens on a daily basis, it's nice to be able to go and spread some positivity without an agenda every so often, and inspire others to join us.
Describe your volunteerism with Neighborhood Langar.
I'm the fortunate facilitator that gets to help other volunteers. We collect donations of essentials like toiletries, clothes, blankets, outerwear. A family will take on one month of preparing hot meals, which are then packed up with other items. We'll distribute the packages to locations on the street and then to other community partners. We feed more than 300 homeless people each month, and thus far, we've served more than 50,000 meals and distributed thousands of bags with basic essentials.
Share one personal story with me from your volunteerism.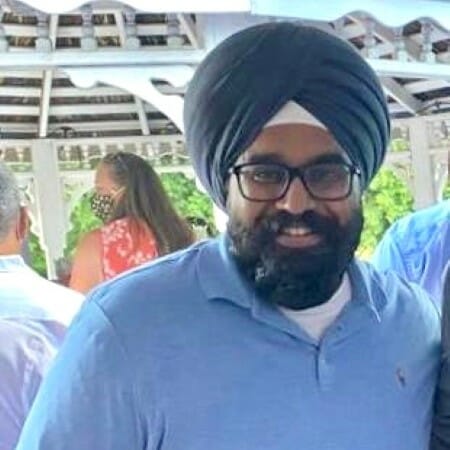 I grew up in the area I serve, and while volunteering, I once noticed someone I grew up with playing football at the other end of the table asking for donations. That's happened to me a few times. I'll see people I grew up with, or their relatives. That always hits home the most. We both grew up in the same situations, but we took two different paths. You've heard the term "selfless service." We try to do this as a means to help others without impacting ourselves, but obviously, when you do this, you can't help but feel full inside from giving back and helping those around you.
Why do you think it's important for others to give back?
We all have to remember where we came from, who we are and what's around us all the time. I had my family to push me through, get an education and be in the position I'm in, but not everybody has that support. I don't want folks to think we're giving them a hand out, we're helping them to better themselves. If I can provide a little bit of relief to somebody, whether through food or other things, I feel we've done our part to help society and empower others.
What's been the most rewarding part of your service?
(Laughs.) It's the amount of enthusiasm and involvement I get from my fellow volunteers and the positive reactions from the folks that are receiving the things we are providing. We serve with the community at large, organizations including Sikh Sabha of New Jersey, Inc, Trenton Police PBA Local 11 Community Outreach, HelpSelf, ONE Project and Clara's Heart, they all come together and as one, work together. We laugh, we serve, we enjoy ourselves. It's just a very positive atmosphere.
How have you continued to volunteer throughout the COVID-19 pandemic?
We had to stop service for one month, but even during that time, I still went out by myself to serve. The need was even greater during the pandemic. We're back up and running, and we're serving more locations now than ever before.
In one word, what does volunteering mean to you?
Community.
How can readers help?
Neighborhood Langar always needs more volunteers. Please visit the Sikh Saba of New Jersey Facebook page for more information about how you can help.
Do you want to make a difference in your community like Sachdeep? Find local volunteer opportunities.
Share this post