Teen Helps With COVID-19 Prevention in California Community
Meet Daily Point of Light Award honoree Edward Fabi. Read his story and nominate an outstanding volunteer or family as a Point of Light. 
When the COVID-19 pandemic hit, Edward Fabi quickly stepped up as Asian Pacific Islander American Public Affairs (APAPA) began helping those in need throughout his Solano County, California community. Edward, who has served as an intern for APAPA since he was a freshman in high school, dutifully helped the nonprofit with distributing masks and running mass vaccination clinics, as well as with distributing food to those in need. As a current University of California, Davis student studying bioscience, Edward knew how important it was for his community to have this healthcare access. 
Aside from his pandemic-related work, Edward also assists with APAPA's annual National Night Out event to help build relationships between community members and local law enforcement. In addition to his work with APAPA, Edward leads youth volunteers in laying wreaths at the Sacramento Valley National Cemetery each holiday season for Wreaths Across America. 
Describe your volunteer role with Asian Pacific Islander American Public Affairs.
I would help them with different mask distributions. I distributed 100,000 masks for COVID-19 prevention. We would give these masks to local businesses, fire departments, and police stations. This was at the height of COVID-19 when it was nearly impossible to get any PPE. We also worked with APAPA to do National Night Out, which worked to build relationships between the community and law enforcement to promote safe neighborhoods. 
What inspired you to get involved in APAPA?
Community outreach is really important. They reached out to my eighth-grade class, and seeing them do all the help they did and also all the cultural events I saw them do [inspired me]. For example, when they did the dragon dance during the 4th of July parade for Solano County [and] all the Chinese New Years events they would have every year. Sharing Chinese culture, and being Asian and not having too many Asians in my community, I think really influenced me. 
What did you do to help with the mass vaccination clinics?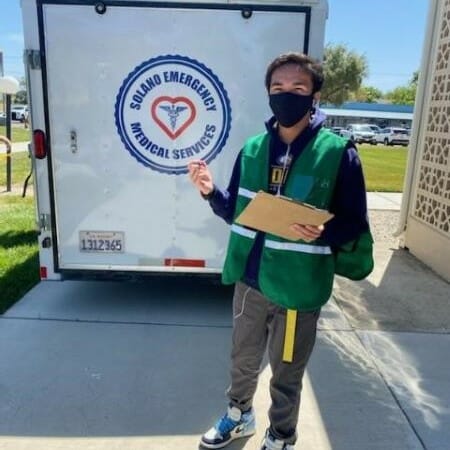 When they were starting the clinics with Solano Public Health, they didn't have nearly enough volunteers to cover all the people who had intended to get their vaccinations. This included people who were just walking in who didn't make an appointment. We were able to serve them. My youth volunteers and I were filling out COVID vaccination cards. We would check up on those who were vaccinated to see if they developed any symptoms. We checked the health information on their COVID information sheets to see if it was all accurate and if they were eligible to get the vaccinations. We were all supervised and trained by the doctors on site. 
What do you do for APAPA's National Night Out campaigns?
I helped recruit different youth volunteers and also worked with the police officers to make sure they would be able to show up to the different communities. During 2019, when it was safe to go out, me and a couple other youth volunteers went door to door informing the communities involved about the upcoming National Night Out. It had a lot of fun little events for kids to go to and meet with local law enforcement. … It's a one-time event during the year near the end of summer. We were planning to do it in 2020, but because of COVID, we cancelled it. Then we brought it back in 2021 following COVID practices. 
Can you explain what you do to honor veterans during the holidays?
Growing up in a military family, I recognized how important freedom is, and I believe it's very important to show our appreciation to those who made the ultimate sacrifice in protecting it. A couple of youth volunteers I gathered and I go out to the Sacramento Valley National Cemetery. We take out wreaths from the trucks and lay them on the 26,000 gravestones they have. I've been doing this since 2016. [This week] I'll be doing it again and that will make five years.
Are there any future partnerships, programs, or events that you are excited about?
We're helping unload the truckloads of wreaths again at the Sacramento Valley National Cemetery on December 11. [If anyone wanted to help] I would say show up to the cemetery. After we set up all the wreaths, we still have to go back and clean them up. I would recommend going to the Sacramento Valley National Cemetery's website to see when the date for cleanup will be. 
Is there anything you've done while volunteering that you're particularly proud of?
I'm going to UC Davis. I'm a bioscience major working into pre health because I believe in healthcare access for all. Working for all these different communities, I've been able to realize it's very important for everyone to have healthcare access. For the 100,000 masks for COVID-19 prevention and the 15 medical clinics helping to vaccinate over 5,000 people, these were working with populations that don't usually receive healthcare attention. 
Why do you think it's important for others to give back?  
I think it's important to be engaged with your community, to be able to know what your community needs, and to give back to all those who need it. 
What do you want people to learn from your story?
I want everybody to start volunteering early. I was even able to start as early as eighth grade working with APAPA, so it doesn't matter what age you are. I think you can do a lot with the time you have. 
Do you want to make a difference in your community like Edward? Find local volunteer opportunities. 
Share this post