New York senior Volunteers to Raise Puppies Into Guide Dogs that Have Changed the Lives of the Blind
Meet Daily Point of Light Award honoree Carol Tepper. Read her story and nominate an outstanding volunteer or family as a Daily Point of Light.
Carol Tepper might have the best, or at least the most adorable, volunteer job in the world. For the past 20 years, she's been helping raise puppies for the Guide Dog Foundation. As a puppy raiser, nursery volunteer, breeder caretaker, board member and puppy sponsor, Carol has volunteered with the foundation in almost every way possible.
Even before volunteering with the Guide Dog Foundation, Carol had spent much of her life helping others. After working for several years as a speech pathologist in Boston, she returned to New York, where she volunteered with various community groups, including the Rockville Centre Education Foundation and Rockville Centre Mercy League.
But her real passion of caring for dogs started because of her uncle, who had dedicated 20 years of his own life to the Guide Dog Foundation as a volunteer.
"It became a very important and worthwhile part of his life and retirement," Carol recalled. "He loved the people, he loved the staff, and he loved the dogs. He always loved dogs."
After her uncle passed away, Carol decided to continue his work to help raise puppies into the disciplined guide dogs that have changed the lives of countless people who are blind.
Describe your volunteer role with the Guide Dog Foundation.
We got our first puppy (from the foundation) in 2000 and his name was Willie. We had puppies growing up, but Willie was special because we knew that we would be giving him back at a little over a year of age. It was important to follow the protocol for socialization and obedience to hopefully bring this dog to the point where he would be of assistance to a visually impaired or blind individual.
Puppy raising is a family proposition. We all, my husband, our son, our daughter, were participants and had to be on the same page with leash walking, basic commands and obedience protocols. Consistency was very important.
One of the big pluses of this job as well as physically having this adorable puppy in the house is that I was able to provide a lot of education to the public and let them know of our mission and what the puppy's purpose was. I would speak at schools and organizations, even my grandchildren's preschool, to answer people's questions and educate them about the progression of how these dogs go through the beginnings and end up as a working guide. And of course, the bonus is that you usually bring a dog, like one of my current dogs, Hobbs, would be considered an ambassador and would go represent the foundation with me.
Another thing we've done is sponsored puppies. That is a financial contribution that enables you to cover the dog's first part of their lives and training and you get to name the dog. I think we've sponsored seven puppies.
What's been the most rewarding part of your work?
The people who are blind or visually impaired say that they are more than grateful to the staff and the volunteers at the foundation because their lives have been transformed in so many ways. It gives these people such independence. You will hear from people who have used canes in the past and then one they've been paired with a guide dog, they say it just opens up a whole new world for them.
Also, some of our dogs don't make it as a guide, but they're absolutely wonderful as an assistance dog for one of our veterans so then they would be considered through America's VetDogs, our sister organization, and be of service to somebody who is in need. They might not be visually impaired, but they may have more physical challenges and need a dog to retrieve objects for them or to give them support when they're walking.
Raising puppies, no matter how cute, is not an easy job. What pushes you to keep going?
I think it's knowing what's at the other end. That the outcome will be another team leaving our facility and going on to really have that confidence and trust in someone by their side. I've met such incredible people out there who will tell you their stories of how nothing holds them back once they have a guide dog by their side. To be able to put your trust into an animal that's going to enable you to cross a busy intersection or hop on a busy crowded subway or get out at Penn Station in New York City or go on an airplane, they make tremendous changes for the better and let you live the life that you would like to live.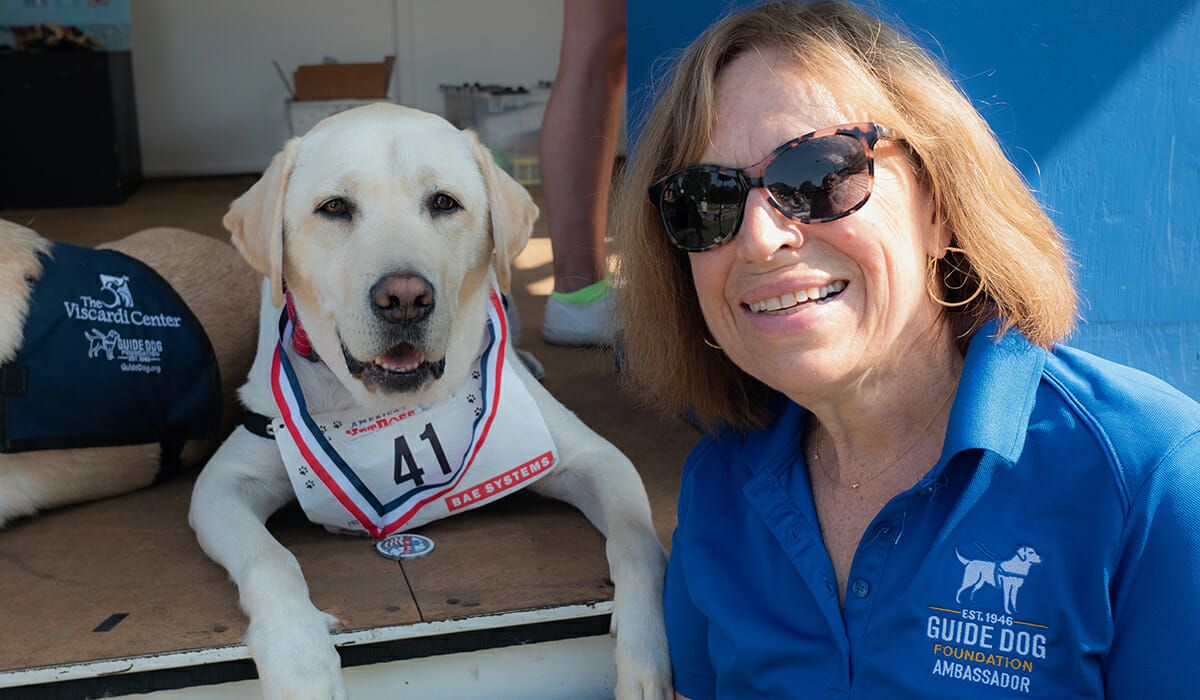 What inspires you to volunteer?
My parents instilled in me that you do for others as they've done for you. I just feel like I've had a good experience in my life so I would like to be able to give back to others and that maybe their lives could be improved or better, especially if they were in need of some special services.
What do you want people to learn from your story?
I would hope that people would be enlightened as to when you see somebody using a guide dog, it's not as simple as just the dog getting someone down the street. It's a very special life-changing moment process from the moment this dog is born and then the journey for them to become a guide dog. I would hope that people recognize the amount of work that goes into that dedication of the people that work with guide dogs, to enable them to become the guide that they will be and to also realize how amazingly important it is that they are able to transform someone's life.
Do you want to make a difference in your community like Carol? Find local volunteer opportunities.
Share this post