Teen Volunteer Changes Communities by Feeding Hungry and Inspiring Ripple Effect of Service
Meet Daily Point of Light Award honoree Sarah Ackels. Read her story and nominate an outstanding volunteer or family as a Daily Point of Light.
The sentiment often attributed to Mahatma Gandhi, 'Be the change you wish to see in the world,' is what drives 17-year-old Sarah Ackles as she serves food to vulnerable communities, changing the world one meal at a time.
"I used to think, oh, it's so sad there are all these hungry people," says Sarah. "I am now doing something about it. Since day one, when I realized feeding people was something I could do and I realized I could do something to make other people's lives better."
Launching Sarah Stops Hunger in 2014 while in middle school, the Simsbury, Connecticut teen says she begrudgingly attended her first meal making volunteer event as an adolescent, and quickly fell in love with the service. Helping to make an astounding 15,000 meals in just one hour, Sarah realized she could make a difference, and hasn't stopped feeding people since. Distributing more than 125,000 bagged meals to women, children and others suffering from food insecurity thus far, Sarah is providing more than food, she's opening the door to a better future for thousands of hungry individuals in her community and globally.
"A lot of our meals go into the Feeding Children Everywhere backpack program which sends meals home with students. I know if I'm hungry at school, I'm not paying attention, I'm not doing my best work, I'm not going to succeed as much as if I had a full stomach. Our meals help to kickstart education and help to break the cycle of poverty for kids."
Fundraising money which is then sent to partner organizations to purchase meal supplies here in the U.S. and internationally, Sarah holds meal making events at her church, where hundreds will join to help assemble meals. Sarah has extended her reach across the globe by providing meals distributed by international hunger relief organizations that distribute food and life-changing aid to the world's most vulnerable.
"Our meals are provided at workshops in Mozambique and eSwatini for Rise Against Hunger's partnership with the Adventist Development and Relief Agency, and Burkina Faso for their partnership with the Catholic Relief Services, for women, children and people who wouldn't necessarily receive the same opportunities as others in their communities. Hunger is the base issue that we're fighting by providing a meal, and these workshops teach skills or help them get education in order to have a business and support themselves."
Perhaps in small part due to her perspective as a youth founder, Sarah has worked to introduce service to others, old and young, by helping them to realize that volunteering can be fun.
"The stigma exists that volunteerism isn't fun. I wanted to engage more youth in service for the same reasons why it was important that I attended that first meal making event. I got my whole varsity field hockey team to come volunteer with me as a fun, team building event. I'm changing the mindset of my community, because (this service), it's not just one meal, it's meals and inspiring others to help as well.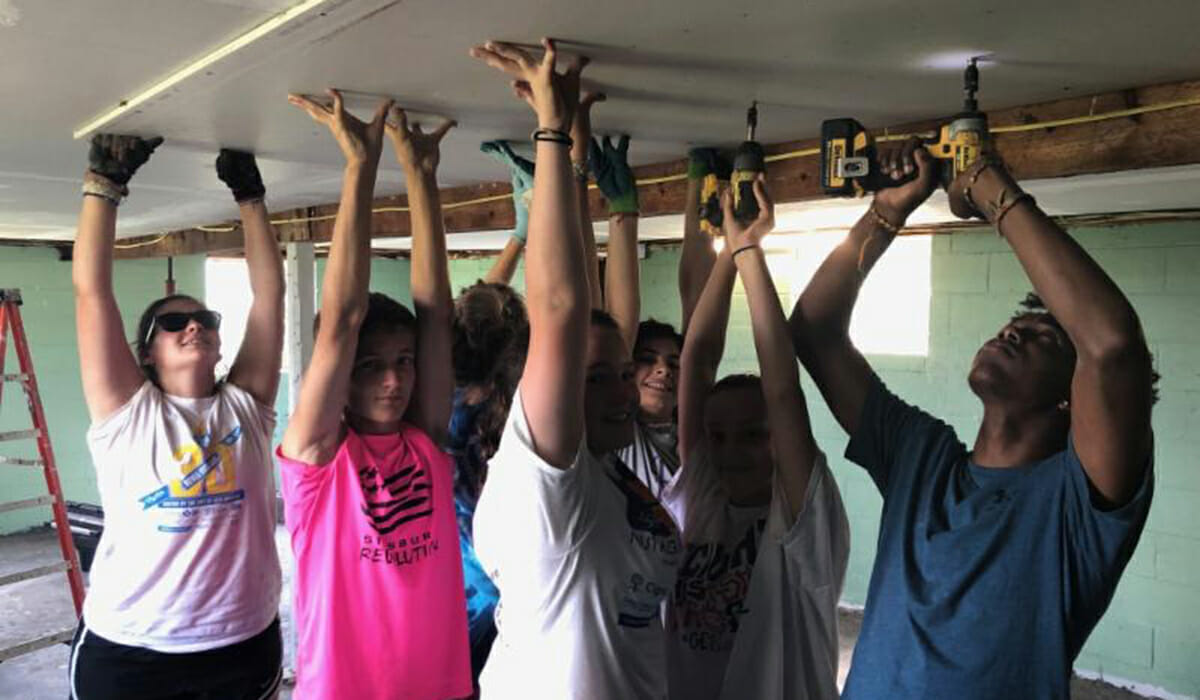 Sarah's pastor who has been by her side for many service projects, Rev. Kevin Weikel of First Church in Simsbury, says the teen is a beacon of light for the entire community, positively leading by example and inspiring others to commit to service.
"(Sarah) isn't someone who just went along. She's instrumental to those around her as far as their involvement. If Sarah was going, everyone else was going. She has a natural influence on others to act, inspires one to be their best self and to help others. It doesn't matter your age, everybody in church and the community knows that Sarah is someone that is helping others."
Continuing her service throughout the pandemic, Sarah and her family have been donning protective gear and distributing leftover produce and overstock groceries via a mobile food truck to people in need through Foodshare, as her in-person events with Sarah Stops Hunger have been postponed due to social distancing requirements. Hoping to pick up where she left off in the near future, Sarah's volunteerism has spurred countless other meal making events hosted by fellow volunteers for hungry mouths around the globe. This "ripple effect of change", inspiring others to serve, is an obligation Sarah says she feels to create a better world.
"At my first meal making event for Sarah Stops Hunger…we made 17,000 meals in one day. A woman came up to me and asked what was next. She said we had to do this again, that it was the most amazing thing she'd been a part of. Her words made me realize that we could do more of these events, and help more people. It makes me so happy when I give back and help others, and it's my responsibility to induce this mindset in others."
Do you want to make a difference in your community like Sarah Ackels? Find local volunteer opportunities.
Share this post