New York Teen Unleashes Her Entrepreneurial Spirit To Advocate For Youth Economic Literacy And Education Equity
Meet Daily Point of Light Award honoree Lina Lin. Read her story and nominate an outstanding volunteer or family as a Daily Point of Light. 
Lina Lin is a first-generation college student in her family. Her parents emigrated from China, and Lina is a second-generation American. Her low-income immigrant background led to a deep connection with her community as well as a deep desire to make a difference. 
In the spring of her freshman year of high school, Lina took a course in economics. She was immediately intrigued by the connections between different disciplines that one can make with economics, such as the prisoner's dilemma from psychology and game theory from strategy and math. However, she was attending a high school that lacked economics-related resources and classes. What intrigues Lina the most is that economics is one of the most popular college majors, yet many high schools don't offer any economics-related classes and resources.  
To continue her own studies in economics and provide opportunities for fellow students in the same situation – with an interest in the subject, but few ways to learn more about it – Lina created her own organization, Global Youth Economics Forum, a nonprofit that empowers students to pursue economics and related fields through connections with professionals, professors, educators and more. Now in its third year, Global Youth Economics Forum has engaged over 1,000 students in more than 50 events and mentorship opportunities. 
What inspires you to volunteer?
I'm inspired to help others who come from a similar background as I do. I started the Global Youth Economics Forum to provide opportunities for students who come from under-resourced schools that lack economics-related classes and resources.  
Another motivating aspect of volunteering, to me, is the ability to foster community, give back to the community and uplift my community in order to make a meaningful difference for the next generation of future leaders, change makers and visionaries.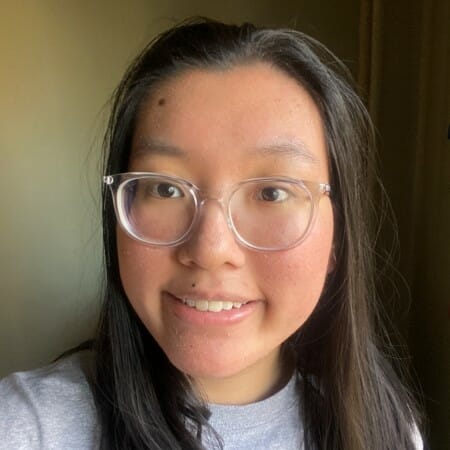 Every day I seek to embody Helen Keller's quote, "Alone we can do so little, together we can do so much." To me, it's truly about the spirit of volunteering along with the sparks of hope, change and camaraderie you feel as you help contribute to the greater, global good. 
Describe your volunteer role with the Global Youth Economics Forum.
Currently, I serve as the founder and president of the Global Youth Economics Forum where I am in charge of spearheading our operations and events. I help host events and competitions, and oversee our different initiatives such as our college mentorship program, executive check-ins and member engagement initiatives. I also help coordinate our social media strategy, train our executive members and market new initiatives to expand our reach. So really, I help lead and oversee our cross-functional teams. 
What's been the most rewarding part of your work?
Cultivating a global community of learners and meeting students from around the world. It's a good feeling to provide students in schools from around the world with economics-related events, competitions, a college mentorship program, resources such as weekly newsletters, internships, coffee chat templates and services such as resume review. 
It's heartwarming to see the organization grow from the ground up, especially because, when we first started, it was difficult to garner support for my cause. In fact, there were some people telling me that it wouldn't work out. But, really, seeing people believe in our mission truly motivates and continuously sparks my sense of duty and responsibility to continue to sustain the work, uphold our mission and values, and stay true to our origins. 
What have you learned through your experiences as a volunteer?
I have learned that I can do things that might seem impossible at first. I've also learned to be grateful for the different opportunities and privileges that I may have and to share them with others because small actions can truly have a big impact on a community. 
I am also continually learning more and recognizing the importance that nonprofit organizations play in the local community, no matter their focus. I've also been able to develop important skills since starting my nonprofit organization including event management, publicity, team management and empathy-driven leadership. 
Are there any future partnerships, programs, or events that you are excited about?
I'm excited about quite a few initiatives. We will be hosting hosting more in-person events including office tours around New York City; expanding our recently launched scholarship fund and college advocacy arm; partnering with other student organizations and firms; and hosting more lecture series featuring professionals. 
Ultimately the aim is to reach more people from around the globe by expanding our marketing and publicity efforts such as our ambassador program, since many international students don't get as many resources for learning about new things in their own time. 
Why is it important for others to get involved with causes they care about?
True civic engagement involves working on the grassroots level to mobilize the youth to take action. We are the foundation of future societal change and progress. 
What do you want people to learn from your story?
You can do anything that you put your mind to! Please don't think that you can't do it. I truly believe that anyone, anywhere can be a changemaker. It's really rewarding and fun, and through the process you'll meet so many new people, gain new experiences and learn so many different skills. Don't be afraid to go out of your comfort zone, experiment, build and test things out! If you're a student, you're afforded so many ways to develop and apply your creativity skills and I think that's the beauty of being a young person.  
Finally, don't be afraid to reach out for help. There's so many people out there willing to help you. And in the future, who knows? These same people you reach out to for help might be your future coworker, classmate, mentor or networking contact for an internship! 
Do you want to make a difference in your community like Lina? Find local volunteer opportunities. 
Share this post