New York Teenager Helps Spread Positivity to Families in Need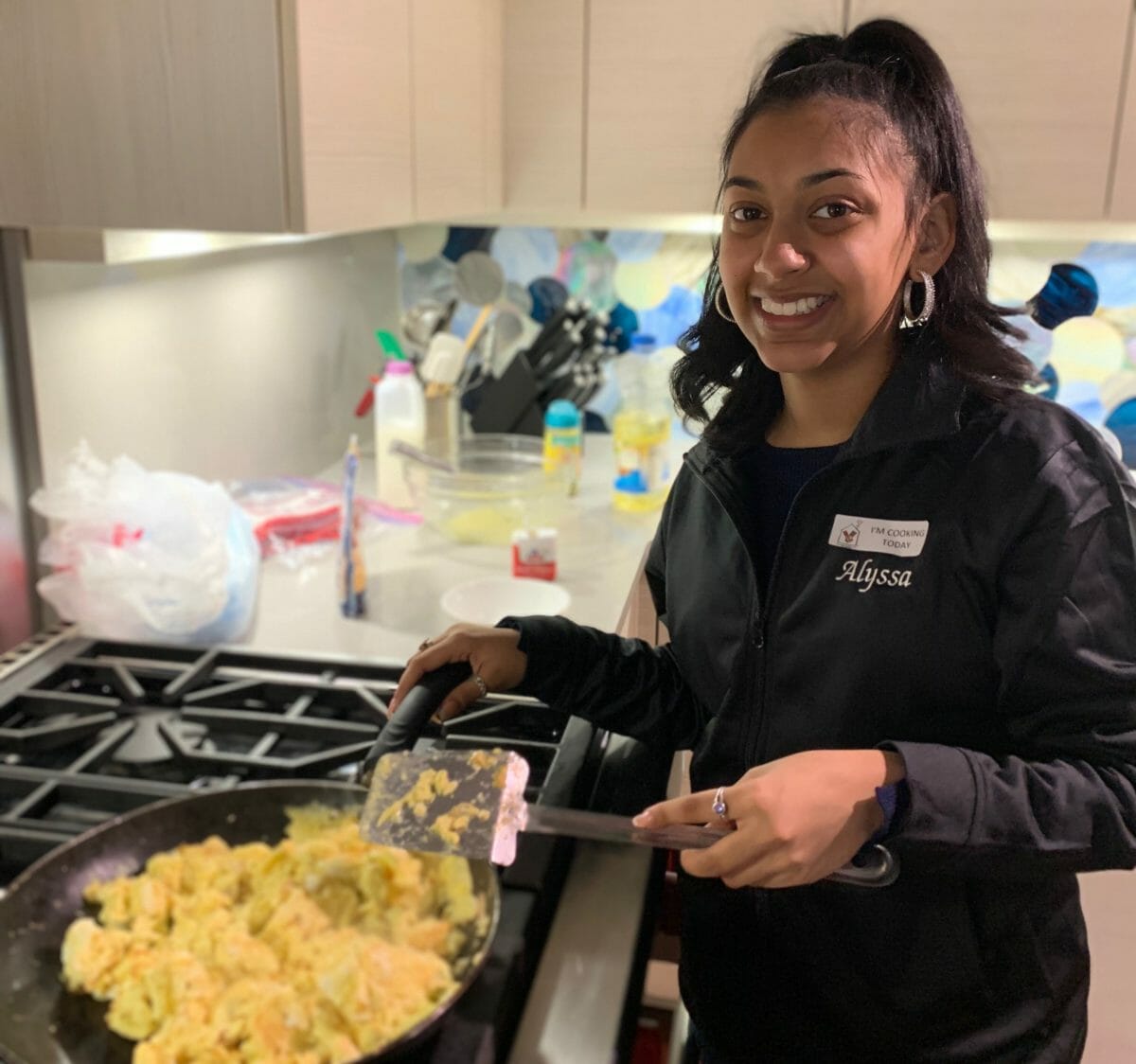 Alyssa Dass thinks everybody needs a little positivity in their lives — and she spreads much more than a little of her own positivity to the families at her local Ronald McDonald Houses. About once a week, the teenager visits the Long Island and Westchester-based houses, which are two of the hundreds of Ronald McDonald Houses across the world that provide housing and meals to families with children receiving medical treatment at nearby hospitals. During her visits, Dass cooks meals for about 100 people staying at the houses, bakes them desserts and offers a smile and an ear to the visiting families. Throughout the year, she also collects pop tabs to help the Ronald McDonald House with fundraising, as well as various other donations the families may need, from stuffed animals to socks to gift cards.
Despite the constant help she's provided to the Ronald McDonald Houses since she began volunteering five years ago, Alyssa insists its the families that are the ones helping her. She says they've given her a brighter outlook on life, helped her mature as a person and even influenced what career she wants to one day pursue — robotic cardiology, so she can help save people and give them a second chance at life.
"[The Ronald McDonald families have] given me a second chance at enjoying life and a second chance at realizing who I am," Alyssa said. "So I wanted to be able to share that with people when I get older."
For providing meals, donations and joy to families when they need it the most, Alyssa is today's Daily Point of Light Award recipient. Points of Light spoke with her to learn more about how she helps the Ronald McDonald House.
Describe your volunteer role with the Ronald McDonald House.
I started volunteering for the Ronald McDonald House about five years ago. I started volunteering there because one of my friends … got into a very bad car accident. Her family was admitted into the Ronald McDonald House. She lived all the way in Virginia and that's where they were keeping her family and treating her, and I felt I couldn't do anything so I wanted to give back in some way for everything the Ronald McDonald House was doing for her and her family. So about a couple weeks after that, I started volunteering for the Ronald McDonald House [in Long Island and Westchester, New York]. I went to all the fundraisers, I started baking and cooking. I also collect pop tabs for their Pop Tab Palooza. I just try to make sure that I'm involved in anyway that I can be, because I'm so thankful that the Ronald McDonald House does exist, because it does help many families, not only in New York but in many different states. And whether it's people that I know or not, I'm just glad that people are still feeling like they have a home during their rough times.
I volunteer at the Ronald McDonald House maybe once every week, sometimes once every two weeks. I'm there a lot and whether I'm there or not, I'm always doing stuff outside. I do bake there and cook there, but I also do clothing drives or I collect pop tabs like I said before. The pop tabs just help to fundraise, they can recycle them. I am a Girl Scout as well, so I do different drives. I'm starting to do a gift card drive for the Ronald McDonald House because the ones I work with in Long Island and Westchester, they need gift cards, sometimes toiletries. During Christmas time I collect stuffed animals or socks. Just little things because I feel it's really important to help in any way I can.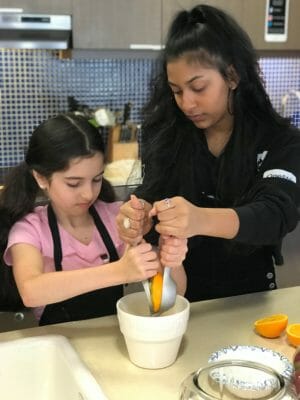 Who exactly does the Ronald McDonald House serve?
The Ronald McDonald House serves the families of children who are hurt or injured or have been in very traumatic injuries, accidents, [or] if babies were born with some kind of deficiency. The Ronald McDonald House is a building near children's hospitals so they house families and they make them feel like they have a home and are comfortable. I find it really interesting because the Ronald McDonald House also suits the younger siblings, the older siblings, the moms, the dads. They have a lot of different rooms and comfortable places where they can just feel at home and feel comfortable. You're at the hospital all day long worrying about the person who was hurt and your loved one who is trying to get treatment, and you can still come to a place that treats you well and gives you food — breakfast, dinner, lunch, snacks, desserts — and just makes you feel comfortable at all times.
What inspires you to make the time to volunteer when you also have school and other activities?
My parents definitely inspire me to do all these things. Just knowing everything that goes on in this world, I think everybody needs a little bit of positivity. My parents always raised me to have this mindset where it's better to give than to want to receive. I think in this day and age there's so many teens who have these negative mindsets because they're going through so much and they think they're the only ones going through stuff. I think that's why the Ronald McDonald House hits so close to home, because not only does it help the children but it helps the families to feel happy in some way. It brings positivity to their life. I go in thinking that I'm helping so many families and I come out realizing they helped me more than they can realize. Because I learn so much from them when I get to talk to them. And I get to be more mature. I get to learn more about myself and other people that I don't even know, and just the way the world works.
What are the families' reactions when you come there to donate or cook a meal to them?
I truly believe that they are so thankful. Even when you just say 'Good morning' to them, or when you're just plating the food, they look so happy and so grateful. That makes me feel so good because they're going through so much and I think the least thing I can do is just cook something for them or bake cupcakes, and yet it cheers them up. When you just give them a big smile on your face and say 'Hello, how are you doing,' they automatically just feel so comfortable, so happy. They actually feel like someone wants to listen to what they have to say. And a lot of the conversations I've had with some of the families when they're going through things, I see them again and again and they're just like, 'Oh my god, thank you, I'm so happy you keep coming back and I thank you for being so young.' It makes me feel so good because I know I'm making a difference and I know that I'm helping more than one family, I'm helping so many.
What have you learned through your experiences as a volunteer?
I've learned to just live life the best way that I can. You just have to enjoy who you are and what you do because you don't know how much more time you will have. And to just always keep your head high and have hope. I was talking to a mom, and her kid was in a bit of critical condition. She told me to just stay kind and keep my head high and always have hope and I think that's always stuck with me.
Why do you think it's important for others to give back?
I think it's very important because you get to learn different things and you grow as a person and you also get to help people. I think that's the most important thing. And that helps yourself, when you're also helping others. I've always thought whether I'm helping one person, that the ripple effect will continue. You give one person a smile, they'll feel good for the rest of the day, so then they'll smile at everyone else. I think just the fact of spreading kindness, it sounds very cliche but it is so true. I think it's very important for teenagers especially, kids who are my age, especially girls who are my age, to be more appreciative of who they are and what they have and volunteering really helps you to realize that.
What do you want people to learn from your story?
I would love for people to learn to just always give back. I believe I have a heart for service. And I want people to be able to spread kindness. I think there's a lot of negativity in this world and I want people to realize that the smallest person with the biggest dream can spread the most kindness. Everyone has positivity in them, they're just scared to share it and I think you shouldn't be scared. You shouldn't be scared to live life and a part of life is having kindness and positivity.
Do you want to make a difference in your community like Alyssa? Click here to find local volunteer opportunities.
Post written by Morganne Mallon.
Share this post