Creating Art to Make the World a Better Place for Children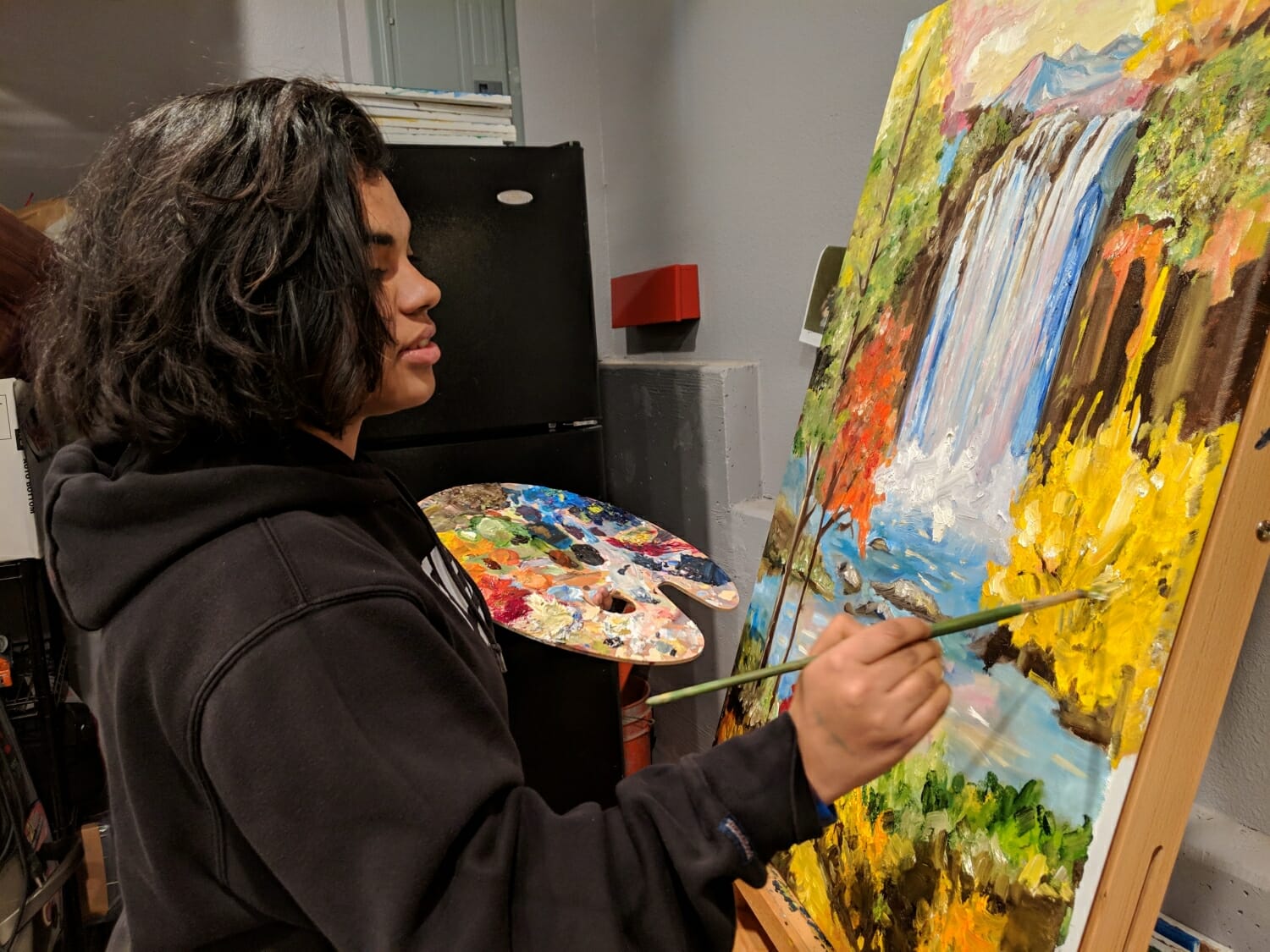 Eighth grader Apoorva Panidapu has many passions. A child of a loving, supportive family, Apoorva understands just how fortunate she is and never wants to take that for granted. So she turns two of her passions, art and math, into a way to make a huge difference for children on the other side of the globe. Apoorva is the founder of Apoorva Panidapu's Art Gallery, an online platform to sell her artwork and raise funds for her charity, "Help Starving African Children" (administered through Save the Children). All of the proceeds of the sales of her paintings and the money she earns tutoring younger kids in math go to her cause, so far more than $10,000 raised. Already the recipient of many awards for her art and charity work, Apoorva is a firm believer that one young person can help change the world.
Apoorva is committed to making a difference in her community and she is today's Daily Point of Light Award honoree. Points of Light spoke with her about her commitment to service.
What inspires you to volunteer?
When I was in 4th grade, we raised money to buy goats for impoverished villages around the world. It was a global lesson to understand that goats provide milk, cheese, and butter to hungry families and can make a huge difference. I really loved that experience and wanted to do something like that again which led me to Save the Children. The idea that children face harsh conditions and lack basic access to clean water, food and shelter is just wrong and unfair. I want to use what I've been given to do good, to give back.
Describe your volunteer role​.
I founded Apoorva Panidapu's Art Gallery in 2017 to make money for the charity "Help Starving African Children" (administered through Save the Children). I also use my math passion to give back. I tutor elementary and middle school kids for school and competition math and raise funds for Visually challenged kids in India (partnering with ​VT Seva non-profit). I also paint on commission as another way to raise money.
What's been the most rewarding part of your work?
My charity is so meaningful to me because it allows me to both contribute to my community and support people continents away. Most importantly, my charity grounds me, reminding me not to take my family's support for granted when so many people are less fortune. In doing commissioned paintings, I am honored to meet interesting people and paint for them. These include an art request from someone in Arkansas to celebrate her husband's 87th birthday and a couple celebrating their 49th wedding anniversary.
What have you learned through your experiences as a volunteer?
That anyone can use their gifts to give back to the community. It's also helped me develop as an artist and social entrepreneur. I'm learning marketing and publicity and also how to convey my emotions and thoughts through my speeches and artwork. I'm always looking for more opportunities to help and spread awareness.
Are there any future partnerships, programs, or events that you are excited about?
I love working with GLAM (Girls Leadership Academy Meetup) as a Global Ambassador. That allows me to be a mentor for young girls. Glam's primary goal is for each girl to feel nurtured and empowered to define and articulate her dreams with the tools needed to create a vision and plan for the future. I'm also working on an art club for younger kids and developing an app to help artists to sell art for charity. I continue to sell on eBay – most recently I sold a portrait of Michelle Obama for $610.
Why do you think it's important for others to give back?
If you're in a position to help, there's no reason not to. Use what you're given to make a difference and help someone out. All help and support is appreciated, no matter how simple an act is. Many people who give back to society have been inspired by someone in their community or environment who had done so and the spirit of giving can begin at any age. When you are involved in philanthropic activities, your empathy increases, and your love and care for others is developed as you are exposed to new and different people,
What do you want people to learn from your story?
Anyone can make a difference! Before I thought, "I'm just a kid – how can I make a difference?" I've learned that there will always be a million excuses to not do something, but you just have to make a plan and take it step by step. Even if you cannot donate, take the time to volunteer in your community. There are many opportunities to provide a helping hand in the community
Do you want to make a difference in your community like Apoorva? Visit All for Good for local volunteer opportunities.
Share this post