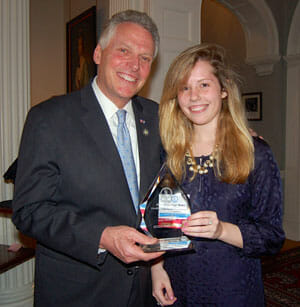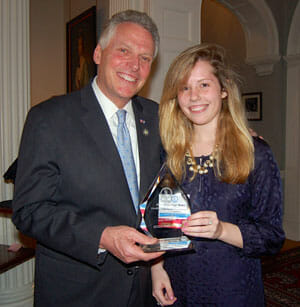 Nicole Muller was 16 years old when she read a newspaper article about the need for food donations in Albemarle County. She knew she could pitch in and help. So she started a food drive … and has helped it grow over the past four years to reach all 50 states.
Nicole is now a 21-year old college student, running a national organization out of her apartment near the University of Virginia in Charlottesville. Her Neighbors-4-Neighbors program has secured more than 675,000 pounds of food and $65,000, providing meals for more than 500,000 people.
Nicole has motivated food drives throughout the nation to support community food banks with annual spring and fall campaigns that she organizes via email and phone. In states where she knew no one, Nicole directly contacted governors' offices and asked them to hold food drives. She organizes friendly competitions among multi-county schools, fitness clubs and civic organizations, and has inspired others to orchestrate food drives at bowling alleys, children's gyms and photography studios.
It is incredible to think that her national food drive began simply by asking 12 of her neighbors to contribute canned goods for her local food bank. But Nicole sees from her experience with volunteering that you really get back much more than you give.
"Volunteers don't have to believe that all projects have to be big," she says. "Every little act of kindness has a way to spark more kindness, and that is what makes volunteering so special. Just choose to be part of the solution and not concentrate on the problem."
Share this post