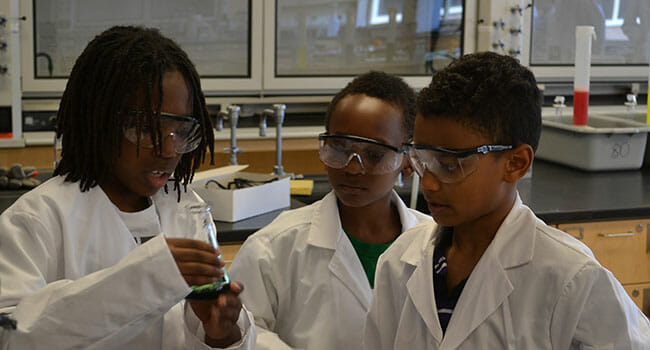 As a high school teacher in Detroit's troubled public schools, Norman Hurns saw a need to inspire and motivate youth growing up in a city hit hard by changing economics and the shrinking auto industry.
But when Hurns transferred to an affluent suburban school district, he found no less of a need for his mission.
According to The Annie E. Casey Foundation, 40 percent of African-American children live in poverty – nearly double the national average. In Michigan, 56 percent of fourth-grade children in high-income homes are still reading below proficient levels. As Hurns suggests, income is not the only factor that affects a child's performance in school.
"What I've noticed is the problem exists no matter where you are," says Hurns. "Even in the suburbs, it's still an issue, especially with black males. In general, our young men are just not performing at the same rate as young women; they're not engaging in academics.
Brothers Making a Difference, the organization he founded in 2000, draws boys from a wider geographic swath, while meeting at a location that drives home his message of higher education: Oakland Community College in Royal Oak, Michigan. Since 2006, Hurns has focused the program in service to boys ages 6 to 9 because he believes it's most effective to instill what he calls "life skills and character education" during the elementary school years.
Hurns ensures that the youngsters aren't just "sitting and getting." He teaches good citizenship by having them go out and do things for others.
"The experiential part of it, to me, is the most important part," says Hurns.
The secret to engaging youths is doing something that teaches responsibility, he adds. The boys have participated in book drives and helping the homeless, exposing kids from affluent homes to the poverty "that's in our backyard in Detroit" and showing less-fortunate kids that others struggle, too.
Hurns hopes to instill in the children of his community an allegiance to service. Leading by example, Hurns was awarded the President's Volunteer Service Lifetime Award recognizing the more than 4,000 hours he has invested in serving the youth of his community.
Many of the activities are designed to open the kids' eyes to personal responsibilities as they grow up. For example, Hurns arranged a field trip to a funeral home. "We talked about the responsibility as a man of your household to make sure you have insurance so your family will be taken care of," he says. "We discussed with the funeral director about how to pay for a funeral, what it costs, and how devastating it would be if you can't afford to do that and it happens. Then we had them go home and ask their parents if they have a plan. Do they have a folder where the information is?"
"We also do a financial literacy piece," says Hurns. "We want kids to account for things, so nothing will be a surprise. There's a fund if something happens to the house; there's a fund if something's not covered by insurance, for example, if the car needs tires. It's your responsibility."
It is important to learn at a young age that most things come with a cost, and while the kids are between the ages of 8 and 10, Hurns believes it is never too early to learn financial responsibility. He is intent on teaching children to plan accordingly, earn and then save money. He takes the kids to the bank and has them imagine various life scenarios, such as buying a car or home, and the financial impact these events will have.
The highlight of Brothers Making a Difference is a three-week summer camp on the college campus, where participants go on field trips, learn computer skills like coding, and read inspirational books and discuss how they can relate to the young male characters.
Torry Griffin, 10, has participated in Brothers Making a Difference for three years. Of helping to feed the homeless and pick up trash, Griffin says, "I was surprised that it was fun."
Nathan Wells was a student of Hurns' back in Detroit. Now, Wells is also a teacher and he volunteers as curriculum director for Brothers Making a Difference.
"Norman had a way of engaging African-American males to maximize goals for ourselves. He was just a great model of manhood," says Wells. "Some 18 years later, here I am, with a bachelor's degree in education, a master's degree in reading literacy, working alongside him."
Norman Hurns is a shining example of how social innovation, cross-sector collaboration and citizen engagement can drive change. Join us in Detroit in June for Points of Light's Conference on Volunteering and Service, which provides the singular opportunity for thousands from around the world to come together to shape the future of volunteerism.
Share this post