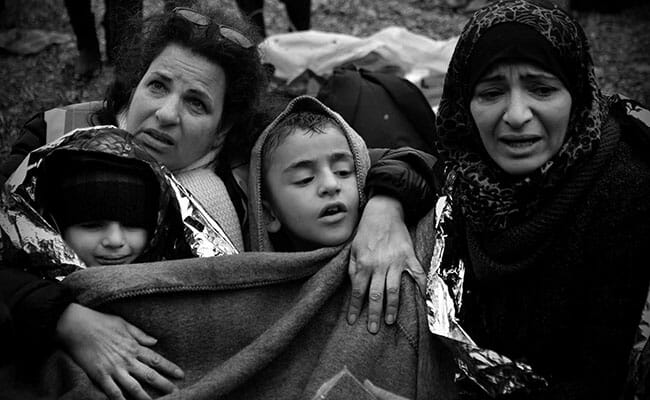 Last winter, Kathy Hertz and her cousin, Joanne Feinberg, began discussing a vacation together, looking to echo the Mexican holiday they had enjoyed the previous year. "Nothing was quite speaking to us, though," Hertz says.
Meanwhile, she says her heart was breaking each night as the news of a continuing humanitarian crisis unfolded before her eyes. Motivated by what she saw, Hertz turned to her career as a life coach, where she advises clients to disregard the voices that stop them from realizing their potential. "One night, I just said to Joanne — you know, what I really want is to go and help the refugees."
By the end of the year more than 1 million refugees — about half of them from Syria, but others from Afghanistan, Iraq and other troubled nations — had arrived in Europe, according to The Independent. Often, they entered through Greece, which as a member of the European Union, serves as a geographically convenient portal into the Continent.
Feinberg was on board with the idea, and they soon learned that hundreds of volunteers from around the world had begun taking matters into their own hands by coming to the Greek island of Lesbos.
By the end of December, Hertz and Feinberg were right there beside them.
"Before we even got to the hotel, we noticed a dinghy on the water," Hertz says. "I immediately pulled over and we tried to figure if and how we should help." Three men were already in the water, waiting to greet the boat and rescue its children. A woman quickly explained that the volunteers should form two lines and pass each child down the line from person to person.
Although it may seem that the refugees are primarily men, Hertz points out that it only looks this way on television because, typically, the men fill the exterior of the boats to protect the women and children who huddle on the interior.
"I ended up holding a toddler," Hertz continues. "He couldn't have been more than three years old. I took him and wrapped him in foil blankets to keep him warm. He struggled for a bit, then laid his head on my shoulder and I just held him as tight as I could. Finally, someone came up to me and the child made a start and I realized it was his father."
As if by clockwork, a bus operated by the United Nations High Commission on Refugees showed up to transport the refugees to a nearby camp.
There, Hertz discovered another amazing site.
Because the streams of refugees were too large to process, hundreds of people had been stuck in a holding pattern, wandering outside the environs of the registration center and sleeping in the dirt.
"By the time we got there just after Christmas, volunteers had built a whole community for them — there was a medical tent, a food tent, a prayer tent, a clothing distribution tent, a children's play tent," says Hertz. "It was still a hell, but one with a lot of love and caring."
For the next week and a half, Hertz would divide her time between the shore and the camp, where she and Feinberg worked mostly in the clothing distribution tent.
For Hertz, participating in this huge grassroots volunteer effort illustrated how people can make a difference even in the smallest way.
"It's just a matter of taking one little step to cross over the line against that voice in your head that says 'I can't do enough' or 'my contribution won't really matter,'" she says.
Before leaving for Greece, the women raised $4,000 to spend on much-needed goods; for example, they used $1,000 of that money on site to buy shoes. They also brought donations with them — primarily cold-weather gear such as down jackets, gloves, hats and scarves.
"The best option, though, is to send money so the volunteers can determine what's most needed and then go out and get it," says Hertz. "Much of the clothing that they are receiving just can't be used — stuff that is torn or dirty, or items like, if you can believe it, bikinis!"
If donors do send clothing, she added, it's best to send gently worn item, pre-sorted and labeled.
Meanwhile, Hertz is helping to organize a rally in Washington, D.C., this summer that will raise awareness of the situation and give people the tools to help. Visit dcrally4refugees.org for more information or to get involved.
In recognition of her volunteer service, Hertz is being recognized by her local HandsOn Network Affiliate, Volunteer Fairfax, at the 2016 Fairfax County Volunteer Service Awards.
Share this post