Nursing Home Volunteers Bring Joy to Residents and Build Lasting Friendships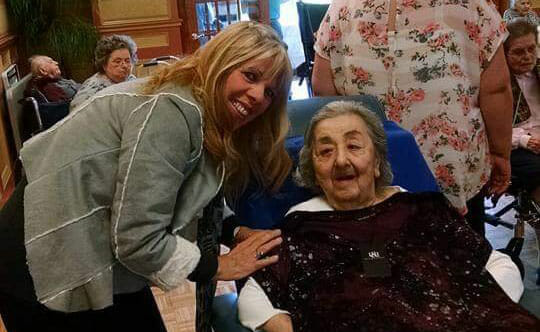 As a professional clown, Maryann Greco brings joy to people on a daily basis, but volunteering in a nursing home made her realize how important a simple conversation or game of Scrabble can be to another person. While making daily visits to the Allendale Nursing Home in New Jersey to see her mother, who suffers from dementia, Maryann that many of the residents did not receive any visitors – so she began to sit and talk with them. As just one person, she could not visit everyone, so in 2012 she started Growing Relationships and Making Memories (G.R.A.M.M) to recruit volunteers to match with seniors. Through one-on-one interaction, volunteers form meaningful relationships with seniors, bringing love and joy to their lives.
"When President George H.W. Bush created the Daily Point of Light Award, he had in mind an individual such as Maryann, who created an organization that positively impacts so many lives. Maryann, and the organization she founded and named G.R.A.M.M., proves that one person can make a difference," said Bernard Milano, a Points of Light board member, who nominated Maryann.
We spoke with Maryann to learn more about G.R.A.M.M and how little acts of kindness can have big impact.
What is the G.R.A.M.M. Program?
Growing Relationships and Making Memories is an outreach program similar to Big Brothers Big Sisters. I get volunteers to visit isolated seniors who have no family or friends visiting them on a regular basis.
How has the G.R.A.M.M. program impacted your community?
Well, there are people who are lonely, who need to feel special again. They need to feel loved. They get to be 70, 80, 90 years old and they just have to have a relationship with someone. The volunteers help alleviate the sense of loneliness, and it helps increase the dignity and wellbeing of people. Plus, it's a good feeling. You get a good feeling.
G.R.A.M.M has made more people aware of how important human contact is. You can be alone in a crowd and my program helps isolated seniors feel wanted again.
What inspired you to start G.R.A.M.M?
I have been a full-time professional clown for the last 38 years. G.R.A.M.M started when I wanted to give back in some way, but I did not want to work with sick children. I just knew that would break my heart. My mother is in a nursing home and I saw that many of the residents had no visitors and were very lonely. I put the G.R.A.M.M. program together and presented it to the nursing home, they accepted it, and the rest is history.
Tell us a little more about how G.R.A.M.M. works.
I have the volunteers come for eight weeks for one hour per week. By the end of the eight weeks, they have become so attached to the person they are paired with that they become friends and just continue. I have four people who have been doing it for years and come once a week on their own now.
When I got started, I put a package together as far as the do's and don'ts for volunteers when they meet and greet a resident. I can tell which residents are lonely and which ones don't have visitors. I check with them to see if they would like to have a visitor. For those who say yes, I pair them up with a volunteer. I usually put an ad in the newspaper and I get volunteers from that.
Can you share a few examples of how your volunteers make an impact?
I just finished with a volunteer from Ramapo College named Alexa. I introduced her to Claudia and Christine Burke, twin sisters who are both blind. Claudia plays the cello and Christine the flute. Alexa plays the cello, violin and viola. Alexa came for 20 hours, visiting Claudia and Christine and playing music with them. They loved it.
It is just the little things that make the seniors so happy. I had one gal, who used to be a neighbor. She works for the high school and they had boutonnieres and corsages left over from prom. She called me up and asked if we wanted them. I said yes! I brought all the boutonnieres and corsages to the nursing home and the seniors faces lit up, they were just so happy. Little things like that.
These are some of the stories that are so wonderful and warm my heart.
Why do you think it is important for others to get involved and make a difference in their community?
It's a win-win situation. Not only do you make someone happy, but it makes you feel good too.
What advice do you have for people who want to help seniors in their community?
First, start visiting nursing homes and nursing facilities, and talk to the director of activities to find out if they would be interested in starting a program. They can also get in touch with me, and I can help them out.
If people want to support your work or connect with you, how can they do so?
The G.R.A.M.M. program has a Facebook page and a website. You can learn more about our work and it is the best way to contact me.
Share this post