NYC Native Honors the Fallen at the 9/11 Museum and Gives Back to His City
Meet Daily Point of Light Award honoree Wayne Tappe. April is Global Volunteer Month, a global movement to recognize volunteers and people who actively support their communities, whether through volunteerism or other elements around the Points of Light Civic Circle®, like Wayne. Read his story, and join the Global Volunteer Month celebration. 
Wayne Tappe is not only a volunteer at the National  9/11 Memorial and Museum, where he is a docent and greets guests and visitors, but he also goes above and beyond volunteering with unhoused individuals on Thanksgiving, Christmas and other holidays. Additionally, Wayne is a volunteer at The High Line in New York City and The Metropolitan Museum of Art.  
Wayne grew up on Long Island and has been living in the city for almost 40 years now. He grew up in a family in which community service mattered and giving back to the community was paramount to the family's everyday lives. Wayne is the youngest of three and his mother had a great influence on his life. Wayne says, "She was such a caring and magnanimous individual." 
Read Wayne's story to learn how he is sharing his time and talent throughout the city he calls home.
What inspires you to volunteer?
I worked almost 20 years in the financial asset management business and learned so much at my job traveling around the world. Thankfully, I was fortunate enough to retire early and pursue my own endeavors. New York City has been very good to me and I am so elated and grateful  that I am able to give back to this fabulous metropolis I call home.  
There are many reasons why I choose to volunteer and get involved. Volunteering helps me stay attentive, alert and motivated plus boosts self confidence. It promotes growth and maturity too. I also feel that getting involved is an opportunity to expand my own life experience. 
Describe your volunteer roles with the organizations you work with.
I currently volunteer with several organizations in New York City. 
I have been a docent and educational interpreter at The National 9/11 Memorial and Museum for about 11 years now. The 9/11 Memorial and Museum honors those who were killed during the 2001 and 1993 attacks, and is the country's principal organization dedicated to documenting the impact of 9/11 and exploring its continued significance.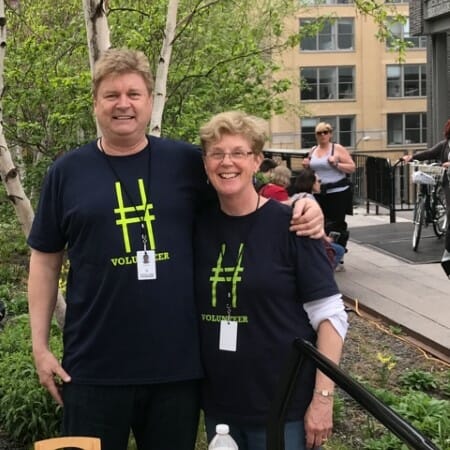 Actually, I was supposed to be down there on that day. Thankfully, I was uptown when the first plane hit the North Tower at 8:46 A.M. I lost dozens of very good friends on that day. It is a place to honor and remember those 3,000 innocent people who lost their lives and to honor the first responders who risked their lives to save others. I was in the inaugural docent program and have been associated with the museum since the beginning. Initially I was part of the Visitor Services team but now I'm an educational interpreter. It is very important to educate the public about the events that transpired on that fateful day. To this day, I am amazed by how NYC came together post 9/11. We mourned together and grieved together. I've never seen anything like it. It really showed the perseverance and resilience of the city and its residents.
I also volunteer at other organizations. I have been a Visitor Experience and Enrichment committee member at the Metropolitan Museum of Art for six years. Each year, the MET welcomes millions of visitors. I have been a Visitor Services information guide and ambassador at The High Line for 10 years, a public park built on a historic freight rail elevated above the street on the west side of Manhattan. I have been a patron greeter and information guide at Carnegie Hall for six years. For each of these organizations, I am primarily responsible for enhancing a visitor's experience by educating and interpreting the artifacts or materials during their visit. I am also involved in some fundraising efforts. I have always been a supporter of the arts in NYC, donating my time and effort, and supporting them in a philanthropic way. 
I have also been volunteering at The Bowery Mission for several years. This faith-based mission has been helping underserved and unhoused people in all aspects of their lives since 1875. It is such a wonderful organization treating each person with dignity and respect. 
What's been the most rewarding part of your work?
The most rewarding part of volunteering is giving back and enjoying the fruits of my labor whether it's a tour somewhere, chatting about a painting at The MET, discussing a musical number at Carnegie Hall or just working in the soup kitchen at The Bowery Mission. I feel so lucky and fortunate that I can share life's experiences and give my time and energy to the community.  
What have you learned through your experiences as a volunteer?
I've learned how to work more efficiently with others and the importance of teamwork. 
Are there any future partnerships, programs or events that you are excited about? 
I am looking forward to starting docent training at The MET which is quite a difficult task. There is another project which I am looking forward to pertaining to the restoration of NYC landmark preservation buildings.  
Why is it important for others to get involved with causes they care about?
It gives a person a purpose to get out and be involved. It is much different to just chat about something vs. actually getting out and being involved. So gratifying.  
What do you want people to learn from your story?
It's never too late to start volunteering …just get out there and get motivated. It is so rewarding! 
Join the Global Volunteer Month celebration! Download our Global Volunteer Month toolkits and access resources to encourage volunteerism and civic action, recognize volunteers, and raise awareness for your organization's needs and funding opportunities.   
Share this post