Schwab Employee Leads Financial Literacy Efforts in Underserved Classrooms Around the Nation
Meet Daily Point of Light Award honoree Kris Anest. April is Global Volunteer Month, a global movement to recognize volunteers and people who actively support their communities, whether through volunteerism or other elements around the Points of Light Civic Circle®, like Kris. Read her story, and join the Global Volunteer Month celebration. 
As a former history and economics teacher turned Charles Schwab employee, Kris Anest of Chandler, Arizona, is a long-time advocate for financial literacy and brings this passion to her community through service on two non-profit boards.
Kris sits on the board of the Arizona Council on Economic Education (ACEE) and Opportunity Community and Justice for Kids. As a co-chair for Schwab's Phoenix Community Ambassador team, Kris organizes dozens of company volunteer events annually and stewards over $180,000 in annual community grants. 
Since her childhood, Kris has been volunteering, whether through community service in school or as a candy striper in the local hospital.
"My mom is so important in my story," Kris said. "She grew up dirt poor in South Tuscon. And she did everything she could to make sure we were educated, and I'm now in my third year of a Ph.D… She was tough, tough, tough. But all of the values she had, all that she learned, she passed on to us kids. She had us involved in everything, including community service. My mom planted the seeds and I never lost them."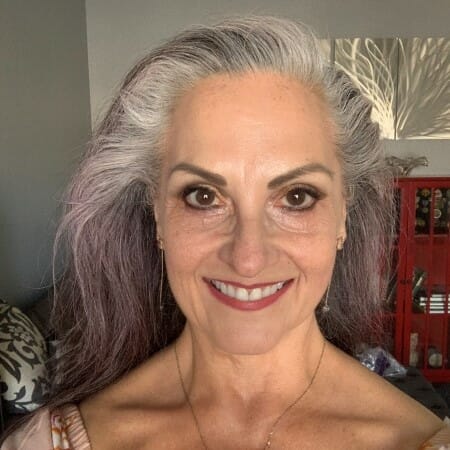 In 2022, Kris recruited 67 fellow Schwabbies to volunteer with the ACEE, a record for the organization. She leads Schwab Intern Day Volunteer events, participates as a judge in the SIFMA Foundation's InvestWrite program, volunteers regularly with Boys & Girls Club and is a key mentor in Schwab Moneywise America program, which brings personal finance to under-resourced communities. 
"Through Charles Schwab, I lead a committee where we're trying to get financial literacy content into Title I and rural classrooms, and those with indigenous populations – underserved classrooms, because that's where the reach is needed and it's hardest to get to," Kris shared. "That's where my passion is. I taught world history, economics and advanced placement macro-econ at the high school level. I love hearing from former students who now own their own businesses and are thriving."
The course content was built from the perspective of students, using current-day language. "So kids are learning from people who talk like them and look like them," Kris shared about the representation seen in such an important and impactful learning experience.
Since 2017, Kris has volunteered over 400 hours and coordinated nearly 40 volunteer projects to engage fellow Schwabbies in service to the Phoenix community. "I really enjoy inspiring other employees to want to engage in the same kind of work and effort." 
To prospective volunteers, Kris is an advocate of jumping in where they can. "There's such a need out there, and there are so many people who have compassion in their hearts, want to do more and want to help, but there's a disconnect on how they can do it. It's not always easy to find the path to get to where you want. And sometimes, time is the factor. It takes sacrifice. But the reward – what you get in return – doesn't even come close to the sacrifice you've made."
Join the Global Volunteer Month celebration! Download our Global Volunteer Month toolkits and access resources to encourage volunteerism and civic action, recognize volunteers, and raise awareness for your organization's needs and funding opportunities.   
Share this post