Ohio Cancer Survivor serves community through mentorship and guidance
Meet Daily Point of Light Award honoree Lisa Craine. Read her story and nominate an outstanding volunteer or family as a Daily Point of Light.
Being told you have six months to live seems like the end of the world. But for Lisa Craine, diagnosed with Stage IV Cholangiocarcinoma in 2010, that a prediction was the beginning of a new world, one of love and mentoring and fundraising to help others dealing with the extremely rare bile duct cancer. Nine years later, her medical journey has included five recurrences with eight tumors, four different chemotherapy regiments, two liver resections and intense radiation multiple times. But she's still here, heading a non-profit that raises money for critically needed research money for this aggressive and deadly disease with no cure, and supporting them as they navigate their journey through mentoring, advocacy, love and prayer. Her favorite advice is to never let anyone take your hope away. She walks that walk every single day.
Describe your volunteer role
It is multi-faceted. I mentor patients in the CholangioConnect program, and am also actively involved in mentoring with the Cleveland Clinic Foundation, the Scott Hamilton CARES Foundation and Imerman's Angels. My husband David and I founded Craine's Cholangiocarcinoma Crew and together we have raised more than $250,000 strictly for research. I help others navigate second opinions, clinical trials and new treatment options, by phone and serve at a Research Advocate, Patient Advocate and CARE Team member, as well as a Conference Volunteer.
Why is it important to you to support your community in this way?
Growing up, my parents worked hard to provide for our family, but they always found time to serve others. Constantly volunteering and giving, they were compassionate and selfless. When I was diagnosed in 2010, I realized my parents, although not rich, were philanthropists and that volunteering time and talent was as important as writing a check. A year after my diagnosis, I started volunteering as a mentor for other patients, so they would not feel isolated and know what to expect through the treatment process. I am relatable because I have been in their shoes.
What's the most challenging aspect of your volunteer service?
Feeling like you aren't making a difference because people are still suffering and dying of this rare cancer. Not having enough hours in the day.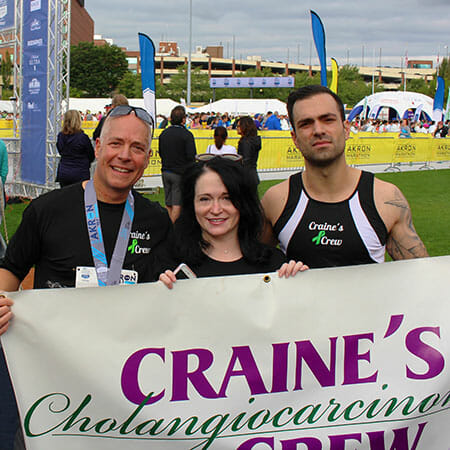 Why do you think it's important for others to give back?
As a Christian, I believe we all have the opportunity to serve others as Jesus did. Through love, kindness, education, research and hope we can impact our community positively. We will never abolish pain and suffering from the world but through our volunteer service we can sure make it a whole heck of a lot better.
What's been the most rewarding part of your work?
Definitely the people I meet and the relationships that are built. Knowing you made someone feel loved and helped guide them to better treatments plans. Realizing that someone with a BFA in musical theatre can learn some of the basic science needed to help patients navigate clinical trials, targeted therapies and second opinions.
I love spending my days on the phone with patients and some days it's scientific and other days it's just giving virtual hugs and love.
What have you learned through your experiences as a volunteer?
I found the Cholangiocarcinoma Foundation shortly after being diagnosed. They were the first place that offered me hope. They have brought patients, caregivers and medical professionals together to unite in this fight against bile duct cancer.
I have learned that it is a privilege to volunteer and a gift that I cherish. I've learned that we can all make a difference.
Are there any future partnerships, programs, or events that you are excited about?
I am part of a new group with Cholangiocarcinoma Foundation called the CARE Team. Our goal is to spread Cholangiocarcinoma awareness through mini symposiums around the U.S. We have done four so far this year and have plans to establish CARE teams in other cities. As far as Craine's Crew, our next goal is to raise enough money to endow a chair for Cholangiocarcinoma research.
I am passionate about making a difference in the lives of survivors and currently sit on a board that is looking at survivorship care and how to improve it.
I will continue to attend conferences, advocacy training and research training so that I can share my knowledge with others.
What do you want people to learn from your story?
There is always HOPE. And yes, one person can make a difference. Volunteers are a sign of hope and compassion in our world. I wouldn't trade my life, diagnosis or volunteer work for anything. Volunteering has allowed me to love more deeply and give more freely. I believe that Mother Teresa was right when she said "We can do no great things – only small things with great love."
Do you want to make a difference in your community like Lisa Craine? Find local volunteer opportunities.
Share this post