Grandmother Volunteer Puts the "Art" in Heart for Homeless and Community Members in Need
Meet Daily Point of Light Award honoree Betty Hawley. Read her story and nominate an outstanding volunteer or family as a Daily Point of Light.
78-year-old Betty Hawley quilts to pass the time. As a volunteer receptionist at Father Carr's Place 2B, a family wellness center that ministers to the poor and provides family and community activities, Betty says she'd notice people entering the center slumped over, often with tears in their eyes. "They were in distress," the Oshkosh, Wisconsin resident says.
But after greeting these individuals, Betty says she'd engage them in conversation. They'd ask about her quilting. Sometimes, she'd teach the person how to quilt. And she says their sadness would melt away.
Recognizing the positive effect her creative projects had on others, Betty launched Creative Hearts, an art program offered to children and adults across homelessness, domestic abuse, refugee and other populations in need. Often overwhelmed by their stressful circumstances, this community sometimes has difficulty maintaining hope about overcoming their situations, according to Betty. Serving hundreds of participants in the last three years through Creative Hearts, Betty is providing those in need in her community with a social and artistic outlet, offering them a sense of freedom and hope through self-expression.
What inspires you to volunteer?
When I am creative, I feel empowered. When I'm being creative, it kind of speaks for what is in my heart and in my soul. Through volunteering, I wanted to offer creation, because we offer the homeless the basics: shelter, food, job training. Sure, we offer to help them, but this creative segment wasn't there, and I wanted to be able to start a movement that would promote that.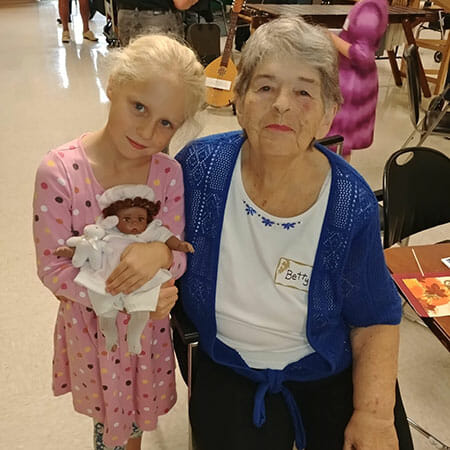 Describe your role with Creative Hearts.
I am the volunteer director of Creative Hearts, and all eight of the members on our advisory board are volunteers. We host the program at Father Carr's Place 2B, and we plan for what supplies we need for our art classes and how we'll pay for them. Our programs are assisted by Circle K student volunteers from our local university. I will preside over the art sessions, and our volunteers work one-on-one with the children in the program.
What are some of your favorite art projects to teach?
One time we taught shaving cream art with the class. It comes out in a beautiful print, they just loved that. Another time we might create greeting cards, or jewelry. At Christmastime, we'll paint ornaments.
Share one personal story with me from your volunteerism.
There's a program participant we had in class one day when we were making cards. This woman went through the line to pick up her art supplies, and she just plodded through. She really had no emotion to her. All of a sudden, a lady walked through the front door. This participant's eyes lit up, she came up to me and asked if she could make another card. This woman hopped, even danced through the line to get her supplies. I can't explain it (laughs). She then asked to give me a hug. She explained that the lady who had just walked through the door had helped her, and she was so thankful to be able to give her a card to thank her in return. It means so much that they can give something back to somebody, and not just be a taker. That's important for all of us, that we feel we can give to society, and not just take.
What's one way you hope to inspire others in your service?
All of us have some type of gift. My gift is to be able to see something that maybe other people don't see, and put it together. All of us need to look at what gift we have that's been given to us, and share that gift. It doesn't matter how little or big your gift is, but we need to share it.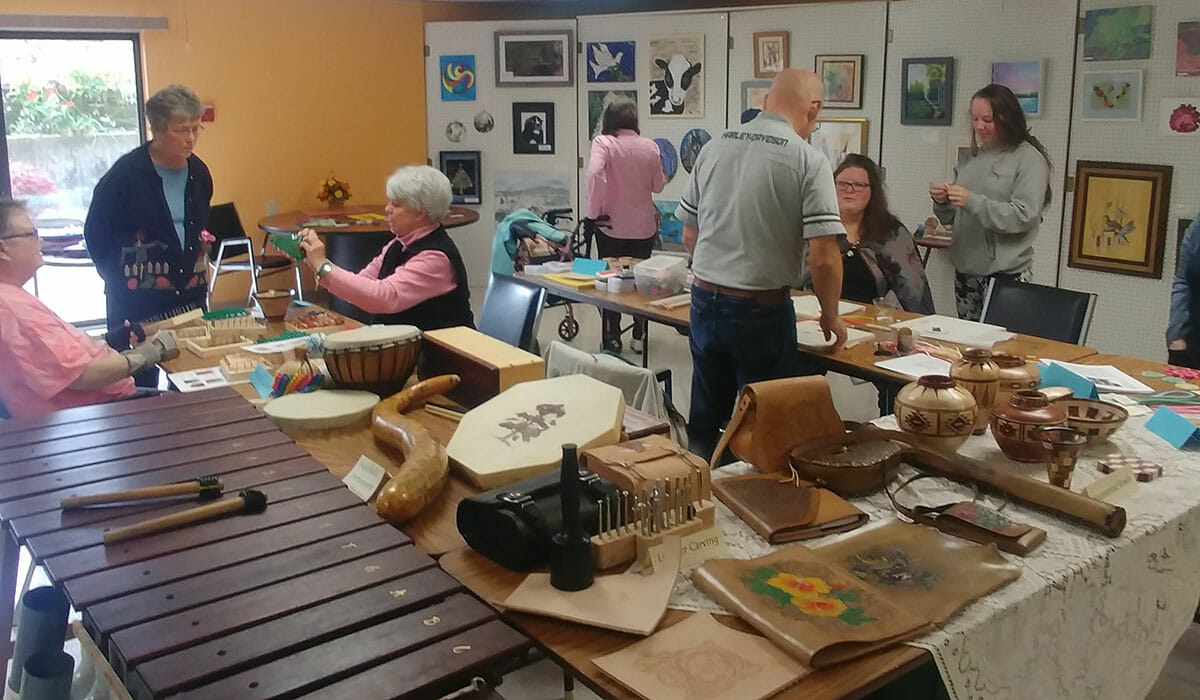 What's been the most rewarding part of your service?
We had this little boy come into class, he came in late with his mom. We were doing shaving cream art that day, and he didn't want to do it because all the other kids had finished their projects and they were playing pool. We asked him to do his project anyway, and when he was done, he threw it on the floor. I picked the project up, cleaned it and put it into a frame. I then called the boy over, and he came to me with his shoulders bent over and his head down, expecting me to yell at him. I said to him, 'look, you became an artist today.' His eyes widened. They just grew. He was at that shelter for months, and there wasn't anyone at that shelter who he didn't show his artwork to while he was there. We gave him self-esteem that day. You don't see big, miraculous changes each day, but you do see that, those types of changes, and that makes a difference.
What have you learned through your experiences as a volunteer?
I credit what I do to the man up above. The Lord speaks to my soul, and so that's what we do and how I serve. Sometimes it works, and sometimes it doesn't.
How can readers help?
We hold monthly art programs from September through May. We are dependent upon financial and art supply donations. For more information about Creative Hearts, please contact us.
Do you want to make a difference in your community like Betty Hawley? Find local volunteer opportunities.
Share this post