One Teen Lights Up the World with STEM
Meet Daily Point of Light Award honoree Catherine Tu. Read her story and nominate an outstanding volunteer or family as a Daily Point of Light.
Ever since Catherine Tu was young, she has loved science, technology, engineering and math (STEM) subjects. From building LEGO projects to being a part of robotics since 7th grade, Catherine always approached challenges through the lens of STEM. 
During a STEM summer camp organized by the Westlake High School robotics team (where she learned about 3D printing), Catherine became fascinated by the fact that the volunteers were ordinary high school students. She still remembers how knowledgeable and patient the student volunteers were, sharing their passions and helping camp participants expand their knowledge in these areas. It was a life-changing experience for Catherine and it was the point at which she knew that she wanted to follow in their footsteps someday, utilizing her passion for STEM to get more involved in the community.  
What inspires you to volunteer?
When I was in elementary school, my mom often brought me to volunteer at Mobile Loaves & Fishes (MLF), where we packed peanut butter and jelly sandwiches and boiled eggs to deliver to unhoused individuals around the city. To this day, I continue working with MLF. Having these experiences at a young age sparked my awareness of underserved people in the community, creating a yearning to help them however I can.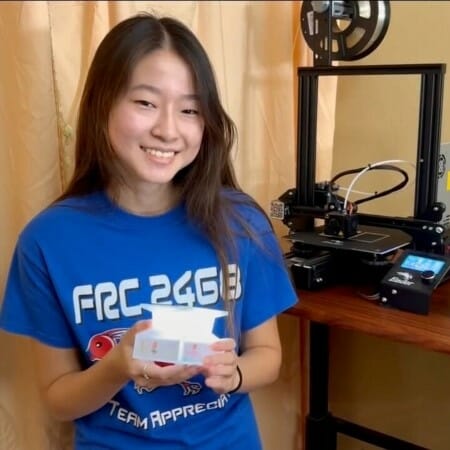 Describe your volunteer role with Organic Lights.
In my freshman year robotics class, my coach assigned personal projects involving 3D printing as the last class assignment before winter break. I've always been interested in solar panels and their utilization of renewable energy, so I chose to use computer-aided design (CAD) software to design a solar light. Already in the Christmas break mindset, I roughly designed a solar panel light in SolidWorks. I didn't think too much of it, and promptly left for the holidays. 
Shortly after coming back from winter break and starting a new semester, a catastrophic snowstorm hit Texas and shut down the state's electric grid operator, leaving millions of families without electricity, heat, running water or propane. My family's friends spent four days without any form of power. We drove across ice-covered roads just to deliver charged batteries and medicine to them. 
The frenzy caused by the unprecedented blizzard led to the creation of my nonprofit, Organic Lights. I realized that during the power blackout, solar lights could have benefitted many families across the state who needed a reliable light source. I recognized natural catastrophes like these are rare, but I continued prototyping and tweaking the lights while pursuing the idea of helping those in need through my passion for STEM.  
During the COVID-19 lockdown, I designed a 3D solar light called Organic Lights to spread renewable energy, STEM education and hope to those in need in the community. The light is rechargeable ("organic") via a solar panel, and has slots on each side to hold customized paper inserts so I can personalize every light. The light can be used as a flashlight, reading light or candle. 
I soon came to the conclusion that Organic Lights could be so much more than just an emergency light source. The initiatives of Organic Lights became to spread STEM awareness, promote renewable energy and be a source of not just light but hope to unhoused individuals, underserved communities, isolated seniors and beyond. 
Describe your volunteer role with Organic Lights. 
Each month, I create about ten Organic Lights. I 3D-print and assemble each component of a light, personalize the light with customized side panels and deliver each light. Each Organic Light is personalized because I want individuals to feel that each light's meaning goes beyond just a solar light.  
In the past two years, Organic Lights has delivered lights to homeless camps, underserved kids, hospitals and teachers. We have collaborated with seven organizations, created 40 custom side panels and given out 134 Organic Lights as of this writing. 
In the past month, I've begun delivering lights internationally. My lights have made their way to Thailand, and I'm in the process of delivering Organic Lights to China.   
What's been the most rewarding part of your work?
A few months ago, I heard of a mission trip to Thailand, to a school for children whose education is lacking in STEM topics. I contacted a member of the mission trip, and they expressed interest in bringing a few Organic Lights with them.  
When the Organic Lights arrived in Thailand, the school director was so inspired by the lights that she introduced them to all the students, who admired them and felt the hope illuminated by the solar lights.  
Stories like this are why I made Organic Lights. More than just lights, they are meant to inspire and spread hope through STEM and renewable energy. My goal is to positively impact both local and international individuals. 
What have you learned through your experiences as a volunteer?
I have had the pleasure of working with various organizations and interacting with people from different walks of life and different backgrounds. These experiences have taught me how to be a better communicator and how to empathize with others, ultimately helping me become a better leader.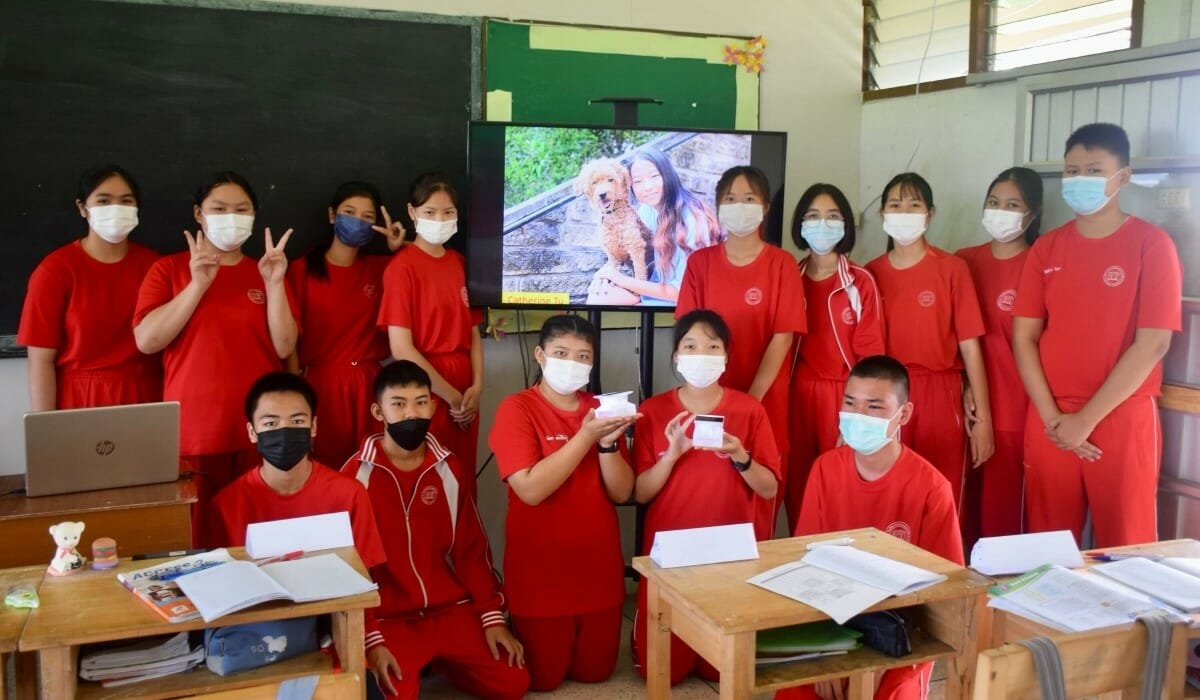 Are there any future partnerships, programs or events that you are excited about?
For the three years since I've been in high school, I've been a programmer on my school's FIRST Robotics Challenge (FRC) team. I have been the Student Council Class Vice President since my freshman year. Ever since I created Organic Lights, I've been thinking of ways to get my robotics and Student Council community involved. In the future, I look forward to working with the clubs I take part in to give back to our community through the power of STEM.  
Why do you think it's important for others to get involved with causes they care about?  
Each individual possesses a unique skillset that can benefit others in a distinctive way. Getting involved in the community through your areas of interest allows for personal growth while making a difference. Volunteering benefits both the individuals and the communities because they improve their collaboration, empathy and leadership skills while simultaneously shaping the world around them into a better place. 
What do you want people to learn from your story?
Volunteering with passion is so powerful. Organic Lights is the result of incorporating my passion for helping others with my passion for robotics. It's been such an inspiring experience to see how my love for people and STEM can impact others! 
There are so many ways to help even if you have limited time! In addition to Organic Lights, which requires about seven hours of work each month, I also work with Mobile Loaves & Fishes, boiling eggs for them to deliver to unhoused individuals (1.5 hours per month).  
Over the summer, I was a counselor for a Python camp where I taught students from grades 4-10 the basics of programming in Python (40 hours throughout the summer). As the Student Council Class Vice President, I have been leading and participating in various activities throughout the year (two hours per month).  
I help my former ninth-grade English teacher set up her new classroom library every Thursday during my lunch period. I've been helping create personalized library cards and organize the bookshelf by genre (one hour per week).  
This past Thanksgiving Break, I went on a volunteer trip to New Orleans with an Austin-based organization. I participated in various activities such as tiling a house to serve low-income families, helping out at a local church that consists almost entirely of elderly people and working in a food pantry then later delivering boxes of food items to the homeless. (40 hours over the course of five days). 
These small time commitments add up to make a huge difference. You can do the same. 
Do you want to make a difference in your community like Catherine? Find local volunteer opportunities.
Share this post