STEM-passionate Teen Paves the Way for Other Students to Learn for Free
Meet Daily Point of Light Award honoree Joel Setya. Read his story and nominate an outstanding volunteer or family as a Daily Point of Light.  
Many students feel that STEM teaching in schools lacks application and engagement, making it difficult to apply the concepts. During the pandemic, Joel Setya co-founded a region of STEM & Buds, a national nonprofit organization dedicated to teaching students STEM topics for free. Joel worked to recruit 50 high school chapter heads and volunteers, leading his sessions consisting of STEM-related discussions and activities and impacting over 250 students over the past two years.  
In the virtual year, Joel was creative in coordinating the timings for sessions across four Zoom accounts and developing engaging virtual activities, including popular virtual escape rooms. Joel connected students to high school mentors, forging deep relationships of mentorship. This year, he's serving as the executive director, overseeing the impact of 3,500 students, and has partnered with a local nonprofit and recruited leaders to continue his work. 
Describe your volunteer role.
I'm the executive director of STEM & Buds, a nonprofit organization dedicated to educating elementary and middle school students about STEM. It started in my sophomore year, when my cousin was volunteering for the organization as a mentor for one of the summer camps. This was during quarantine in summer of 2020. I joined as well, volunteered there and enjoyed the ability to personally work with students, developing their skills and watching them grow in these STEM camps.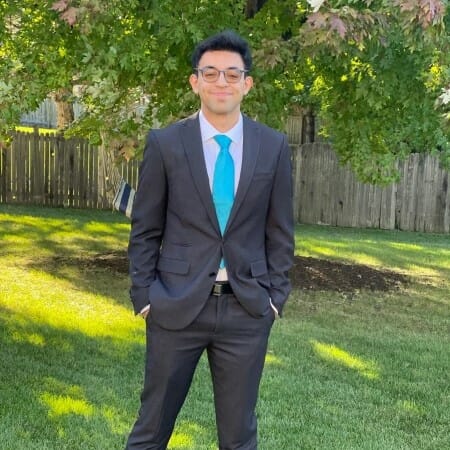 When I came back, I knew I wanted to do the same thing in my hometown of Naperville. When I came back, I worked to create a region of STEM & Buds here in Naperville. It took a while to get started. We had to email different principals, get into district e-folders, create curriculum and figure out Zoom. We were able to get it started for 10 chapters or so, and every day we would host, for some school or another, a meeting starting with icebreakers, shift to a science experiment or teach some kind of concept. One part of this is the STEM portion, but another is the "buds" portion, which is forming those relationships between high school mentors and students that will truly go for a while. I was mentoring students, teaching them, creating curriculum, and then junior year, I evolved into a greater role in the organization, which is national programs director. I helped out different regions across the country. Naperville, where I am, is one of our largest regions, but there were 10 regions throughout three different countries. So I'd hop on calls with people from Turkey or Canada and see how their programs were going and how I could use some of my experience to help.  
Then, in senior year, I've taken on my biggest role yet. I still continue with Naperville and our now in-person STEM sessions, but I also serve as executive director of this nonprofit organization, handling various departments and the overall 15 to 16 regions across five countries. 
What about this cause really spoke to you?
There are two parts that were important to me. As a first and second grader, I was really the science fair kid. I'm not too into engineering, but the science, technology and math portions have always been my forte. I knew I wanted to get involved with the community using my strengths.  
Also, maybe other older siblings feel this way, but I kind of felt like I never really had guidance. As the oldest sibling, I was expected to guide, I'm responsible for helping my sister. I really enjoyed the opportunity to serve as a mentor for other people, lead and guide them through middle and high school. It's amazing how some of my students would stick around after the allocated hour and a half, tell me some ridiculous stories. It's nice serving as big brother and mentor role. 
What inspires you to keep volunteering?
Sometimes it's tough. I'm a senior, so classes are tough and there are college apps. But I will make it my priority to be there at every session, lead every session and give it 120%. There are a few students we've had that have made it all worth it. One student, part of our original batch in Naperville, he was so shy, he wouldn't turn on his camera, he would sit in the corner. Now, he always has his hand raised and is excited when he sees something blow up! Seeing the growth for students, form meaningful relationships with them and have a true impact has made sure I always continue. 
What are some lessons you have learned along the way?
One incredible part about this program is that it's not confined to our region. Before I took over as executive director, there were people before me. Talking to former leaders who were from Pittsburg, or others from Turkey or Canada, I learned tons of lessons, especially about their perspectives in life, how their school systems are. I was able to learn a lot of different viewpoints.  
In terms of obstacles that we faced, the COVID-19 quarantine really made everything really difficult when integrating the program into Naperville. Obviously, we couldn't do anything in person. We wanted to make sure every student was engaged. They already attended virtual school throughout the day, and they may be getting tired from that Zoom screen. So we created extremely engaging activities and mailed out materials for different experiments for the students. 
Are there any future partnerships, programs or events that you are excited about?
I'm really happy because STEM & Buds has a structure that means hopefully we won't go away; we're here to stay. We're working on a partnership with Women in STEM, an organization to empower women in this field. We will have a conference with different guest speakers, use our students and theirs to talk about opportunities for women in STEM, and encourage and guide them toward different mentors and resources.  
I'm also excited to keep growing. We're at five countries now, so I'm excited to continue growing, meeting new people, learning from them and having an impact. 
What advice do you have for those who want to start volunteering?
Do it! Volunteering is huge! After I started getting involved with my community, even though it seems that you're not necessarily getting anything materialistic back, the experiences you'll have, the people you'll meet, the lessons you'll learn and the connections you'll form will outweigh everything.
Do you want to make a difference in your community like Joel? Find local volunteer opportunities.  
Share this post