Siblings Create a Legacy of Giving to End Food Insecurity
Meet Daily Point of Light Award honorees Camden Alexander-James and Colton James-Edward Francis. Read their story and nominate an outstanding volunteer or family as a Daily Point of Light.  
When the COVID-19 pandemic swept through their Sudbury, Massachusetts town, siblings of service Camden and Colton Francis didn't sit still as their community grew food insecure. They knew that they couldn't cure the virus, but they could start creating food equity by taking excess food from nearby neighborhoods and redistributing it to communities experiencing hunger — and that's exactly what they did.  
With Beyond the Crisis, the now 19-year-old and 17-year-old brothers have donated over $15,000 worth of food items to communities and homeless shelters across Massachusetts, and they named their organization intentionally: they plan to do this work years beyond the pandemic.    
Describe your volunteer role with
Beyond the Crisis. 
Camden: It was during the pandemic in 2020 when my brother and I founded this organization, Beyond the Crisis. It was kind of at the height of the pandemic with all of the news reports. People were told to stay inside to really protect themselves, and we didn't know what was going to happen or what would be the true impact of this virus. At the ages of 16 and 14, my brother and I knew that we weren't going to make the cure for this virus, but we knew that we could do something. We wanted to create small initiatives to really help make a difference over time, so that's really what my brother and I sought out to do. We started brainstorming and doing a lot of research and through that, we found that there's actually enough food in the U.S. to go around. But there's a lot of food deserts and a lot of food is getting away.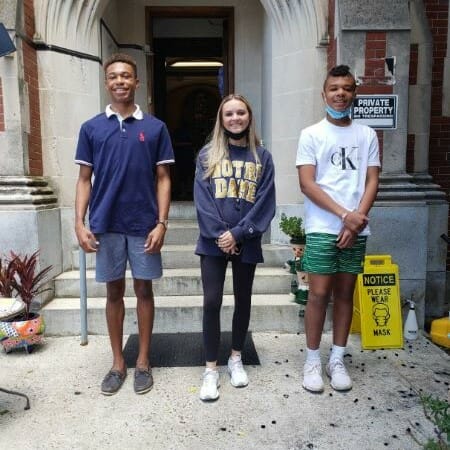 As a person of color, I was worried for my community. My brother and I came from a fortunate family and had more resources than necessary, so we thought of ideas around how we could help because this virus was going to cause a lot of economic effects and disparities for certain families. Basically, we started to take food from areas of surplus to areas where there wasn't enough food. We wanted to create a food balance by taking food from suburban towns to families who were impoverished. 
Over time, we got our community around this idea and we've received so much help from our mentor, YMCA Metro North CEO Cathy Walsh, and she really helped us get started. In the beginning of this process, a lot of people didn't take it seriously. I was sitting in front of a computer for 10+ hours a day sending emails that were getting bounced back or not responded to. But as of today, we've done interviews with CBS, we've been on the Drew Barrymore show, we've done a podcast at Bloomberg and now we're talking with you guys.  
It kind of shows that we really want to be an inspiration for other teenagers and be role models and let them know that if you can start something now and take initiative today. You don't have to be a certain age to really have an impact. You can turn it into a legacy of giving, and that's what we want to dedicate a lot of our time to do with this organization even beyond the pandemic, which is why we're called Beyond the Crisis. 
Describe the different leadership roles you each carry. 
Camden: I wanted to work with my brother because it's so cool to give back with a family member. There's a lot of overlap in our leadership roles. I was handling the startup, putting up the website, contacting different donors and kind of figuring out which areas were going to help first. That turned into helping the Catholic Charities of Boston because they're such a big organization and have a wide network.  
At this point, we're both getting help from a lot of other kinds of organizations and it's easier to kind of manage together. 
What are the accomplishments you've seen with Beyond the Crisis?
Camden: We've been able to reach a wider audience about food insecurity and educate others about this issue. It's a serious problem that some people don't have enough food on the table. We've done conferences with the White House on hunger, nutrition and health and we've been involved with other high level government officials and politicians. We've spoken directly with Jim McGovern, who's our largest donor, and we even have Goodwill Ambassadors like Lady Gaga with her Born This Way Foundation. 
Do you have a favorite memory from distributing food and housing resources? 
Colton: My favorite memory of Beyond the Crisis, still to this day, is guest speaking on the Drew Barrymore show! This memory was so special because not only was it a pivotal once-in-a-lifetime experience, but it gave me and my brother Camden a foundational platform to inspire other teenagers our age. It was also cool knowing that the impact we made with Beyond the Crisis was so profound that people such as Drew Barrymore and her audience wanted to hear our story! 
What inspires you to volunteer?
Camden: I would just say the impact that you can have and how it can really benefit others' lives. Just taking a few hours of every day to work on the organization can help relieve the stress that other families face every day. That's really the basis of why I do it. 
Colton: The main thing that inspires me to volunteer is the impact that it has on others' lives. It is not always the most exciting thing in the world but knowing that it can provide people with food — a vital resource that many individuals don't have enough of makes all the difference. Knowing that you can have a positive impact on another individual's life makes you feel good and gives you gratitude. Having gratitude is such an important life lesson and I honestly feel that my life would lack perspective without it. Volunteering with my big bro "Cam" is also great! I look up to him and together we want something to come back to, to give our time and resources and hopefully establish a long-lasting legacy of giving. So that's what Beyond the Crisis is about in a nutshell — giving our time and resources during and "Beyond" unfortunate events such as the pandemic and really working to spread optimism in our community one act of service at a time. 
Why is it important for others to volunteer?  
Camden: If I was ever in a different situation than I am today, I would definitely want the empathy of others. Usually when people are killing it in life, they don't look back, and I just wanted to look back from a young age and acknowledge how far I've come and use some of that time to help others achieve their goals or at least help relieve some of their hardships or stress.  
Is there anything coming up with Beyond the Crisis that you're excited about?
Camden: A variety of different things are coming up in the new year. I'm working with my mentor on speaking at a black tie event in Boston. There's a variety of different things that are going on with our organization. We're working on fundraising as we speak. And we're working with big organizations, corporations and some healthcare companies that are going to help raise funds to fight this issue of food insecurity. Every day there are new things going on. 
Do you want to make a difference in your community like Camden and Colton? Find local volunteer opportunities. 
Share this post