One Women's Passion for Horses Gives Adults and Kids with Special Needs the Ability to Shine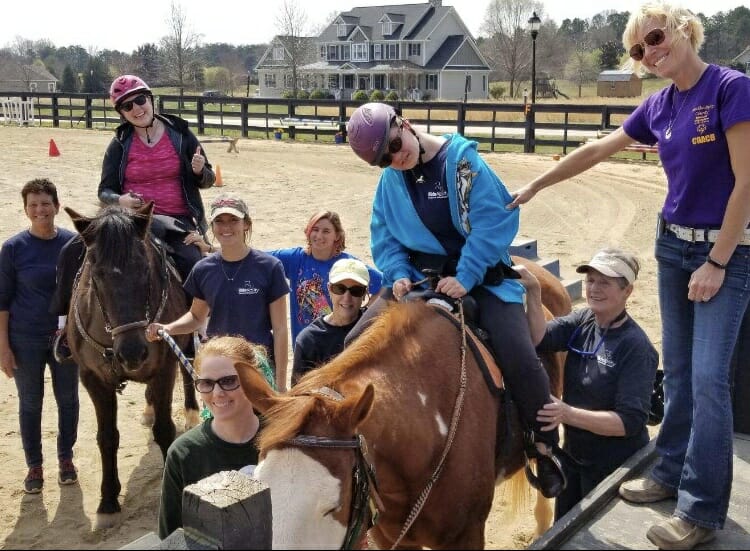 Wendy Schonfeld started riding horses at the age of 14 so it had always been a personal passion. However, after her daughter was born with a disability, therapeutic horse riding created a deeper, more personal connection between them. When Wendy's family moved to rural South Carolina, she had a vision and a mission to bring the type of service that she experienced in New York to her new community.
She founded RideAbility Therapeutic Riding Center in 2011, providing horse-related programs to children, adults and families with special needs to promote their physical, psychological, emotional and social well-being. Its goal is no family should ever be turned away due to financial obstacles.
Wendy and the RideAbility volunteers use horses as facilitators to improve muscle strength, confidence, coordination and balance in kids and adults with special needs.
We talked to Wendy to find out how her passion for horses led her to start RideAbility and what she wants other people to learn from her experience volunteering with people with special needs.
What inspired you to volunteer?
I was a chiropractor and volunteered with the Special Olympics and always had a passion for riding horses. Becoming a therapeutic instructor with horses seemed like a perfect mix. I can recall watching a little boy with special needs on a horse and he was so happy and laughing — it was the type of belly laugh from his head all the way to his toes. After he was finished riding the horse, I observed him being returned to his wheelchair and he still had a smile on his face. I just remembered thinking; I want to give kids with special needs that ability to shine. At RideAbility Therapeutic Riding Center, we offer horse-related programs to children and adults with special needs such as autism, cerebral palsy and Down syndrome. We show them that the possibilities are endless. Watching them achieve their goals, complete tasks, gain confidence and make friends is why I volunteer.
Describe your volunteer role with RideAbility.
I wear many different hats. I am the certified instructor at RideAbility, and the volunteer coordinator. We have 50 volunteers who all make RideAbility possible and I am responsible for training them all. In addition to the volunteers, I train the horses. I also work with the Special Olympics equestrian team.
Why do you think it's important for others to give back?
It is so rewarding to give back to others. If everyone could make a difference to one person a day, what a wonderful world we would have. The smiles of our families and riders are why I do what I do. That is our reward.
What's been the most rewarding part of your work?
The most rewarding part of my work is seeing the happiness and joy of the families when they see their kids do something that they thought was not possible. Kids who are unable to walk say they feel free when they ride on a horse. Seeing the riders feel joy and happiness and watching them reach goals — that is my reward.
What have you learned through your experiences as a volunteer?
As a special needs volunteer, I have learned patience, kindness and love. Honestly, my special needs clients have the ability to be pure, honest and non-judgmental. Our society doesn't seem able to do that. They have taught me about caring and forgiving. I have learned so much more from my special needs clients than anything I can teach them.
Are there any future partnerships, programs, or events that you are excited about?
Right now we have a Go Fund Me campaign to raise funds for a covered arena, so our special needs population can still benefit from the RideAbility program regardless of weather conditionscontinue to benefit from our therapeutic program all year long with rain and extreme temperatures.. We don't want our riders to miss out on therapeutic rides due to rain, heat or wind. Our hope is with a covered arena, our riders won't have their sessions interrupted due to inclement weather.
What is your role with the Special Olympics?
I am an advanced certified equestrian coach for the Special Olympics. I work with the equestrian athletes in a 10-week training program in South Carolina and North Carolina. I coach them in team work and sportsmanship.
What do you want people to learn from your story?
I want people to learn that individuals with special needs are the most amazing people to work with. It is not about our own crazy, busy schedules – take the time to find a place to volunteer and make a difference in someone's life.
This post was written by Karen Cohen.
Do you want to make a difference like Wendy? Check out All For Good for local volunteer opportunities.
Share this post