Pairing Teens with Buddies Online, Young Activist Builds Community and Raises Mental Health Awareness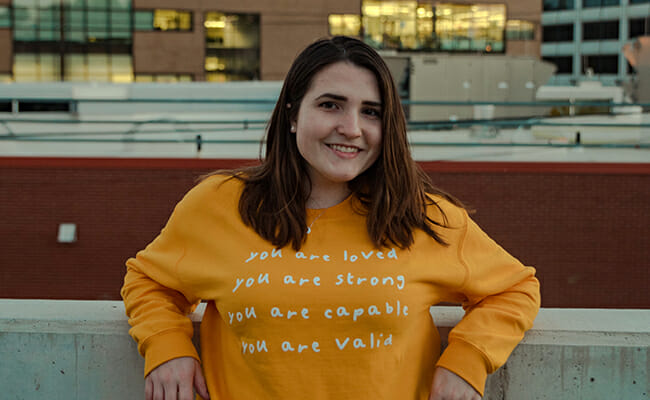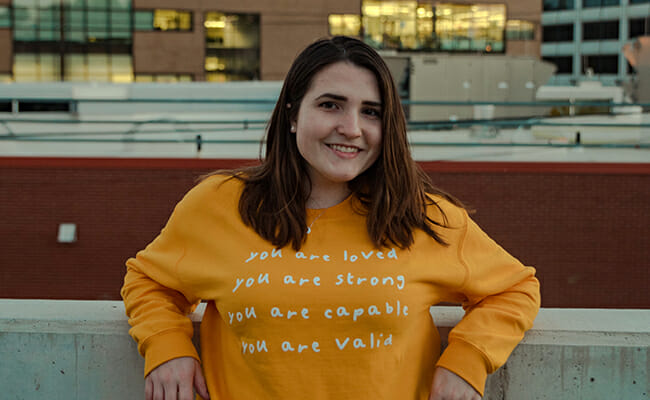 On April 8, 2013, Gabby Frost opened Twitter and saw that three girls in her network were contemplating suicide. After responding to them directly, she thought, "What can I do to prevent this from happening again?" The answer was Buddy Project.
Combining her own experience with social anxiety, and the knowledge she'd learned from friends who had opened up to her about suicidal thoughts and self-harm, and the power of social media, Gabby came up with the idea of an online community where people could make new friends, support one another and become mental health advocates.
She tweeted about her idea that very night, and with support from her online community, the following day Gabby created Buddy Project's Twitter account and a buddy sign-up form. Within the first 12 hours, nearly 3,000 people signed up. To Gabby, the response showed just how much people were longing for community, and she knew she had to put more time and effort into it by matching as many buddy pairs as possible.
Buddy Project pairs people with buddies online with the mission of preventing suicide, self-harm and to raise awareness for mental health, giving thousands of teens and young adults the opportunity to find the community and support system they need. Through this movement, Gabby, now 20 years old, is proving that positivity, empathy and companionship can break down the stigma of mental illness and reduce bullying and negativity on social media.
For those who are looking for a support system, Gabby believes finding an online community can be a great resource. Buddy Project builds on that concept, matching users with buddies according to interests and age.
"So many people out there have a hard time making friends and creating community, but there are people online who share common interests with you," said Gabby. "Find them, and community will become one of the best things for you." Reaching out for professional help can also be a positive resource, she said.
In addition to providing a supportive online community, Gabby hopes Buddy Project will help people better understand mental illness. For example, she wants to show people that their language is extremely important when supporting someone who is struggling with mental illness. Using words like "crazy" and "psycho" have negative connotations that could be damaging to someone's confidence and growth.
"Changing our language and teaching ourselves to be more empathetic can show people that we aren't afraid to hear how they feel," said Gabby. "People don't want to talk about things and don't want to get help if they believe that their feelings will be overlooked and seen as insignificant."
Gabby's dreams for Buddy Project are taking off. In the near future, participants will be able to use a Buddy Project app to be matched more efficiently and effectively. When the app development is complete, users will also have more control over who their buddy is, and will be able to have more than one buddy at a time. Gabby is also expanding more Buddy Project campus chapters to middle schools, high schools and colleges, creating spaces where deeper conversations about mental health can take place. And, the organization offers several other ways for people to get involved, from organizing fundraisers to joining online campaigns, or even participating on their youth advisory board.
Thanks to people like Gabby, mental illness is becoming something people can discuss more freely and honestly. Today, more than 228,000 people have signed up to be paired with a buddy through Buddy Project, which is helping people see that their differences don't define them — and that there will always be someone ready to support them.
Gabby understands the importance of trusting yourself and believing in your potential for doing good — and that anyone can make a difference, regardless of age, race, gender, sexuality or social class. "This was something that was tough for me to learn, since I was a teenage girl and people didn't take me seriously," said Gabby. "It's been five and a half years, and not listening to negative people was one of the best decisions I made to succeed. All that really mattered was what I thought, and I thought what I was doing was good."
Want to make a difference in your community? Visit www.allforgood.org to find local opportunities to get involved.
Share this post