Paying it Forward to Women with Cancer, She Created a National Wig Exchange Program
Meet Daily Point of Light Award honoree Carolyn Keller, who was a Top 10 finalist for the L'Oréal Paris Women of Worth Award in 2018. Each year L'Oréal Paris and Points of Light recognize and celebrate Women of Worth who make a beautiful difference in their communities. Ten honorees each receive a $10,000 grant to support their most cherished cause, and an online vote determines one honoree who will receive an additional $25,000 grant. Nominations for 2019 are now open! If you know a woman who works to create lasting and significant change in her community, nominate her to be one of the 2019 Women of Worth.
"The simple gesture of a woman donating a wig she once wore during chemotherapy treatment allows her to not only move past her cancer experience, but to bring joy and hope to someone newly diagnosed," said Carolyn Keller. A cancer survivor herself, Carolyn know that for many women, their hair is a symbol of who they are – an integral part of their identity and an outward symbol of their femininity. Losing it during chemotherapy can sometimes feel like losing a part of who you are.
This year, an estimated 330,000 new cases of breast cancer will be diagnosed in the United States. During the course of her lifetime, one in eight women in our country, or 12.4 percent of the female population, will be diagnosed with the disease.
Carolyn was the unlucky one in the group of eight. In 2002, she heard those dreaded four words: "You have breast cancer." In the early stages of the disease, she required a double mastectomy. Fortunately, her lymph nodes were deemed clear, so no further treatment was necessary. However, in 2005, her doctor discovered a 3.5-mm nodule in a lymph node, and Carolyn learned that she would require chemotherapy. "When I heard this new diagnosis, my first question was, 'Am I going to lose my hair?'" she said. "It seemed like such a trivial concern, but it meant my cancer was real and that others would see it as real, too." She did lose her hair, so she purchased two wigs that would conceal the effects of her treatment. Following eight rounds of chemotherapy and new hair growth, she stored her wigs away.
It wasn't long before cancer struck her family again, this time involving her sister-in-law, Laura. Carolyn donated one of her wigs to Laura with instructions to "… give it forward to someone else who might need it when your treatments are over." That opportunity came sooner rather than later, when another sister-in-law, Karen, was diagnosed. At that point, Carolyn had an a-ha moment. "I realized this wig exchange thing could be something," she said.
In 2011, Carolyn assembled a group of like-minded women who took to the Internet and social media in search of wigs to donate to women in need going through cancer treatment, and EBeauty became the clearinghouse for the project. "I thought if we helped just one person, we would be a success," said Carolyn. The power of women helping women knows no bounds, however, and neither did Carolyn. In the first year, more than 2,500 hairpieces were refurbished and distributed to women who could not afford wigs, which can cost in excess of $5,000.
Initially, EBeauty received used wigs via mail and at drop-off locations in the Washington, D.C., metro area. These locations quickly expanded into other areas of the country, including New York, Florida and Texas. Experiencing growing pains, the company moved from Carolyn's home to a 4,000-square-foot office space in Washington, D.C., which was donated by her husband, Mark. Along with EBeauty's online exchange program, in the past year, Carolyn and her group have partnered with 10 hospitals – including Johns Hopkins Medical Center in Maryland, Sylvester Comprehensive Cancer Center in Florida, and Houston Methodist Hospital in Texas, to distribute the wigs. Carolyn's good work continues today, with almost 10,000 wigs collected, refurbished and distributed annually to women across the country.
Carolyn assembled a community of individuals who work tirelessly to ensure the program's success. Every two weeks, approximately 20 volunteers gather to sort through the wigs that have been donated and ship out clean wigs to one of the 10 hospitals that serve as distribution centers. The American Cancer Society, another partner, provides national exposure for EBeauty, soliciting wigs for the organization, as well as connecting women who need them. In addition, Carolyn has teamed up with Eivind and Hans Salon of Georgetown, as well as the Paul Mitchell Schools, to clean and refurbish the wigs before they are gifted. There are 100 schools across the country and this partnership, along with the growing Hospital Partnership Program, will allow Ebeauty to clean and distribute wigs more efficiently. This will help the organization reach an even greater number of women in the coming years.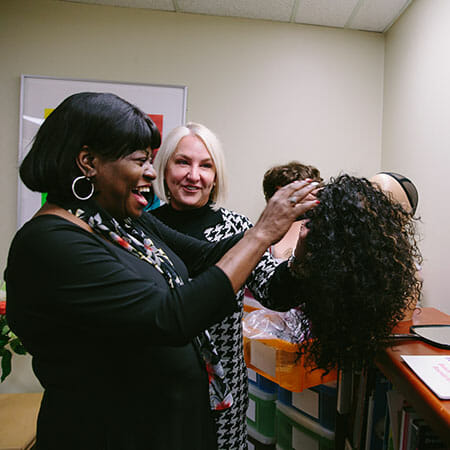 The work of Carolyn and EBeauty has been nothing short of astounding. To date, more than 25,000 women have received and donated wigs. Because of the sheer volume of hairpieces collected and distributed, EBeauty is considered the largest wig exchange program for women with cancer in the country.
The grassroots nature of EBeauty is what makes the program unique and successful. Carolyn's mantra of "women helping women" has allowed the program to realize its mission "to provide all women, regardless of economic status, access to wigs in order to restore their self-image and confidence during cancer treatment."
Last year, Carolyn was honored by the American Cancer Society's Circle of 12 in Miami, Florida, in recognition of her work. Her vision for EBeauty's potential is extraordinary, but she shies away from credit – she prefers that the focus to be on how other women will benefit. Women like Michelle Schoenfeld of Washington, D.C., who shared EBeauty's significance on her road to recovery from breast cancer:
"Donating my wig to EBeauty was a symbol of love for someone I didn't even know. I would ask anyone who has chosen to wear a wig, that when the time comes to take it off for the last time, to give it forward to someone else through EBeauty." Michelle said. "Wearing a wig is a personal decision. It's not about vanity; it's about identity and dignity when everything else in your life feels out of control. Looking 'normal' can be a real comfort. You can't imagine the joy and closure donating your wig will bring you and the hope it will offer a fellow cancer survivor."
Share this post