Pennsylvania Woman Supports Unhoused Families and Sets Example for Others Through Volunteer Work
Meet Daily Point of Light Award honoree Sue Diehl. Read her story and nominate an outstanding volunteer or family as a Daily Point of Light.
Sue Diehl of Ambler, PA, embodies hospitality. It's impossible to meet her and not feel her warm, welcoming demeanor. This is why Sue is an excellent fit for the volunteer roles she serves in – hosting unhoused families and making them feel seen, heard and accepted.
For the past 25 years, Sue has served as a volunteer for Family Promise (formerly Interfaith Housing Alliance). For the past 18 years, she has served in the role of Host Coordinator, greeting unhoused families on her church's doorstep, creating a safe, home-like setting and organizing volunteers for meals, rides and children's activities.
An accomplished businesswoman and active member of the Jarrettown United Methodist Church, Sue has been recognized locally and nationally for her work in the community. Sue can be found each evening, sitting on the stoop of her church, waiting to warmly welcome the parents and children in Family Promise Montco's emergency shelter program at the end of a long day.
Read on to learn more about Sue's volunteer work and why she is driven toward the mission of supporting unhoused families.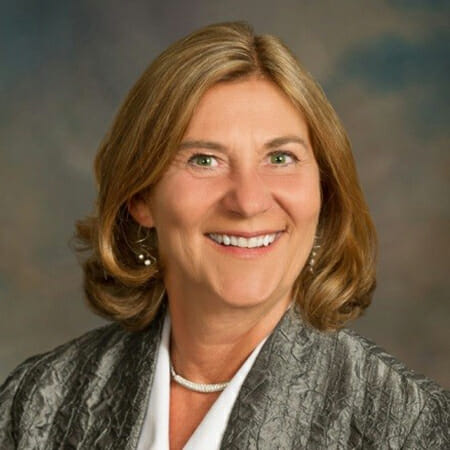 What inspires you to volunteer?
I always felt I was put on this earth to help people. I do a lot of different missions through the church, but I started with Family Promise when my kids were little. They thought it was neat that we could camp out at the church and they could play with other kids. I thought it was important for my kids to see the nature of their own circumstances, and to get involved in our community through volunteering with unhoused families.
Then, I established this tradition with my granddaughter. Every night after work, I started sitting on the church stoop between 5 and 5:30 to greet the families. And my granddaughter Harley would come with me. One year, I got a heart-wrenching note from one of the moms saying that she never in her life had someone wait on her. That there were days she would leave the church and cry all day, not knowing how she'd get through her situation, then she'd drive up and see my smiling face waiting for her, and she knew everything was going to be alright.
At that moment, six or seven years ago, I knew why I was doing it. Now, every time we're hosting the families, I do that – greeting them at the entrance. So when Harley was 4 years old, she connected with one of the little girls in the program. And they were sitting on the stoop holding hands. The little girl said, "We could be sisters," and Harley said, "We could be sisters!" When I drove Harley home, she told me she wanted to give the little girl her stroller and doll. This was her favorite doll! From that point forward, Harley has cleaned out her toys every year and they go to the church for the kids.
Describe your volunteer role.
We take up to three families, and in 90 days, Family Promise helps turn their lives around. Volunteers are there to help with dinners, overnights, be there to help with the kids, be there in case the parents wanted to talk. It's typically single moms with their children, so talking with them is part of what I do.
I've seen everything over the last twenty-something years. I've seen people come out of abusive situations – people with nothing but the clothes on their backs, nothing for their babies and kids. When I became a host coordinator, I started to get the volunteers together to make meals and bring them over or provide gift cards for additional food. I try to get playdates coordinated for the families who have kids.
I organize the donations too, and we set up three bedrooms. I try to make them real bedrooms, not like a multi-purpose room. Volunteers donate anything – sofas, beds. I try to make it like home. We housed families for multiple months during COVID when many of the churches couldn't.
Any rewarding stories from your volunteer work?
I have so many. There was one little boy who wanted an orange backpack. It was all he talked about. He wanted to go to school with an orange backpack. I looked everywhere for an orange backpack and finally found one. While he was with us, he slept with that backpack!
I ran into a woman who was in the program about 10 years ago, and she said, "I was in the program with a little baby. I didn't know what I was going to do. You gave me a sofa!" It's the mission that keeps on giving.
Why is it important for people to get involved with the causes they care about?
Some years, it's hard to see if you're making an impact. But having people come back years or decades later… adults who were children in the program, and are now volunteering their time. We saw a man who said that the program had taught him how to get involved and give back to the community. I get a lot out of it.
I follow the families when they leave Family Promise, to help them if they need something, help them get a car or anything. It's so great to show them that we care about them. I love the kids! They don't understand what their situation is. They just know that they're meeting new adult friends.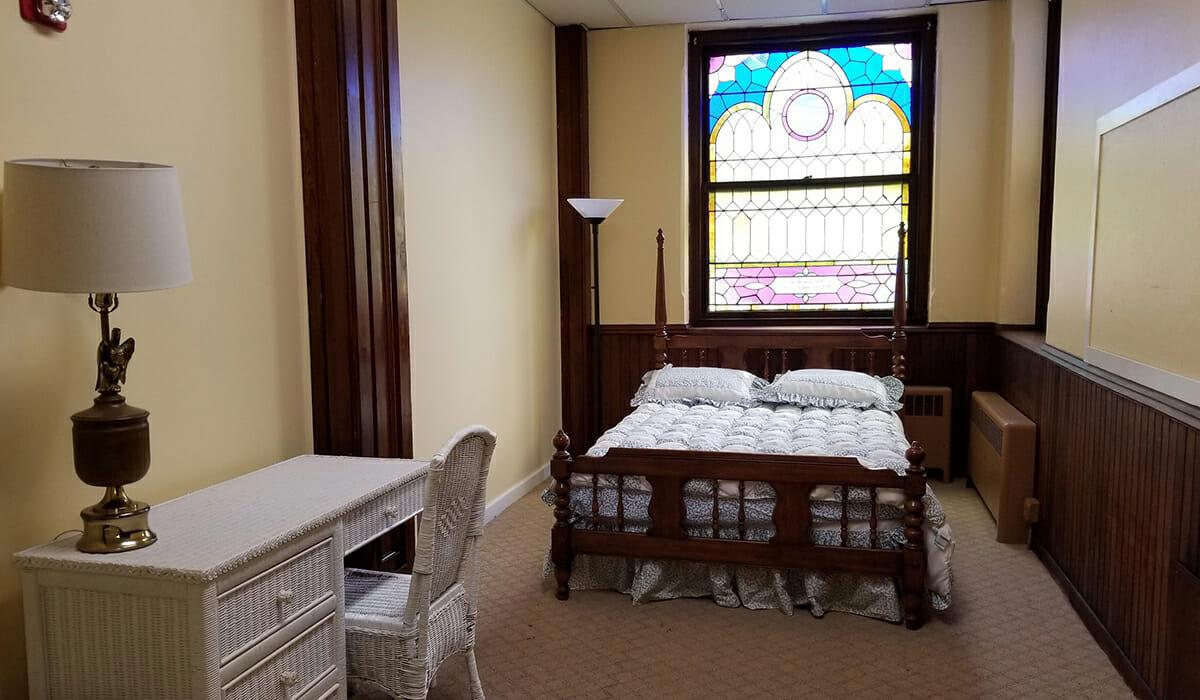 What's your advice for people who want to start volunteering?
You have to figure out what your internal mission is. I know that I'm here to help people. Look for your inner passion. Is it unhoused or displaced families? Is it a student at a school who needs mentorship? Is it food insecurity? You can look to your city, your municipality, your congregation. There are nonprofits and ways to help individuals depending on what your passion might be. It's easy if you look for it.
What do you want people to learn from your story?
One of the things I say, when I look for volunteers, is that we must remember we're all one step away from homelessness – it could happen so suddenly. The death of a loved one, the death of the breadwinner. The loss of your home for whatever reason. Spousal abuse. Disaster or disease. Funds running out. Eviction. Properties being condemned. Military spouses who didn't have enough funding from the military. We've seen all of this at Family Promise.
We all could be in that situation, with just one life event. Wouldn't it be nice to know that there's an organization that's there to help you?
Do you want to make a difference in your community like Sue? Find local volunteer opportunities.
Post written by Points of Light staff.
Share this post