Teen Sparks Kids' Passion for STEM
Meet Daily Point of Light Award honoree Sahaana Sai Rajagopalan. Read her story and nominate an outstanding volunteer or family as a Daily Point of Light.
Sahaana Sai Rajagopalan is a junior at the Charter School of Wilmington, Delaware. Her parents are from Mumbai, India and Sahaana has been fortunate to travel there every year to visit relatives. However, Sahaana's travels also exposed her to a side of the city that is shocking. Kids her age and much younger are unhoused, often on the streets without access to basic needs, including education.
Sahaana talked to her aunts about this troubling issue, and they introduced Sahaana to an organization they volunteered with called AngelXpress. AngelXpress works to give underserved children the best educational start possible through city-wide free learning centers and an extensive volunteer network. Sahaana's aunt took her to one of the centers and Sahaana got to see her aunt demonstrate basic math and science skills to a group of kids. Seeing the children's sheer joy when learning, coupled with their innate curiosity, made Sahaana realize that she too wanted to work with children and "spark" their passion for STEM learning. She started working as a virtual tutor for AngelXpress, tutoring a 2nd-grade girl named Anshika.
But Sahaana wanted to do more. She realized that STEM disparities exist even in her home state of Delaware, and she knew she had to get involved to close this divide. Sahaana wanted to focus on the demographic of elementary school kids since those formative years can set children up for success. Sahaana found these years to be the most enlightening in terms of her STEM education experiences.
While doing further research on the issue of STEM elementary education equity, Sahaana realized that many STEM organizations addressed the educational divide through worksheets and aggressive tutoring techniques. Sahaana wanted children to develop creative, tactile and critical thinking skills as well.
Thus The S.P.A.R.K.S. Project (Students Providing Awareness & Reach of Knowledge in STEM) came to life as an organization dedicated to bridging the socioeconomic STEM divide with an inventive, collaborative and creative curriculum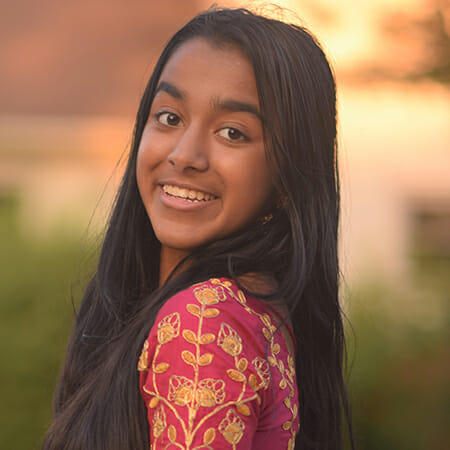 What inspires you to volunteer?
Knowing that there are children my age and younger that don't have access to a proper STEM education, and having the chance to make a difference is pretty amazing. Another aspect is how my classroom experiences as a child fortified my love for STEM and desire to go in the STEM field, so having the chance to do that for another child is extraordinary.
Describe your volunteer role with The S.P.A.R.K.S. Project
I am the founder and the executive director of The S.P.A.R.K.S. Project. Our mission is to bridge the STEM K-5 educational gap that exists due to socioeconomic factors. To meet our mission, we have a three-pronged approach of raising awareness of STEM, promoting accessibility of STEM, and forming alliances in the community.
As Executive Director, my role aligns with overseeing chapters, marketing, education and partnerships. However, I make sure to get involved at the root of the organization by speaking at PTA meetings for increased awareness, hosting free workshops, lessons and summer camps for as many students as often as I can, and filming at-home STEM youtube videos on The S.P.A.R.K.S. Youtube Channel to promote STEM accessibility, as well as cultivating and sustaining strong alliances in the community.
In March, we participated in Delaware's DoMore24 Campaign, which is Delaware's Annual Giving Day and were able to raise $1,040 in 24 hours. These funds will be used for the materials needed for our summer programming.
I have worked with 500+ students across our chapters in Delaware and Connecticut in school partnerships, summer camps and workshops. To promote STEM accessibility, we place emphasis on student discovery and innovation. A typical curriculum includes an explanation of a STEM topic, and application of that idea through a hands-on activity. We have taught the concept of density and had students make their own lava lamp to take home. We have taught engineering, through students working in teams to create a tower with select materials.
Lastly, I am an active community communicator, and constantly discuss initiatives with our partners which include the Boys & Girls Club, Urban Promise Project, New Garden Growers Market and Delaware Libraries. I also serve on the board of the nonprofit NerdItCares, which works to bridge the technological divide in the tri-state area, and we are hoping to do a pop-up event soon for The S.P.A.R.K.S. Project & NerdItCares!
What's been the most rewarding part of your work?
The most rewarding part of my work is the interaction and hands-on work with elementary students. Getting the chance to see them for one hour, two hours, one week or two weeks — depending on the programming — and forming a connection with each one of them is incredible. It's the best feeling when a child remembers you came from summer camp a year ago, and is excited to see you again!
It's also amazing to see the growth of these students during the times I am with them! It's those little moments that resonate with me. I love seeing them lead a group during an engineering activity, seeing their enthusiasm when we learn about chemistry, and something explodes, seeing their curiosity when I explain why some objects are magnetic…. I could go on! They are truly the best!
What have you learned through your experiences as a volunteer?
I have learned the importance of flexibility. There are many instances I can recall when I am teaching a STEM topic and I see the students are tired or bored… I have to adapt and change the lesson for the day, or add an extra interactive component to the lesson. Through this increased flexibility, I have gotten more comfortable with change, and now I know that with kids, things rarely ever go as planned. However, as long as the kids are happy and engaged, I must be doing something right!
Are there any future partnerships, programs or events that you are excited about?
Yes! I am very excited to be partnering with Urban Promise Project in Delaware this coming summer and am looking forward to doing many hands-on activities with the elementary school students and meeting many bright, curious, and passionate kids!
Secondly, I am very excited about continuing our partnership with Delaware Libraries for our Magic Tree House STEM Curriculum. In April, we went to the Route 9 Library and taught a lesson about identifying physical characteristics in conjunction with Mary Pope Ausborne's Dinosaurs Before Dark. To teach students about physical characteristics, we did a dinosaur scavenger hunt around the Library STEM Room. I am very excited to come back in a couple of weeks for the next book: Knight At Dawn.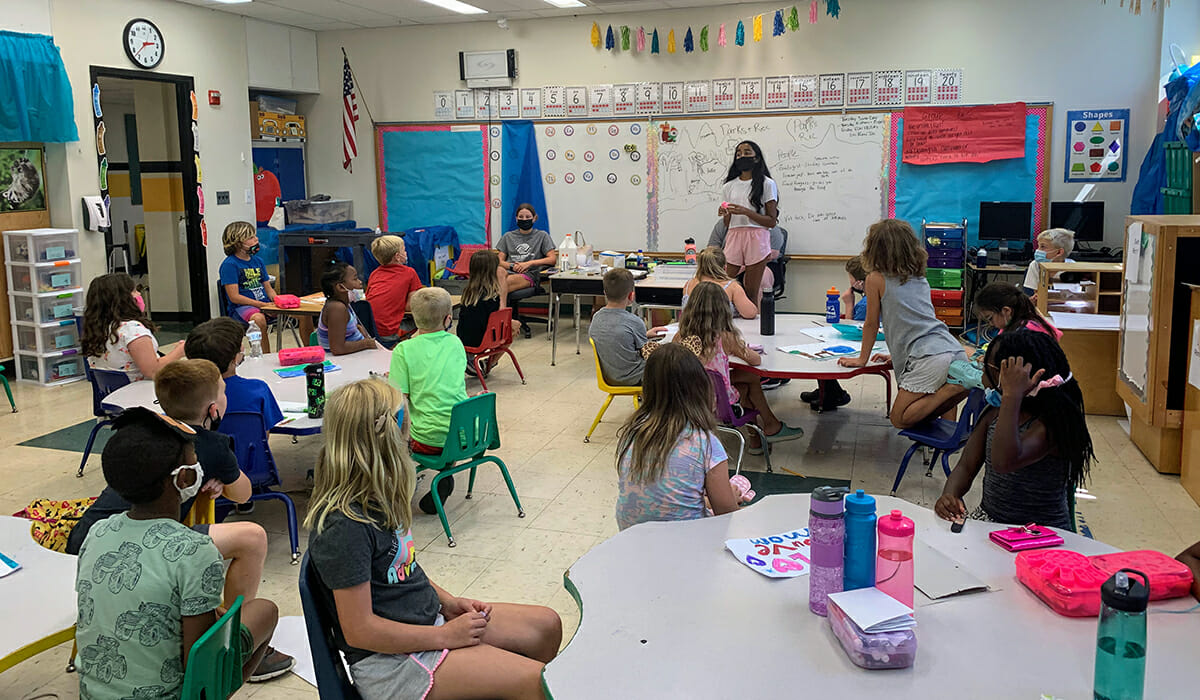 Why is it important for others to get involved with causes they care about?
Meeting like-minded individuals you that you never knew existed is unmatched. Their passion for change and advocacy is exuberant. That is why I believe every positive change, regardless of magnitude, makes a difference! No one should get discouraged by the "size" of change they create. If we all do our part little by little, we will be building a society of motivated changemakers!
What do you want people to learn from your story?
Observing the world around you is powerful. I implore everyone to get involved in their community, big or small, and take action to support the causes they care about. Passion goes a long way as well. Do what you love! Lots of times people will get discouraged by their age, race or other societal factors, but by taking the risk, and doing what makes you happy for the improvement of society, you will pave the way for a brighter future.
Do you want to make a difference in your community like Sahaana? Find local volunteer opportunities.
Share this post