Period Awareness for All Populations: Teen Volunteer Advocates for "Modern Women"
Meet Daily Point of Light Award honoree Emilie Ma. Read her story and nominate an outstanding volunteer or family as a Daily Point of Light.
As a freshman at Hamilton High, the largest public high school in the state of Arizona, Emilie Ma says when she realized her school had no menstrual product dispensers, she was "amazed." The Chandler, Arizona teen then took action to ensure that essential feminine products would be available to her classmates.
Her efforts growing since that day, Emilie Ma founded Modern Women in 2017, a student-led organization dedicated to improving the holistic health of women. Advocating for women's rights to reproductive health across populations including low-income, Native American and international, Emilie is serving as the ultimate modern woman as she volunteers to erase the stigma associated with feminine hygiene and help underserved women.
What inspires you to volunteer?
I'm inspired to volunteer because of the stories of the members I meet. We volunteer with people from Wisconsin and Illinois to Nepal and from the Native American reservations near my city. That diversity and the stories of adversity they face is what really inspires me to bring menstrual equity to all.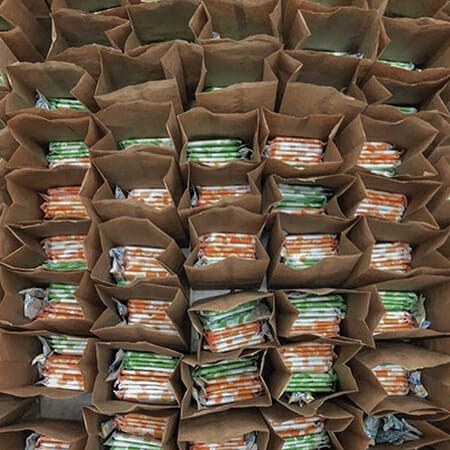 Describe your volunteerism with Modern Women.
As founder and president, I fundraise money which is used to purchase products we donate. We've donated 3,200 menstrual products within our Period Care Packages, which include tampons and pads, to impoverished women and students across the state of Arizona. I am also working with local Arizona schools to implement our Project Period, which offers menstrual pad boxes to schools. We have already established this program at a local charter school.
Share one personal story with me from your volunteerism.
Through our online advocacy, I met a girl who lives in Nepal. In one of her local villages, there was stigma around periods, and whenever a girl is menstruating, she has to be sent to a menstruation hut. There are laws forbidding that ostracization, but it still happens illegally. I was shocked this kind of thing still happens. Before my volunteerism, I had a really gilded view of menstruation and what it looked like around the world. I didn't realize that stigma went as far as to isolate women from their families for a couple of days like this. Through education, advocacy and change, we're working to raise awareness across many cultures.
Why do you think it's important for others to give back?
I've been able to find personal growth through service. I've become more open minded. Initially, I was hesitant to even use the word 'period' with my peers. Over time, I became accustomed to those words and uncovered the prejudice in these social issues. The need to bring attention to this issue is more crucial than ever.
How have you continued to volunteer throughout the COVID-19 pandemic?
The pandemic has made my service a little bit more difficult. We're keeping on top of pandemic regulations while promoting our causes. We've also added handmade face masks to the Period Care Packages that we distribute. All other work is being done virtually.
What have you learned from your volunteerism?
We are committed to diversity and inclusion. We're dedicated to bringing in BIPOC voices to the menstrual moment, especially people who aren't represented. What makes Modern Women work is how unique perspectives are being contributed to the conversation.
In one word, what does volunteering mean to you?
Meaning. Volunteerism is full of meaning.
When you're not busy volunteering or going to school, what do you do for fun?
I really enjoy skateboarding. I also create comics with my brother about emus and their place in history.
How can readers help?
We rely on donations to fund our product distribution. Please visit ModernXWomen.org for more information about how you can help.
Do you want to make a difference in your community like Emilie Ma? Find local volunteer opportunities.
Post written by Points of Light staff.
Share this post