Powered by Spirit and Strength, Volunteer Empowers Others with Muscular Dystrophy
Meet Daily Point of Light Award honoree Angela Wrigglesworth. Read her story and nominate an outstanding volunteer or family as a Daily Point of Light. 
Angela Wrigglesworth never walked as a baby. At 16-months, she was diagnosed with spinal muscular atrophy. But the Houston, Texas resident has been powered, not restrained, by being wheelchair-bound nearly her whole life. Raising awareness and working to eliminate stereotypes, Angela has dedicated her life to empowering others with disabilities. 
Angela is currently a volunteer with the Houston Advisory Board for Muscular Dystrophy Association (MDA), an organization the 42-year-old has been connected with since her diagnosis as a toddler. Receiving her first wheelchair at age 5, Angela has achieved many of the same milestones reached by individuals not wheelchair-bound: working as a public school teacher for 20 years, marrying just last year – and even more achievements less can claim, including serving as Ms. Wheelchair Texas. And that, says Angela, is by design as she works to change the landscape for people with disabilities: "I don't want to be a surprise to anyone. I want all people with disabilities to be incorporated into society."  
What inspires you to volunteer?
I want to live in a time where it's not shocking that I'm a school teacher, and when seeing someone on TV that has a disability isn't a rarity. As a volunteer with the MDA, I am working to change the landscape for people with disabilities, especially for those of us that use wheelchairs.  
Describe your role with the Muscular Dystrophy Association.
As a Houston Advisory Board member for MDA, I guide the organization by creatively engaging our community to contribute to and learn more about MDA. We also raise awareness and advise the association with regards to fundraising activities. Cures are being discovered today for my disease that didn't exist when I was born, and that is an example of the lifesaving discoveries we are all pushing for. 
You've served in a number of other volunteer roles in addition to MDA, including as a pageant queen. Explain.
As Ms. Wheelchair Texas 2004, a part of my mission was to eliminate architectural and attitudinal barriers. I wore a crown and a sash so people could see me as an accomplished woman, and not just someone who was in a wheelchair. I am also the founder and former executive director and board member of Ms. Wheelchair Texas Foundation, a former member of the MDA's National Task Force on Public Awareness and I am on the advisory board for MDA's Camp for All.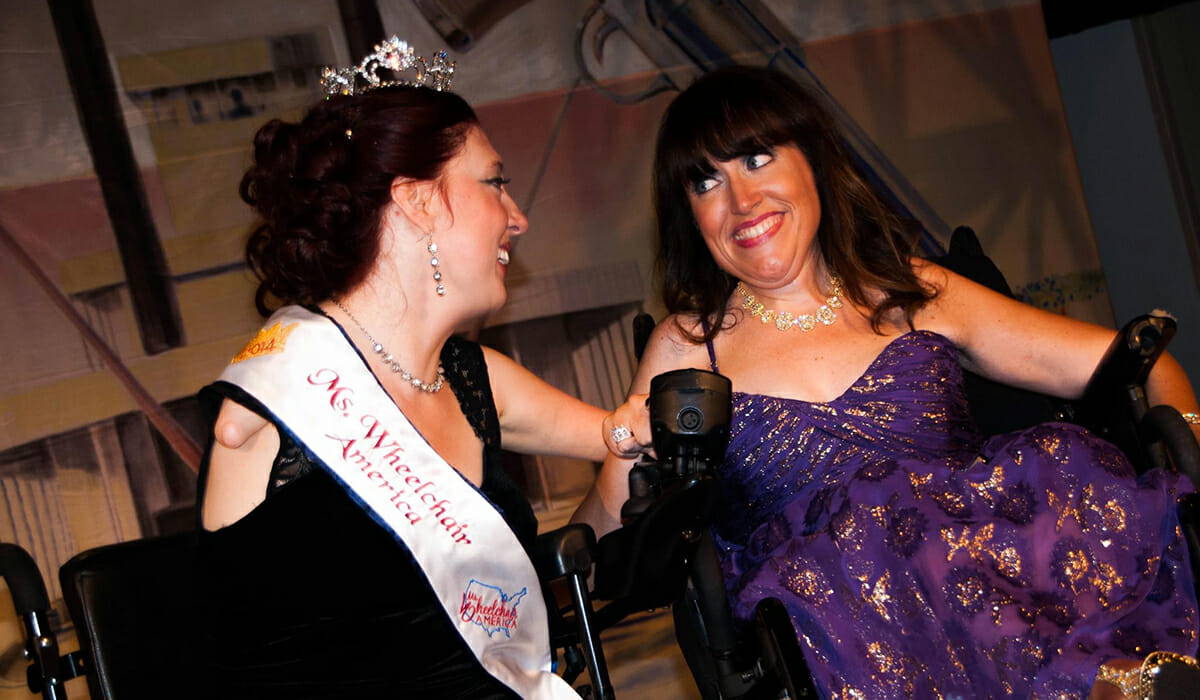 Share one personal story with me from your volunteerism.
One woman was competing for Ms. Wheelchair Texas, and she had a severe speech impediment which meant she communicated with a device. She wanted to say her speech aloud by herself, and before she delivered her remarks, I talked her through it. She said to me "I just want to be understood," and I told her, ultimately, that's what we all want in life, we just want to be understood. This woman going up on the stage and doing her very best not only helped her to be understood, she helped all of us to understand each other.  
What's one way you hope to inspire others in your service?
MDA covers over 40 neuromuscular diseases, and I'm one of those. I want to inspire anyone who has a neuromuscular disease with my story. I want anyone to know that they can overcome any challenge they want, whether they have a disability or not. 
What's been the most rewarding part of your service?
When young girls participate in Ms. Wheelchair Texas, or when I attend MDA's Camp for All, and I get to see the next generation. I can see more confidence in young people and that confidence means that minds are changing. That's the bottom line for me, because it means that somewhere along the way, the challenges I faced as a child are slowly going away.  
What's your life motto?
It's a quote made famous by former UCLA basketball head coach John Robert Woode: "Things turn out best for the people who make the best of the way things turn out." 
What have you learned through your experiences as a volunteer?
The act of giving of yourself through volunteerism is so much more filling than anything else you could ever do.  
How can readers help?
Please visit the Muscular Dystrophy Association website for more information about how you can give back and help.  
Do you want to make a difference in your community like Angela Wrigglesworth? Find local volunteer opportunities. 
Share this post