For Over 40 Years, Cancer Survivor Brings Fun to Service, Helping Improve the Lives of Residents in her Georgia Community
Meet Daily Point of Light Award honoree LaVerne Gaither. Read her story and nominate an outstanding volunteer or family as a Daily Point of Light.
Motivation, purpose and inspiration all unite in the form of LaVerne Gaither. The Fayetteville, Georgia, native has volunteered for over 40 years in her community, striving to show others that service is fun. Despite having a difficult past of grief and loss, she finds purpose and hope in using her gifts for the betterment of society. The 65-year-old volunteer needs no words to show people that her official motto is to live life to the fullest and have fun by volunteering and helping others; she naturally exudes it.
LaVerne volunteers with a variety of organizations, even while working as an international flight attendant. As a cancer survivor herself, her volunteer service has a focus on cancer survivor networks and helping seniors see the new possibilities of their future. She wholeheartedly believes in the magic of volunteering, and has no plan to let age slow her down.
What inspires you to volunteer?
16 years ago, beginning in June of 2003, I went through a unique six-month period that began with graduating with my master's degree in psychology. I wanted to help people as a therapist, but after two months, my father passed away. Shortly after that, my 25-year-old daughter passed away from pneumonia. My joy turned to grief, and then grief turned into excruciating pain. My doctor then told me that I had stage four-breast cancer, and back in those days, that meant that you didn't have much time to live.
At that time, I decided to pray and ask God to save me. I had other children to take care of, and I asked Him to let me help other people, especially with my degree. I started talking to patients in the oncologist office and waiting rooms, praying with them and empathizing with them. It's one thing to talk to your doctor who hasn't had cancer themselves, and it's another to talk to a fellow patient who knows what you're going through. 16 years later, I'm still cancer free and still helping people.
Volunteer service seems to keep you busy. Describe your role with the various organizations you are a part of.
I use my professional experience as a counselor with the Breast Cancer Survivor's Network, which gives patients free counseling services in person and online, free mammograms, prosthesis and distributes free wigs. I assist with the online support groups, like our community pink hotline, talking to patients newly diagnosed with cancer. The patients on the other end are near and dear to my heart. I also help out as a Board member.
I'm also involved with AARP of Georgia, helping retirees fulfill their goals and dreams. Now people are living way later, in fact the fastest growing age group is people over 85. Just because you turn 50 or 60 doesn't mean you don't have life to live. Retiring doesn't mean you don't have purpose. I'm a part of the AARP Life Reimagined program where I help people explore ways to improve their lives, and I encourage people to spark new solutions to fulfill their dreams. I'm also a volunteer on a movement called Disrupt Aging, which challenges outdated beliefs about people who are 50 plus years old.
I've volunteered for several years with the Chick-Fil-A Peach Bowl, an annual college football game hosted in Atlanta, which raises money for a variety of charitable causes, like cancer survivors. During the bowl, I volunteer with committees like media operations, parade, VIP hospitality, but this year I will be on the 50:50 Raffle team. This program raises money for various charities, but also awards one lucky winner half of the funds.
I want to show others that while you're having fun you can also help people. When you're helping others, you're helping yourself. I want to encourage everyone to live life to the fullest every single day.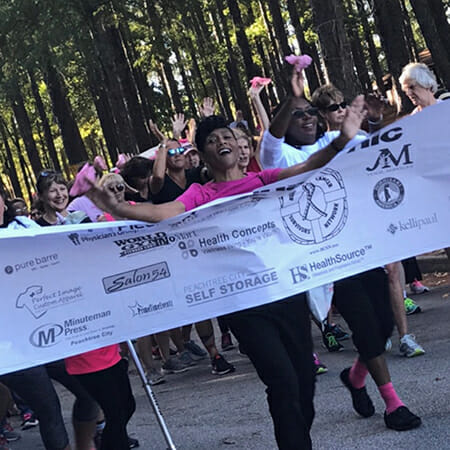 What's been the most rewarding part of your work?
You know, just helping people. I also love sharing stories on social media to encourage people and inspire others. It's like a ripple effect, especially when people reach out to me and ask how they can get involved.
You've had a full life of volunteering. What have you learned through your experiences?
I've learned that volunteering is just magical, and that helping someone can give you purpose. Everyone can help someone be an inspiration to someone else. It's also so much fun! You get to meet so many people, and it never feels like you're working.
I've also learned that as a senior, it's never too late to do something that you've always wanted to do. You don't have to worry as much about income – it's not about the money anymore, it's more about fulfillment and purpose.
Is there anything coming up that you're excited about?
Next week I start programming for the Chick-Fil-A Peach Bowl, which will be held this year on Dec. 28. This year there will be a new 50-50 raffle, where 50 percent of the money raised for the philanthropy will go towards children fighting cancer, and the other half will go to one winner. We're anticipating $100,000 in funds, so one person may win $50,000! But it really is a win-win for everyone.
I'm also excited about the future of the younger generation and older generation finding solutions to problems together. I think that more companies will recruit people who have retired, which will help bring wisdom to the younger generation so that bridges are built and solutions are sparked.
Why do you think it's important for other to give back?
Again, just because its magical. If you need a purpose in your life, helping others will help yourself. Giving back just helps you and helps the world become a better place.
What do you want people to learn from your story?
That I truly live by my motto: live life to the fullest and have fun by volunteering and helping others, and that others can too. People don't realize that it's so much fun.
Do you want to make a difference in your community like LaVerne? Find local volunteer opportunities.
Share this post