Professor Aligns Career with Personal Life Helping New Refugees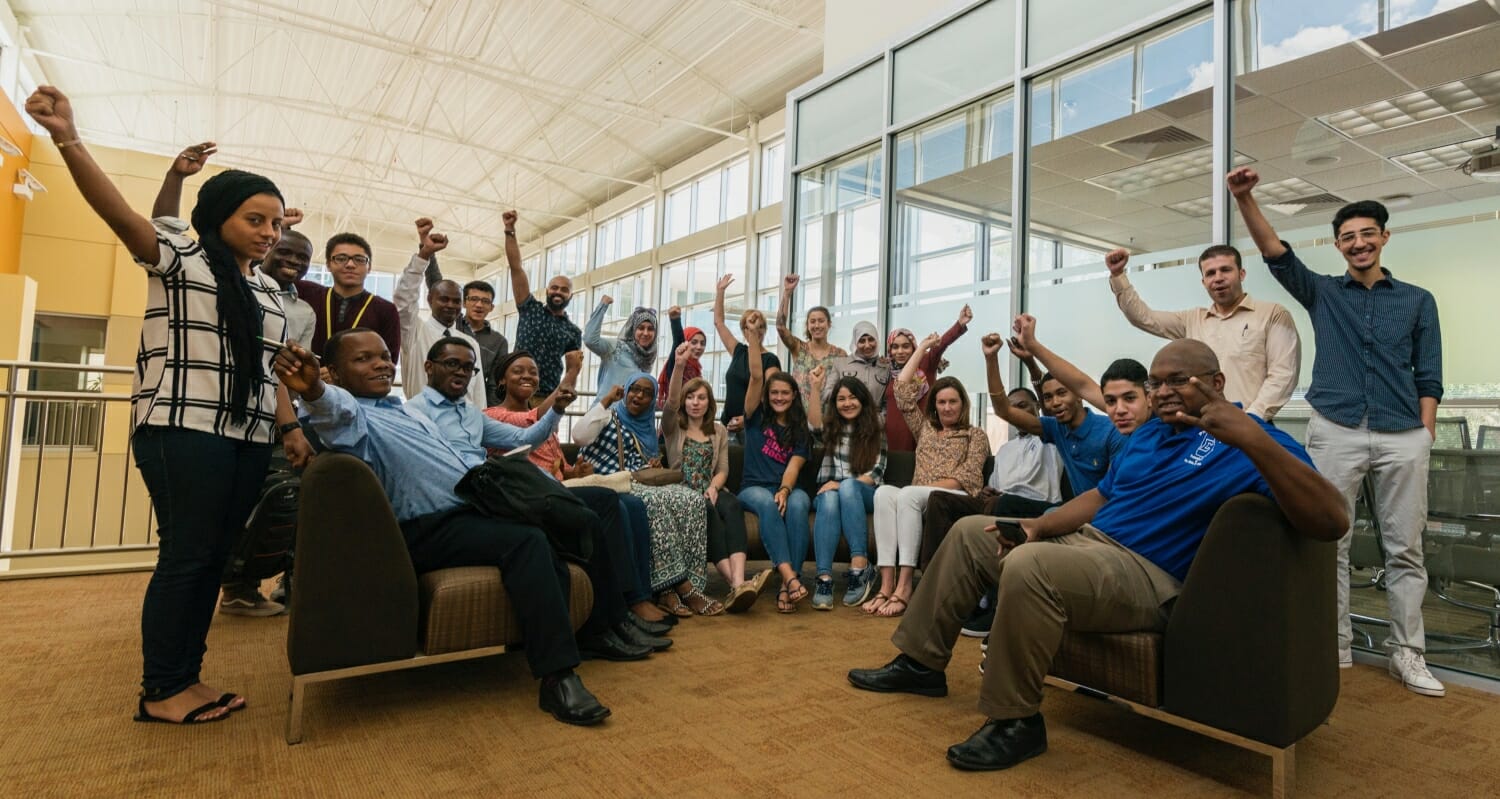 Dr. Mary Helen O'Connor is an Assistant English Professor and a Senior Faculty Associate at the Office of International Initiatives at Georgia State University, but teaching isn't just a day job for this Decatur, Georgia resident.
Mary Helen started aligning her professional work and personal life after finding that her classroom had become a destination for new refugee and immigrant students who were trying to navigate the university and its systems. Co-founding the Mentoring Initiative for New Americans (MINA) in 2016, Mary Helen works to welcome new refugees and immigrants, connecting them with others in the community and opportunities for jobs and education.
Dedicating her time to advance the lives of people in need, Mary Helen is today's Daily Point of Light award honoree. Points of Light spoke to Mary Helen to learn more about her work with MINA.
What inspires you to volunteer?
My life's purpose is to help. That's what I'm charged with each morning that I wake up. The relationships I have with my students give back to me exponentially, in return for the small things that I do for them.
How has your perspective on volunteering evolved?
I grew up next to a Jewish refugee family from Eastern Europe who came here through Ellis Island, and I wrote my first research paper in 6th grade on immigration. I've had had an awareness of what it means to be an immigrant in the U.S. since I was a small child, and ever since, it's been a personal driving interest of mine.
Describe your volunteer role with MINA.
I'm the faculty advisor, which means I raise the money and help to manage the kids in our program. I do a good deal of interfacing with different parts of the institution including admissions and financial aid. I also do a lot of advocacy within the community to spread interest and awareness.
What's been the most rewarding part of your work?
One of our program participants from Iran had participated in our tutoring and she went to our monthly educational meetings. She is a trained lawyer at home, and holds advanced degrees from her home country, but she was struggling because she wanted to go college here and be able to secure work opportunities in the U.S. Because of the program we put together – she's going to college this summer! That's a big deal, it's life changing.
What would the title of your autobiography be?
"Making a Difference One Refugee at a Time"
What have you learned through your experiences as a volunteer?
Having kids, of course, teaches you a lot about how you influence people. I think that volunteering is a part of who I am – it's not necessarily just something I do. I wanted it to be an example to my children about how to live a happy life. I really do believe that giving to and helping others who are in need is how you find happiness. My work has sustained me through the most difficult parts in my life. Volunteering is not a choice when I wake up in the morning, it's just something I do.
How do you want to be remembered?
I want to be remembered for helping people when they needed it. A high school friend of mine recently reached out to me – he was from Vietnam, and he told me how much he'd appreciated me sitting with him and his friends at the lunch table when we were students, not treating him any differently than any other student at school. He sent MINA a $500 donation because of how I'd treated him, all those years ago.
Are there any future partnerships, programs, or events that you are excited about?
Georgia State and Emory are working together on a community-wide summit to help refugee students and immigrants. With all the challenges we currently face in the U.S., building this coalition right now is like swimming upstream – we need all the help we can get. Check out website for more information on the summit: https://international.gsu.edu/join-us/.
Why do you think it's important for others to give back?
Because it's the solution to all our problems. It sounds really simple, but if we just learned to be a good neighbor, I truly believe we could solve many of our problems.
What do you want people to learn from your story?
All it takes is something small. To be a good neighbor or good volunteer, it can be as simple as dropping off old books to a book sale, or taking a new neighbor to the grocery store. You don't have to invest your whole life. I don't perform miracles. I send a few emails, fix small problems for people here and there. Because of these small things, I am helping people navigate cultural and institutional barriers. That's all I do.
Do you want to make a difference in your community like Mary Helen O'Connor? Visit All For Good for local volunteer opportunities.
Post written by Marlena Militana.
Share this post