California Teen Empowering Those Vulnerable to Human Trafficking and Child Marriage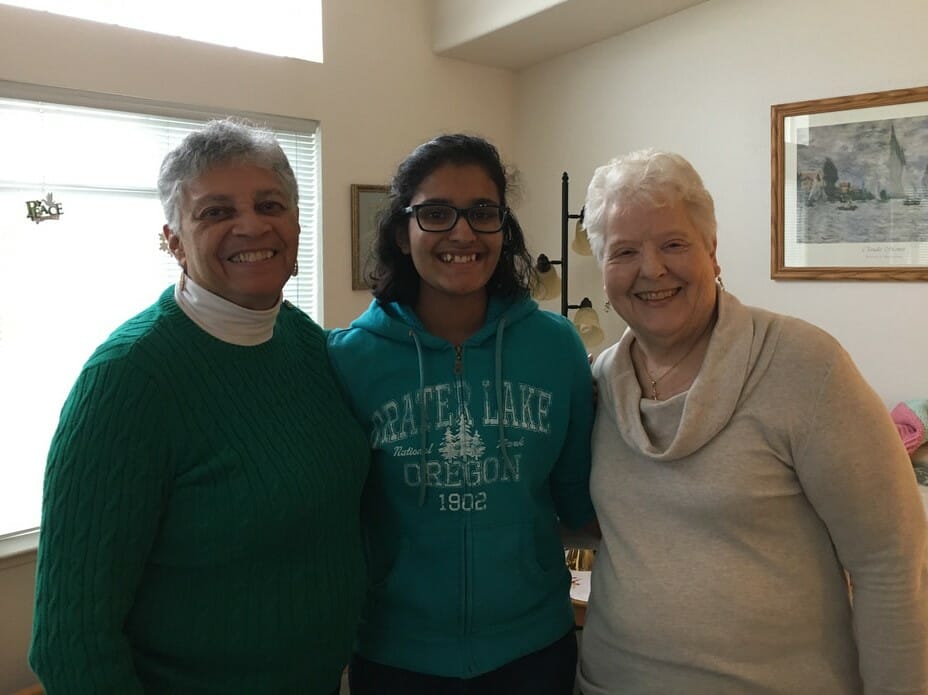 Sakshi Satpathy is a rising high school senior, but the Palo Alto teen says as a child, she had a strong awareness of some very adult issues. The 16-year-old grew up hearing heart-wrenching stories of young girls being forced to marry early, or girls who had fallen victim to trafficking in South Asian countries.
Hitting even closer to home, Sakshi says she was motivated to take action and promote human rights for girls when she discovered that incidents of trafficking and child marriage exist in several parts of the U.S. Through Project GREET (Girl Rights: Engage, Empower, Train), Sakshi has been able to develop resources to increase awareness, help communities to better identify the red flags of human trafficking and child marriage, and provide opportunities for people to help individuals most at risk.
Through resources, videos and the internet, Project GREET has educated nearly 3 million individuals about to the risks this vulnerable demographic face. Sharing tools to maintain rights for girls and women, Sakshi is today's Daily Point of Light award honoree. Points of Light spoke to Sakshi to learn more about her work with Project GREET.
Explain what Project GREET stands for.
Project GREET stands for Girl Rights: Engage, Empower, Train. This initiative was something I created for my Girl Scout Gold Award Project. I worked with several organizations to design, implement and distribute my project artifacts for the program.
What inspires you to volunteer?
I'm passionate about human rights, particularly women's rights, and I work each day to empower women through Project GREET. Through activism with organizations I've been involved with, and individual research, I learned more about the pervasiveness of gender inequity, child marriage and human trafficking, and I was inspired to tackle these issues through my project.
Describe your volunteer role with Project GREET.
I began planning for this project in October 2015, and the project reached its completion two years later, in October 2017. I've interviewed activists, lawyers, and social workers from around the world to gather perspective and facts, I created my project's website, produced documentary films on the topic and a YouTube playlist and training curriculum. To support the costs of the project (including filmmaking equipment, website, video editing tools), I secured a community grant and fundraised. The resources created have been distributed to various partner organizations worldwide and have been used to increase awareness, garner support from better-equipped communities, and empower at-risk or previously trafficked girls to leave the vicious cycle of dependency on their trafficker.
Is there a personal story behind your passion for social justice and empowering women?
I lived in India until the middle of seventh grade, and had been told several heart-wrenching stories of girls who were married at young ages and trafficked. I strongly believe in treating others the way I want to be treated. Advocating for those who have been mistreated greatly resonates with me.
What's been the most rewarding part of your work?
Seeing the final products of the film, website and curriculum for my project, and hearing back from representatives of partner organizations who are experts in their fields, telling me that my resources would be helpful in their advocacy work. Giving back, in my opinion, is really rewarding. It provides a sense of purpose in life, provides the opportunity to interact with and learn from various people with unique experiences and interesting personalities, and helps one make lasting memories.
How has volunteering broadened your community?
Through the course of this project, I built relationships with individuals from different religions, ethnicities, cultures and communities around the world. This has further inspired me to travel around the world when I am older and immerse myself in different cultures. Volunteering has, and will continue to make me more compassionate and gain greater perspective from others to tackle pressing global issues.
Do you have any future partnerships that you are excited about?
There are chapters that are interested in adopting my curriculum, "Guidelines to Rehabilitate Young Trafficked Girls," to implement vocational training programs or fairs for girls at risk of trafficking or those who have been previously trafficked.
Why do you think it's important for others to give back?
I think it is important for others to give back for two reasons – first, it is necessary, and second, it is rewarding. We live in an interconnected society where we depend on others for everything, and our standard of living, and social and physical wellbeing is dependent on how we are treated by society. For our society to be truly equitable and fully functioning, we need all hands on deck to contribute where help is needed most.
What do you want people to learn from your story?
It is possible to conduct a project on such a large scale, and really rewarding to find a passion that has the potential to help others and solve a community problem. Additionally, I want people to know that trafficking and child marriage are even prevalent in the U.S., and that they should remain vigilant to the signs of both these practices.
Do you want to make a difference in your community like Sakshi Satpathy? Visit All For Good for local volunteer opportunities.
Post written by Marlena Militana.
Share this post