Promoting Coastal Protection, Florida Volunteer Shares Love of Nature with Families and Children
Meet Daily Point of Light Award honoree Jeff Finnan. Read his story and nominate an outstanding volunteer or family as a Daily Point of Light.
After retiring from a career as a researcher and high school chemistry teacher, 68-year-old Jeff Finnan moved to St. Augustine, Florida with his wife, Mary, and the two started exploring their surrounding community. Struck by the beauty of the Guana Tolomato Matanzas National Estuarine Research Reserve (GTMRR) coastal area on a hike, Jeff decided to join in efforts to protect the reserve through volunteerism.
A collaboration between Florida's Department of Environmental Protection and the National Oceanic and Atmospheric Administration, the reserve covers 74,000 acres of coastal lands in northeast Florida from Ponte Vedra Beach to Palm Coast. GTMRR is one of 29 National Estuarine Research Reserves around the country that focuses on research, education, and stewardship.
By educating children and families and promoting and supporting the reserves and natural cultural history, Jeff is helping to raise awareness about the environment throughout his community.
What inspires you to volunteer?
We really like nature and being outdoors. When we first came to visit St. Augustine, we did a hike at GTMRR and it really appealed to us. I joke that my original career plan was to become a marine biologist and instead became a chemist. Now, as a volunteer, I'm actually getting to do my marine biology.
Describe your role with GTMRR.
I help to support our outreach programs, and lead a monthly guided hike. Through the education we offer, we discuss nature and the cultural history of the area. I also help with GTMRR's research programs, where we do nekton sampling, oyster monitoring project and water quality data sampling.
Share one personal story with me from your volunteerism.
We do something called family seining, which is a method of fishing that employs a fishing net called a seine, and we identify the fish we collect and talk about how the estuary is a nursery for the ocean. A hands-on program, often the parents and kids will get in there and do it themselves. You can just see they really enjoy it and everyone learns a lot. By educating the youngest generation about climate change, particularly high school students, we hope they use those learnings moving forward.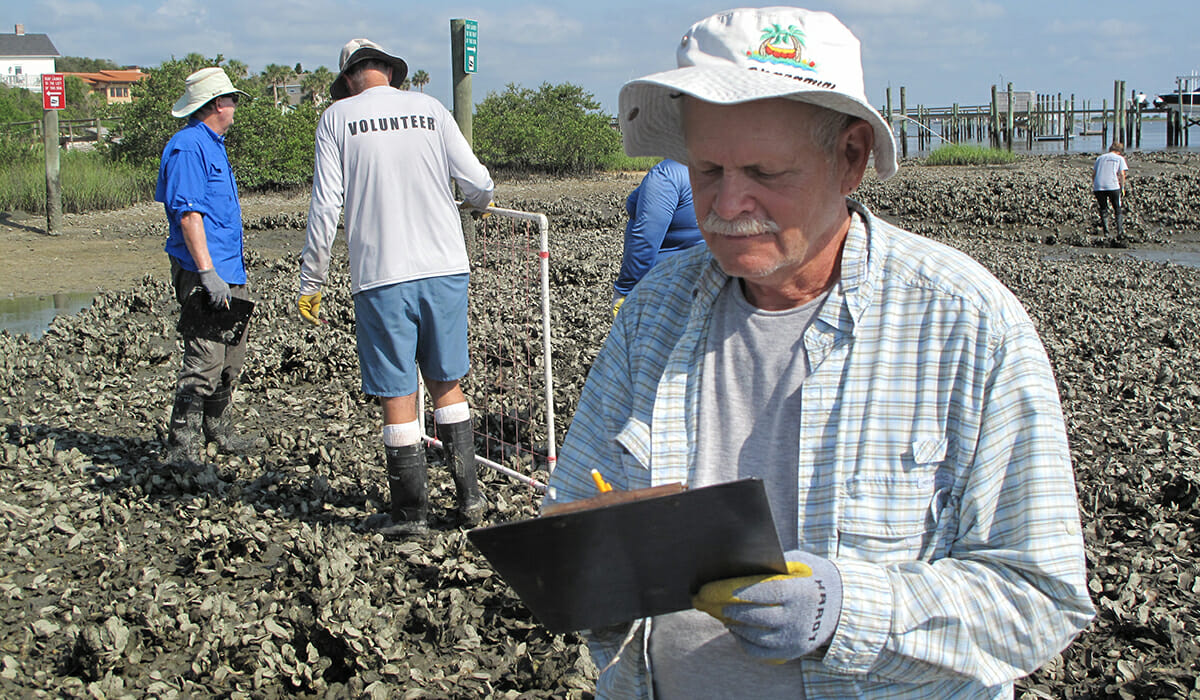 What does volunteering mean to you in one word?
Fun. Volunteerism is simple (laughs).
What does it mean to you to know that your volunteerism is described as helpful?
It shows that I'm serving a purpose.
What's been the most rewarding part of your service?
I enjoy the guided hikes. The people are really appreciative of the information we provide. In order to be better guides for these hikes, my wife and I became Florida Master Naturalists.
What's the coolest thing you've seen during your time volunteering at GTMRR?
We once saw a dolphin chasing a school of fish in the estuary. The fish would jump out of the water almost like a shoot of water and then go back in.
What have you learned through your experiences as a volunteer?
I've learned a lot myself about the ocean and the estuary through volunteering.
How can readers help?
Please check the Guana Tolomato Matanzas National Estuarine Research Reserve website for more information on how you can help.
Do you want to make a difference in your community like Jeff Finnan? Find local volunteer opportunities.
Share this post