14-Year-Old Is an Activist for College Readiness and Big Dreams
Meet Daily Point of Light Award honoree Ila Prabhuram. Read her story and nominate an outstanding volunteer or family as a Daily Point of Light.
Ila Prabhuram's dreams are unlimited. They're not distilled down into a specific interest or defined by one field. She's bold enough to imagine a variety of careers for her future. What her plans do share is a common theme: helping others. It's no surprise Ila would stand in front of the Georgia Board of Education and make the case for hundreds of kids who do not have access to resources that would help them pursue their big dreams in college. She's an advocate for dreams, which is why she started College Pathway – to be a support system, a resource, and an advocate for college readiness.
"In 2018, I decided and discovered a passion for empowering students to become changemakers through education," says Ila.
Her idea for College Pathway came when she was tutoring at a trailer park. The mother of one of her students told Ila her son was not going to attend college. Ila pressed why he wouldn't be able to pursue higher education. He was only in elementary school – how could she already know college was not an option? The mother said college was too expensive and that scholarships were typically rewarded only to low-income students that had high academic achievements.
The story left Ila dumbstruck. She had always seen college as a natural next step after high school. She didn't realize that for other people, it wasn't an option. "It was eye-opening to me," she says.
After the conversation with her student's mother, Ila went home to discuss the incident with her parents. She searched for nonprofits that address low-income students' needs and provide awareness for options like FAFSA and Cooke's Foundation Scholarship. She says she couldn't find an organization that specifically helped low-income students find life-changing resources for helping fund their college tuition.
And so, like any big dreamer, Ila took matters into her own hands and started her own nonprofit: College Pathway.
"When I first wanted to start College Pathway my parents were immediately on board," says Ila. "They were like, 'Yes you can do it!' even though they were a little iffy because none of us had any experience starting a nonprofit. But we all wanted to because my parents knew I was passionate about it.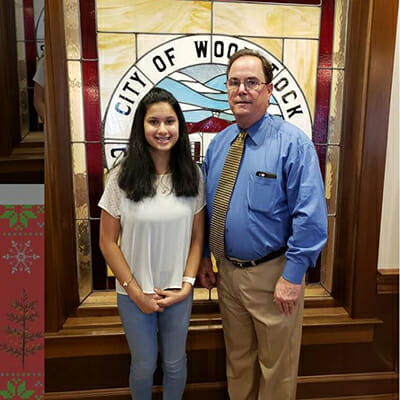 One of the first challenges Ila faced was finding teachers for her board of directors who would get along together and whose personalities would really help College Pathway. Eventually, her eighth-grade teachers agreed to join as board members. Together with Ila, they began to attend monthly meetings. Ila is now in charge of fundraising and speaking at public events and overseeing the ambassador and scholarship programs.
"We recently implemented a program where we train young students to make changes and how to do projects in the community and amplify College Pathway's mission," explains Ila. "I oversee the entire organization and its specific programs. And I also work with my board of directors to track all the legal and fundraising things."
Finding organizations and representatives to partner with College Pathway became the second challenge. Ila didn't receive a single response from her first batch of emails asking to team up with her nonprofit.
"I think the reason why a lot of people didn't respond to my email when College Pathway was in its early stages is because I didn't have much to back it up," explains Ila. "I was like, 'Yes I've done this so far, I have this passion—that's it.' I didn't really have anything else to say, 'And I've done this so far also!' You know?"
When presented with an obstacle Ila did not back down. She took a risk and directly contacted the Georgia Superintendent of Schools, who responded saying that he wanted to meet with her. After that, the opportunities for partnerships were easier to obtain. The meeting with the superintendent provided the opportunities Ila was seeking, but it was her passion that drove her forward and gave her the courage to continue pursuing her big dream.
Ila has presented College Pathway in front of the Georgia Superintendent of Schools along with representatives from the Georgia Department of Education. The superintendent came to Ila's school to listen to her present College Pathway, their mission, and what they planned to do in the future. They discussed how to maximize College Pathway's impact, and the superintendent gave Ila contacts who could help her further College Pathway's goals. Through those contacts, Ila has organized a meeting with the Georgia Board of Education. She's trying to get viewpoints from different people to help her find better ways to reach out to low-income students.
"I think reaching out to these influential figures will help me implement change," says Ila. "And we can all work together to implement these different projects. I want to start eventually doing FAFSA workshops that low-income students can attend and learn how to apply for FAFSA during the college application time."
Ila says that the response to her speaking engagements has helped garner positive support for College Pathway. As a high school student, she's been able to reach thousands of people and it's only getting bigger. While cultivating College Pathway, Ila has realized how much privilege she has. She always thought she was just lucky. In her mind, college was the logical next step that she didn't have to worry about – her parents would help her with costs.
"It made me realize I was living in a bubble," says Ila. "I wasn't stepping into people's shoes. I didn't realize 1/3 of my school is economically disadvantaged. I have economically disadvantaged friends. A lot of them didn't even know about resources."
Ila wants College Pathway to even the playing field and offer resources to everyone regardless of their economic status. She wants every student to have the same opportunities for pursuing higher education. In other words, she wants to give other students the space to have big dreams too.
Ila continues to work with influential leaders, teachers, and organizations to expand College Pathway's reach. She believes that FAFSA workshops are essential for low-income students to receive the financial resources necessary to attend college. She's speaking with her principal and county school officials to implement school-wide and statewide FAFSA workshops.
Through College Pathway, Ila is setting the course for equality in education. No matter what the dream, she's helping facilitate a stronger community. She's not keeping her big dreams to herself – she's setting the stage for others to dream big too so the future can have brighter points of light.
Do you want to make a difference in your community like Ila Prabhuram? Find local volunteer opportunities.
Share this post