Reading was her Bridge to Success and She's Helping Children Cross it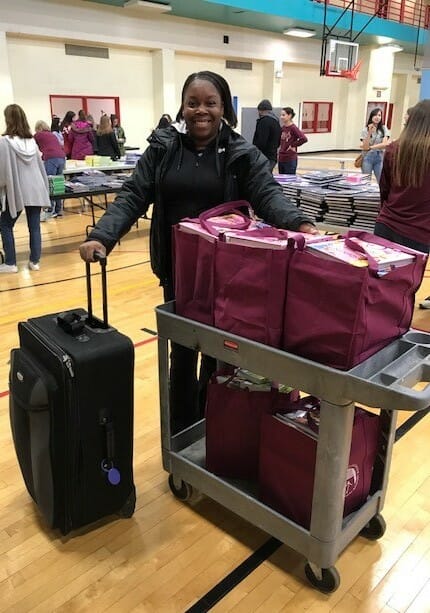 In 2019, Belinda Sewell will earn her doctoral degree in education from Concordia University in Chicago. To say this is a monumental achievement for the 47-year-old mother and grandmother and soon-to-be Dr. Sewell is beyond an understatement. When she was growing up in the impoverished West Side of Chicago, Belinda struggled to learn to read and write. Her parents had fourth grade educations, and literacy was not expected or encouraged. It took the intervention of a caring second grade teacher to unlock the world of reading to her seven-year-old self, a little girl thirsty for words and education. She vowed to help other struggling children learn to read, a passion she has been pursuing since she was nine years old helping friends with lessons in the hallways at school. Through her work with Chicago Hopes, a public school initiative that provides educational support for latchkey kids and children in homeless shelters, Belinda makes a tremendous difference. She's currently tutoring three children, ages 8, 12 and 15, 15 hours after school at the Kelly Branch Library. Because she's lived it, Belinda is able to earn parents' trust and get them onboard with helping their children learn to read, something her own mother wasn't able to do. Her commitment to tutoring young disadvantaged youth has the power to create future leaders and literally change the world.
Belinda is committed to making a difference in her community and she is today's Daily Point of Light Award honoree. Points of Light spoke with her about her commitment to service.
What inspires you to volunteer?
My volunteerism is a passion I developed as a child. Being a child growing up with parents who had a fourth grade education taught me to never take anything for granted. There were many days I wondered if I was ever going to learn how to read and write. I promised myself that when I got older I would achieve my fullest potential and help others who were struggling to read and write. This is what inspired me to volunteer and give back to others. I have spent the last 30 years giving back my time and services to help others in need.
Describe your volunteer role.
My role as a volunteer is as what I call a servant leader. I organize, participate and recruit others to join projects and missions to promote literacy. As a volunteer for Chicago Hopes I'm assigned to homeless families and work to help both the children and the parents, winning their trust as I work to help them with reading and writing. I try to play a key role as a leader and full service volunteer.
What is the most rewarding part of your work?
The most rewarding part of my work is being able to talk to the neighbors in the communities I serve and listen to them and their stories and let them know we all come from the same place. To see a smile on their face lets me know I am doing God's work and making a difference in the lives of someone other than myself. This is what keeps me going, being able to help others is very rewarding.
What have you learned through your experiences as a volunteer?
As a volunteer I have learned there are so many families and children in the communities I serve struggling with illiteracy. They are afraid to reach out and share their stories with others, afraid of being judged and feeling ashamed. As a person who has faced similar experiences I am able to share my story with the families I serve and help them to understand they are not alone. I have been able to reach out to many at risk families and donate free books to them and tutoring.
Are there any future partnerships, programs or events you are excited about?
Yes, I am in the process of building my brand! I have been working on a literacy project to open a community center to support at-risk youth and families.
Why do you think it is important for other's to give back?
Giving back is important because there are other's who are less fortunate who need help. I believe I was born with the gift to be a servant leader and this is why giving back is important to me.
What do you want people to learn from your story?
I want people to learn that there are still good people out here who enjoy giving and helping others. The families that I provide services to face so many challenges each day, and getting to meet them and know them is a blessing. Many great relationships are built during volunteerism. I choose to help them in my life long journey as a servant leader. The gift of giving has so many rewards. The smallest amount of time brings so much joy to others.
Do you want to make a difference in your community like Belinda? Visit All for Good for local volunteer opportunities.
Post written by Beth D'Addono.
Share this post