Remembering His Past, Helping Others' Future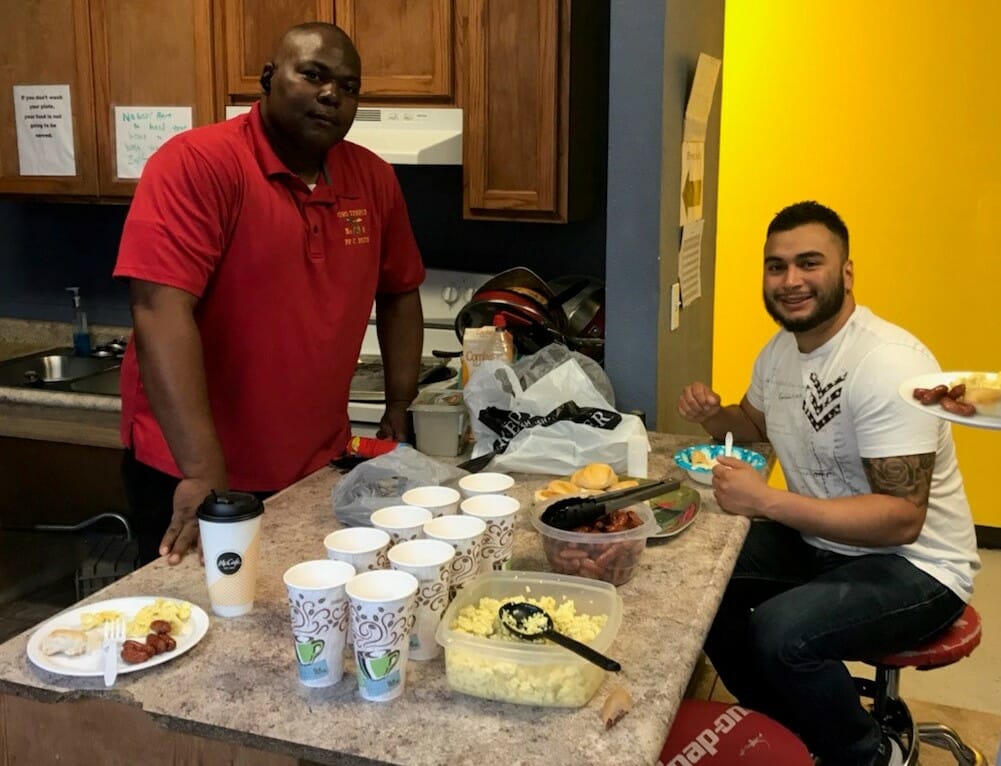 At 47, Curtis Smith just retired from a 24-year career in the U.S. Army. But the Charleston, S.C. native didn't sit back and take a break. Instead he threw himself into volunteering for multiple community organizations in his present home of El Paso. His focus is on giving a helping hand to at-risk youth and young African American men in need of something as simple as a hot breakfast and a few encouraging words. Curtis has accomplished a lot in his life, but he can relate to feelings of loss, anxiety, failure and despair. That's because he was a product of the foster care system, bouncing around all over the state of South Carolina from the age of 13 to 19, feeling alone, angry and without hope. Hard work, the military and care showed to him by crisis center volunteers helped him find balance in his life. Now, he turns his calm presence and gentle humor towards others, working to inspire hope and show by example that a life at risk can turn around and become well lived.
Curtis is committed to making a difference in his community and he is today's Daily Point of Light Award honorees. Points of Light spoke with him about his commitment to service.
What inspires you to volunteer?
I see a need in the community to help the less fortunate, both elders and young adults. There are many wonderful agencies doing good work, but often they are short staffed. Volunteers are important to getting the job done.
Describe your volunteer role.
I volunteer at the El Paso Human Services, Winchester House and the El Paso Police Department Safe Communities section. At the Winchester house I cook breakfast for the homeless young men ages 17-25, so they have a hot meal before going to school or job interviews. I was asked to volunteer, and of course I gladly accepted. I was once a foster child in the same situation as many of these kids. For the police department I assist with preparing information packets to give out local job corps, high schools, and colleges dealing with drug use, alcohol abuse and school safety.
What's been the most rewarding part of your work?
I feel so rewarded when I see how happy the guys are when I come in at 6am to cook for them – they know that I don't get paid. I explained to them that I was in their situation at one time and I care about their well-being. It makes me so happy to see that they are happy, and I feel good giving back because someone did it for me with food baskets, clothes, and monetary donations when I was struggling.
What have you learned through your experiences as a volunteer?
I learned that there are people out in the world that need us and want our help. It was up to me to find time for them, not for self-gratification or praise but because I love helping people. I also learned that by showing people that you care by volunteering your time you motivate them to improve their own situation. A simple thank you motivates me to volunteer in the El Paso community and encourage others to do the same.
Are there any future partnerships, programs, or events that you are excited about?
I am excited about the Prince Hall Shriners As Mentors' program with Burleson Elementary. I recently volunteered to do the read across the district as part of Read Across America campaign and will continue helping out. I am also looking forward to assisting in programs at the Winchester House to help with the life skills of the young men living there.
Why do you think it's important for others to give back?
Giving back keeps us grounded. Any of us can be in a difficult situation, and by giving back we can make a difference – it might even be a life changing experience that can help them turn their life around.
What do you want people to learn from your story?
I used to be one of these young men. Someone that worked at a crisis home as a volunteer showed that they cared and made an impact on my life. Because of their selfless service and time spent with me, I was very appreciative and in turn wanted to make a difference in someone else's life.
Do you want to make a difference in your community like Curtis? Visit All for Good for local volunteer opportunities.
Post written by Beth D'Addono.
Share this post