Researcher Finds Her Niche Volunteering in Botanical Living Museum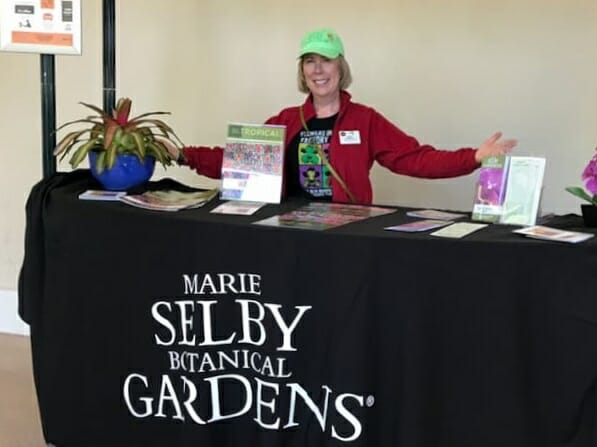 As a newcomer to Sarasota, Florida, Tracey Fletcher was looking to expand her social circle and cultivate her passion for gardening through service. Living in a condominium with no backyard to dig in, Tracey began volunteering at Marie Selby Botanical Gardens – an urban, bayfront oasis.
Connecting with like-minded people who work together to conserve and study plants, particularly epiphytes, which are plants adapted to live in the tree canopy, including orchids, bromeliads, gesneriads and ferns, appealed to Tracey, who is a clinical researcher in the pharmaceutical world by day. According to Tracey, learning more about these rare and beautiful tropical plants fed her researcher's mind and curiosity, while also being able to help introduce the community to its beauty.
Having logged over 500 hours volunteering since 2015 by sharing the beauty of this oasis with her community, Tracey is known as a go-to person that the gardens can count on, and is today's Daily Point of Light award honoree. Points of Light spoke to Tracey to learn more about her work with Marie Selby Botanical Gardens.
What inspires you to volunteer?
When I came to Sarasota and I really didn't know anyone, volunteering was a way of expanding my friendship base and giving back. I've worked really hard in my life, and I thought that if I could give back, that would make my life better.
Describe your volunteer role with Marie Selby Botanical Gardens.
We are the friendly faces that greet the customer visiting and make their day great. Typically it's just me out in the gardens answering questions from guests, helping them find things within the gardens. For our upcoming Lights and Bloom event, I generally help one of the staff members manage the volunteers because it's a huge event and there can be up to 50 volunteers per night.
What sets Marie Selby Botanical Gardens apart from other gardens?
Selby is multifaceted. They are heavily involved in research with orchids, and that always intrigues me since research is my background. They have a beautiful spot in Sarasota that needs to be preserved, and it costs a lot to maintain a pristine spot like this amid the constant pressures from the environment including pollution and new building. To be able to keep it open to the public, where families can bring their children and experience the flowers and look out to the manatees in the water, it's priceless.
For those who want to know: How do you keep orchids alive in your home?
(Laughs) From my experience, and from what I've heard at the gardens, most orchids die from overwatering. People think they're tropical and then they get overwatered. Most orchids tend to have adapted to the climate they are living in, and they don't need as much water.
You've been called a "go-to" for the gardens. What does that mean to hear someone say that?
It makes me feel great. It makes me feel like I'm accomplishing what I set out to do. Part of my purpose in life is to make people's lives easier. As humans, we won't survive being negative and contrary, my wish is for all to stop fighting and start finding common ground. If we all worked together, life would just be great.
What's your favorite plant or flower in the gardens?
My favorite plant at the gardens is the Banyan Tree in the Children's Rainforest Garden. It is a fun tree in that it looks like giraffes.
How has volunteering in Sarasota changed you?
I feel like a part of the community because I'm contributing to make our home a fun place to visit and live. Sarasota is a relatively happy place to be, and it puts you in contact with happy things. I've learned that you can make a difference anywhere, even if it just means you're being nice to someone.
Why do you think it's important for others to give back?
Sarasota has a wealth of opportunities for volunteers. There are smaller places that can't afford the staff that's required to run them. It's a cycle that requires maintenance and people giving of themselves. If Selby didn't have the 600+ volunteers, they couldn't bring in the public, they couldn't have the activities they have. They couldn't support their research, and they couldn't help to preserve epiphytes. That's how I see it for Selby, but you need that human touch in many other organizations.
What future events do you have coming up that you're excited about?
Lights in Bloom runs from December 20, 2018 to January 6, 2019. More than one million lights will illuminate the gardens and walkways. Visitors will have the opportunity to stroll through magical gardens filled with beautifully lit flowers, radiant rainforest butterflies, dragonflies and more. The tropical holiday paradise will also include nightly live entertainment, games, crafts, and food.
Additionally, beginning in February 2019, an exhibition at Selby Gardens will highlight the essential role of botanicals in achieving the artist's vision of the savage, primitive and exotic. Together with lush displays of tropical plants in the conservatory and gardens, Gauguin: Voyage to Paradise will feature dramatic woodcuts and rarely seen works in other mediums by the artist. The imagined journey and focused art exhibition will be on display Feb. 10 through June 2019. Please check the website for more information: https://selby.org/.
Do you want to make a difference in your community like Tracey Fletcher? Visit All For Good for local volunteer opportunities.
Post written by Marlena Militana.
Share this post