Traveling the Highway of Compassion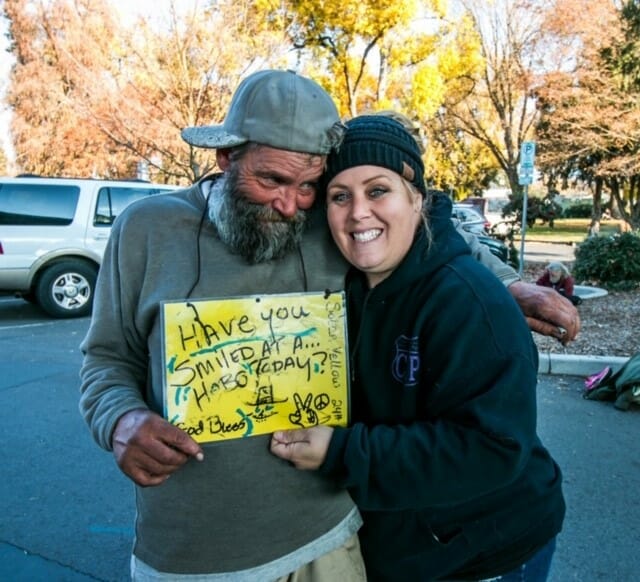 Highway overpasses too often serve as makeshift shelters for homeless men, women and children. Melissa Mayne has been there. A single mother of two in the Southern Oregon town of Medford, Melissa found her family homeless after a wrongful eviction. Her son was newborn at the time. Homeless for two months, Melissa eventually found somewhere to stay, but her family's housing situation has only been truly stable for two years. The experience opened her eyes to just how easily anyone's circumstances can become untenable. Her reaction to this knowledge was to serve. With the help of her board and many volunteers, Melissa founded Compassion Highway Project in 2013, an outreach project that serves food and provides clothing hygiene products to homeless people Sundays at Hawthorn Park and Tuesdays and Fridays at Alba Park. It became a non-profit in 2015. Working with dozens of volunteers and local donors like Starbucks, Franz Bakery Outlet, Little Caesars, Peruvian Point and Mary's BBQ Place, CHP takes to the streets and serves folks where they live. Last winter she was able to partner with Rogue Retreat, a case management and housing non-profit, to secure a permanent warming shelter open from December through February.
Melissa is committed to making a difference in her community and she is today's Daily Point of Light Award honoree. Points of Light spoke with her about her commitment to service.
What inspires you to volunteer?
The Whys in my life inspired me to volunteer. I didn't understand why I was going through so much until I started giving back. It became clear to me it was because now I could relate to almost anyone. I can offer a listening ear because I have been there.
Describe your volunteer role.
My role is founder and executive director of Compassion Highway Project. I am able to be reached by anyone in our community who is in need. I hear from homeless people of all ages and low-income families. We provide basic needs and offer resources and guidance to help folks take steps to better their situation. We respond to calls and our volunteers are out with food, warm clothes, basic necessities, in all kinds of weather.
What's been the most rewarding part of your work?
The most rewarding thing is seeing how lives can really change. People get clean and sober, families find housing, someone's life is saved from freezing to death, someone who was starving has a full belly, and helping someone get employment! We see all of this.
What have you learned through your experiences as a volunteer?
To NEVER judge anyone. Show compassion at all times!
Are there any future partnerships, programs or events you are excited about?
We are constantly partnering with other nonprofits and organizations, which is always good because it helps bridge the gaps in care and brings a variety of expertise and resources to the table.
Why do you think it is important for others to give back?
Giving back is important because anyone can become homeless or in a tough situation. It's good to give back when you are feeling down as well because it helps the heart.
What do you want people to learn from your story?
It is so simple to be kind. Just a smile can change someone's life. It is so important to show kindness and love to others. When someone's hurting and another person shows that kindness it is life altering for people! Once to know people their life stories are inspiring.
Do you want to make a difference in your community like Belinda? Visit All for Good for local volunteer opportunities.
Post written by Beth D'Addono.
Share this post