Retired Fireman and Army Veteran Continues Life of Service by Helping Victims of Natural Disasters
Meet Daily Point of Light Award honoree Tom Schneider. Read his story and nominate an outstanding volunteer or family as a Daily Point of Light.
For Tom Schneider of Florence, Kentucky, service is ingrained in his bones. He first answered the call to service in the 1960s, when he served in the United States Army and deployed to South Korea in the aftermath of the Korean War. After the military, he fearlessly battled blazes for nearly three decades as a firefighter, placing himself at risk to save lives and protect communities. 
Now, at the age of 76, Tom could have chosen to embrace his well-deserved retirement. But instead of kicking back his feet to finally rest, he has picked up a different coat of service, a bright red one that bears the name American Red Cross. 
Since 2017, Tom has responded to countless natural disasters across Kentucky, Indiana and Florida, extending a helping hand to those devastated by floods, fires, tornadoes, hurricanes, and even plane crashes. Alongside his fellow Red Cross volunteers, Tom offers essential aid, including clothing, warm blankets, food and financial assistance to help victims get back on their feet.  
Tom's introduction to the American Red Cross and its disaster action team occurred when he himself was in need. While volunteering as a firefighter during a fire in Villa Hills, Kentucky, Tom found solace in the compassionate care provided by the Red Cross.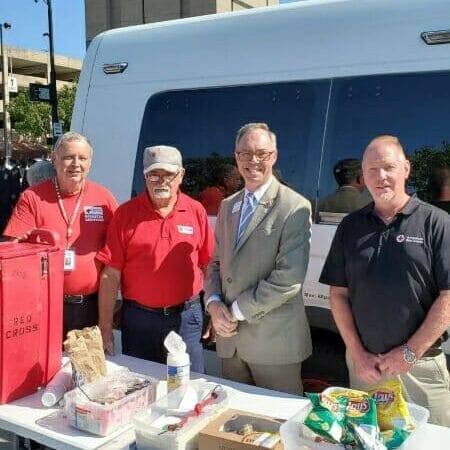 "Everything was freezing, and I got wet," Tom recalled. "I went looking for a cup of coffee and saw that the Red Cross was there. They gave me a pair of dry socks and that was like gold. So, when I retired seven years ago and wanted to do something, I turned to the Red Cross."  
Carl Biery, leader of the Northern Kentucky disaster team, said that whenever disaster strikes, Tom is often one of the first to respond.  
"We have a disaster van with supplies on it like clothes, blankets, first aid supplies, you name it. And Tom is our main driver," Carl said. "Earlier this year, during a blizzard in northern Kentucky, we struggled to find someone to drive a trailer of supplies to a shelter because the roads were so bad. But Tom volunteered and the supplies reached the shelter."  
"He's just one of a million that does this kind of stuff and gives his whole heart to it," Carl added.  
The number of disasters Tom has responded to is too much to tally. In just the first six months of last year, he answered 176 calls, promptly rushing to aid disaster-stricken individuals. Regardless of the hour or the distance, Tom believes every sacrifice is worthwhile. 
"We assisted 12 families during a big fire. One lady came up to me, hugged me and said, 'Thank you.' Another time, I wrapped a girl in a blanket and took her into the van and gave her new clothes to change into. When she came out, she gave me a big hug and said, 'This is beautiful. Thank you,'" Tom recalled. "Those are precious times to me."  
When not volunteering with the Red Cross, Tom lends his time to two choral groups that uplift spirits by performing at nursing homes, churches and various community events. Recently, one of the groups sang a Rodgers and Hammerstein medley at a nursing home. 
"Many residents can do little more than move from their rooms to the cafeteria. But when we sing, you see people just singing along with you, people clapping, people swaying. When we finish, they'll come up and thank us or invite us over to sit down with them for a cup of coffee," Tom said.  
Tom's dedication extends to his church, where he volunteers whenever possible. He has also volunteered with Habitat for Humanity, helping build homes for families lacking safe and consistent housing.   
Even if it's not for the American Red Cross, Tom hopes his story will inspire others to volunteer.  
"Volunteering will open your eyes to other people's problems and situations. It'll get you to appreciate what you have and also how you might help them in some way somehow," Tom said.  
Do you want to make a difference in your community like Tom? Find local volunteer opportunities. 
Share this post