After Losing Her Best Friend to Cancer, 12-year-old Volunteer Works Hard to Raise Awareness
Meet Daily Point of Light Award honoree Cameron Bolton. Read her story and nominate an outstanding volunteer or family as a Daily Point of Light.
When 12-year-old Cameron Bolton lost her grandpa, who she calls Pop Pop, to a rare and aggressive bile duct cancer called cholangiocarcinoma (cholangio), she became impelled to get involved in helping others with the disease. For the past three and a half years, she has volunteered with The Quack Out Cholangio 5k Run/Walk to Crush Bile Duct Cancer and is now the co-secretary of Team Cure Cholangio, a 501c3 nonprofit organization that supports raising awareness and funding to help those with cholangiocarcinoma. Cameron says that she loves being involved on the day of the race, and it's become a big part of her life. Not only does she have fun volunteering, she also uses the cause to develop lifelong leadership skills.  
What inspires you to volunteer?
It was my Pop Pop who inspired me to volunteer because I do it to support him. Also, it's something that my mom and I love doing together.
What's your favorite memory with your Pop Pop? 
My favorite memory with him is when he would sing us songs and lullabies.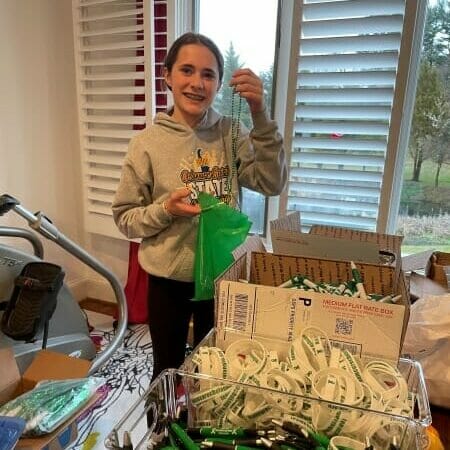 Describe your volunteer role with Quack Out Cholangio 5K?
I'm the secretary on the team, so my mom and I do the raffle every year [at the race]. There's a table set up with free little goodies and you can buy raffle tickets to win stuff that businesses donate for the raffle. We also make the gift bags for the 5k for the runners. Then after the race, my mom and I bring the extra food and drinks to the Ronald McDonald house to give them to the children there.
Also, throughout the year to spread awareness for the race, another volunteer paints rocks whenever we go in a walk in like a state park or we're visiting somewhere, we'll bring the rocks we will hide them. Then, there is a QR code on the rock that brings you to a Facebook page of the race. It spreads awareness for others, and you then can re-hide the rock once you find it. And then the same thing will happen, and the awareness is just getting spread all over. I think it's really cool to help out with everything and each year I become a better leader.
On the day of the Quack Out 5k, what is your favorite moment?
Most of my family did the race this year and it's enjoyable to be running the race with them. I ran with my cousins and family, so I talk to them on the way. The race is a bit challenging, but I get through it.  
What have you learned through your experiences as a volunteer?
I think that I have learned more leadership skills, how to spread awareness and how to help others.   
Why is it important for others to get involved in causes they care about?
I think it's important to volunteer because as a volunteer you can spread much more awareness, and it's good to learn more skills. Also, my Pop Pop volunteered before he passed away, So I find it my job to continue volunteering for him.  
Do you want to make a difference in your community like Cameron? Find local volunteer opportunities. 
Share this post