Retired Nurse Extends Care as a Volunteer to Hospitalized Patients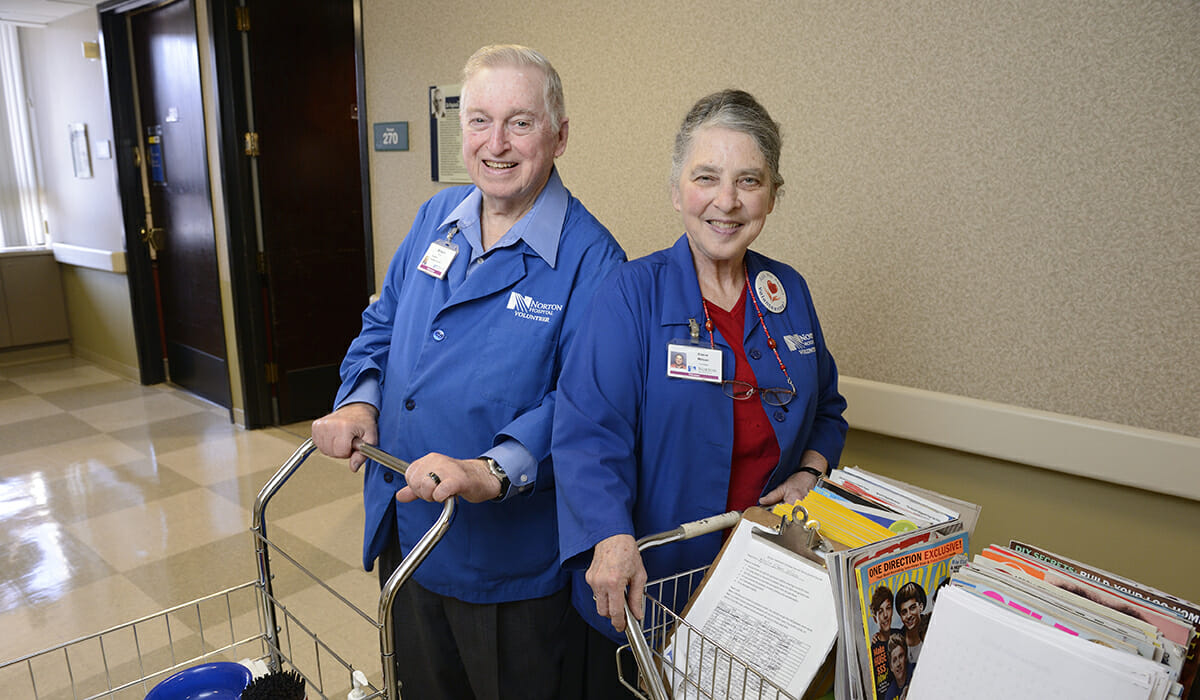 Meet Daily Point of Light Award honoree Elaine Wilson. Read her story and nominate an outstanding volunteer or family as a Daily Point of Light.
As a career nurse for nearly 50 years, Elaine Wilson was dedicated to her patients and their wellbeing. Now, as a hospital volunteer, the 78-year-old Georgetown, Indiana resident is able to focus on comforting hospitalized patients, connecting with thousands over a decade in service.
As a hospital volunteer at Norton Hospital in Louisville, Kentucky, Elaine has logged thousands of hours of service spreading cheer to patients. Manning the hospital's "Comfort Cart" weekly, Elaine distributes activities and kindness to patients and their family members. Accompanied by her husband of 56 years, Elaine's volunteerism puts her right back at the bedside of her beloved patients.
What inspires you to volunteer?
When I go into patient rooms, these people have stoic faces, but you know they have concerns that they are dealing with. I'll say (starts to sing): 'Good morning, my name's Elaine, I'm a Norton volunteer, and I'm here to bring you cheer!" I enjoyed being a nurse, and now I can really enjoy spending time with these patients in a different capacity.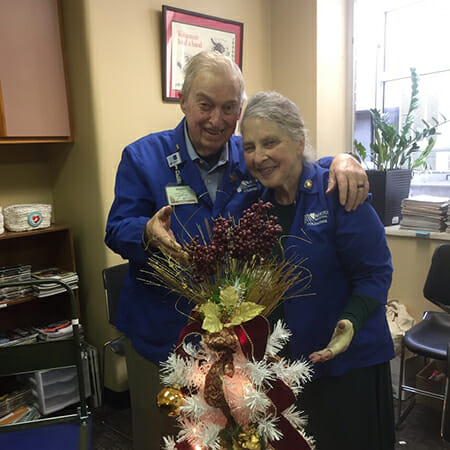 Describe your role with Norton Hospital.
As a hospital volunteer, I bring the "Comfort Cart" around to our patients. Crossword puzzles and Sudoku, magazines, stress balls, coloring and more, we offer activities that are easy for patients and help to take their minds off their hospitalization, even for a bit of time. We also hand out candy to hospital employees.
Share one personal story with me from your volunteerism.
Sometimes I'll sit down in a patient's room and just talk to them. Sometimes they don't want to talk, or sometimes they'll open up, and all of a sudden, their mood changes. They'll tell me that my visit made their day. Our time with patients is very personal, we share personalized "cheer cards" that include special messages to our patients, and also prayer cards that are given to the hospital chaplains.
What's been the most rewarding part of your service?
It's rewarding to help people relax and give them something else to do besides wallowing in their sickness and focusing on what's going on physically.
In one word what does volunteering mean to you?
(Laughs) Giving.
What have you learned through your experiences as a volunteer?
As a volunteer, I've learned to look beyond a person's external look, and see the person within. Through service, you realize, that's a body, soul and spirit. No matter how the person looks on the outside, all of a sudden, you see the real person, and you're able to connect with them and make them happy.
Your husband, Wilbern, is also a volunteer at the hospital.
Wilbern: Yes, I give out coffee and tell jokes. Did you hear about that oyster that was stingy, it wouldn't give up its pearl? Shellfish!
How can readers help?
Please visit the Norton Hospital website for more information about how you can give back.
Do you want to make a difference in your community like Elaine Wilson? Find local volunteer opportunities.
Share this post