Retired Pediatric Nurse Continues to Support Health and Wellbeing Through Therapeutic Horseback Riding Program
Meet Daily Point of Light Award honoree Janis Childs. Read her story and nominate an outstanding volunteer or family as a Daily Point of Light.
Many kids dream about having a pony at some point or another, and Janis Childs was no different. She loved horses and often begged her parents to get one. With her father in the military, her family wasn't in a position to bring along livestock every time they moved to a different base. But that didn't stop Janis from putting a saddle on her bicycle with a tail off the back and a rubber horse head on the handlebars. She also took a few riding lessons both as a kid and–occasionally–as an adult.
While she didn't end up with a horse of her own, Janis' caring temperament extended to humans as well. Throughout her career as a pediatric nurse, she touched many lives and loved the work. Imparting knowledge also became a passion. After teaching at the University of Virginia, Janis moved to Maine for the role she eventually retired from, a professor of nursing at University of Southern Maine. Maine has been her home for the last 25 years.
"When I was looking at retirement, I knew that I wanted to do something to be involved with my community," she said. "And there happened to be an article in the newspaper about Riding to the Top."
Riding to the Top (RTT) is a 50-acre farm that provides therapeutic riding programs for children and adults with cognitive or physical challenges. The interaction between horse and rider is designed to improve health and wellbeing but, as Janis would soon find out, also provides unbridled joy. The idea of working with horses and young riders seemed perfect, and after an initial visit, she was hooked. Janis has been volunteering there for the last 12 years.
"We almost get more out of it than the riders. They're such an inspiration, and the horses are just magnificent. It's really an honor to be there," she said.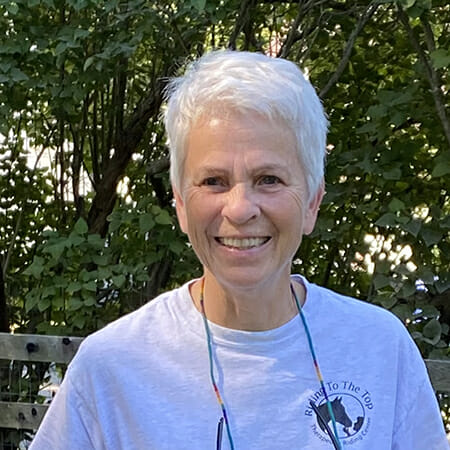 Her story is similar to many of the staff members and volunteers. Kate Jeton, program director, certified therapeutic riding instructor and equine specialist, started as a volunteer after her son did and eventually became a board and staff member. With a background in teaching riding lessons to people without disabilities, she notes an intangible difference.
"The magic of the place is pretty hard to ignore for all of us who are involved here," said Kate. "I'm pretty sure my riding lessons were never this joy-filled. It's pretty infectious, and I think our volunteers feel that all the time."
With 17 horses, RTT teaches around 75 riders each week, starting at 9 a.m. and going until 5 p.m. or 6 p.m. The horses are chosen for their temperament and tend to be older, so health issues occasionally come up that require a bit of rest time. And, as one might expect, there are many dedicated volunteers. Janis started out helping with lessons, grooming horses, prepping tack, leading horses, walking alongside riders or standing in the ring in case of problems.
"We might have three riders in a lesson that requires two side-walkers and a horse leader. So, it could be six or nine volunteers in a lesson with three horses, an instructor and the riders. It can get pretty busy," she added.
After about seven years of mucking out stalls and moving horses around paddocks, she's moving from physical work to administrative work. Today, she conducts seven 45-minute lessons a week, cares for horses and maintains First Aid kits and AEDs. Due to term limits, she will be stepping back from the board of directors in December after nine years. In that time, she's served as both secretary and vice president. She has also helped develop RTT's therapeutic carriage driving program and assisted with special events and projects.
"It's just incredible in terms of working with her and what she gives not only to our organization in everything she does, but in what she does for our clients," Kate said. "She is there for each individual, regardless of what brings them to Riding to the Top. She is compassionate. She's kind. She's patient. She's just got this huge toolbox of people skills that she brings with her."
Coworkers say Janis is always willing to lend a hand. If she's going to be spending extra time on the farm, she'll send an email asking if anyone needs help. Her love for both the people and the horses leads her to find inspiration in the interaction and support between the two. She recalled one rider, who lives with M.S. symptoms, struggling to walk and who is almost deaf but finds her legs from riding a horse. Janis also remembers working with an autistic child who, if he spoke at all, would speak to his hands. He found his voice by talking with his large four-legged friend.
"Every day, I am astonished at how strong people can be. I'm impressed with horses and their ability to sense what people need, how to be gentle and how to give of themselves. We had a horse the other day with a young boy who was very anxious and upset. This horse put his head in this child's lap," Janis reflected. "In turn, it's given me the strength to live my life the best I can and be grateful for what I have."
It's not just the horses in whom riders find support. It's the volunteers.
"We had a young girl who started riding here a year after a pretty bad accident that left her paralyzed from the waist down. It's a hard thing to go through when you're 17 years old, and Janice was one of her volunteers. The difference that she made in that girl's life was like night and day," Kate emphasized. "She's just a hugely important person here to everybody that she works with and to our horses."
There's room for everyone in the community to get involved with RTT in one way or another. The creative fundraisers done throughout the year offer wonderful memories for everyone who participates. The largest is called Triple B: Boots, Band and Barbeque. Anywhere from 300-325 people are expected to crowd into the indoor arena in October. Along with a clear theme, lots of dancing and good food, the farm has a mission auction.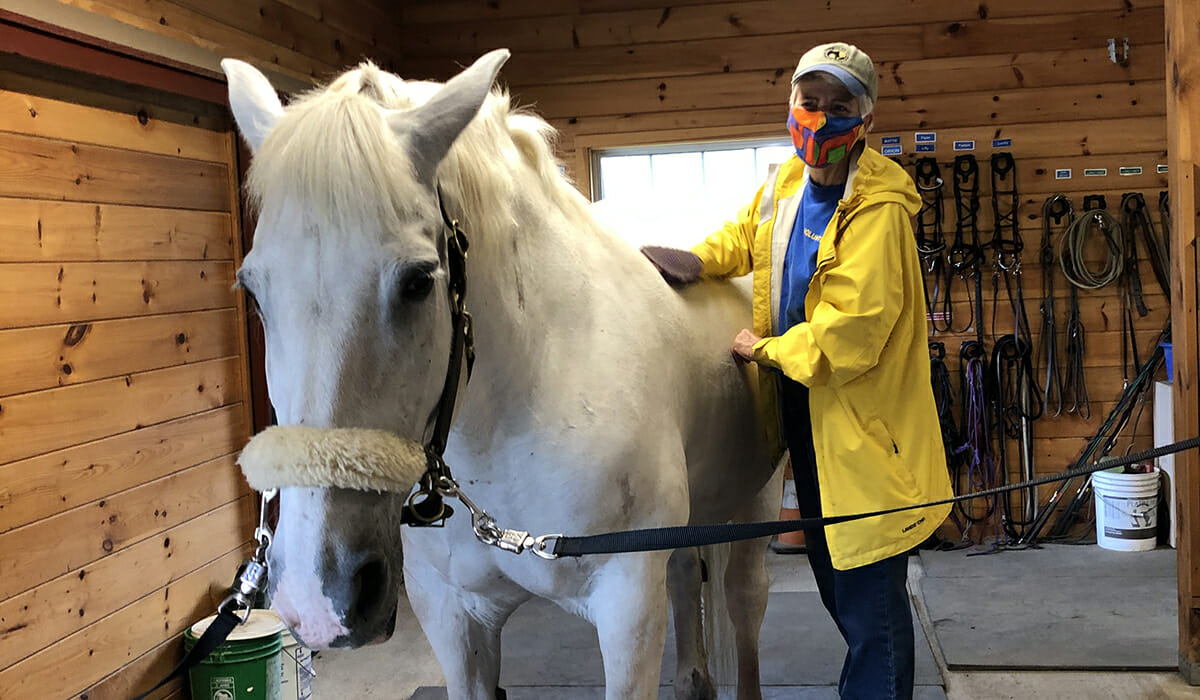 "We feed and care for horses from this fund, and the scholarship fund is for scholarships for riders. Eighty percent of our riders are on partial scholarship. They don't get any insurance for this, unfortunately," Janis said.
Barn to Beach offers participants a day of riding from a supporter's farm, through the woods and down to the beach where everyone swims and eats lunch. Another is a 10K run put on by Joanie Benoit Samuelson, the Olympic marathon runner. The board is hoping to raise funds to get a covered outdoor arena, make improvements to the barn and give more horses a place to call home.
"We've got a waiting list for riders, and we'd love to expand so that we don't have a waitlist anymore. So, we can offer our services to anyone who needs them," Janis explained.
For now, Janis and the organization are doing all that they can with what they have, and it's making a difference in the lives of everyone involved. As she reflects on her years of service, Janis is reminded of what she herself has gained.
"I've learned a lot about horses. I've learned a lot about people. I've learned a lot about community, and Riding to the Top is my chosen family. It's just such a wonderful place."
Do you want to make a difference in your community like Janis? Find local volunteer opportunities.
Share this post