Tutoring in the Time of Covid: New Jersey Teen Helps Under-resourced Students Access Tutoring to Equalize Opportunity
Meet Daily Point of Light Award honoree Amy Lin. Read her story and nominate an outstanding volunteer or family as a Daily Point of Light. 
Amy Lin is 15 years old and a rising sophomore in high school. As a little sister, she is already glumly anticipating the day her brother heads to college next year. Reading and art are her escape from everyday responsibilities, and while she takes art classes in school, she is independently exploring digital media after being inspired by some online images during the 2020 pandemic lockdowns. But that's not all she did during her self-professed period of boredom.
Amy noticed how students, especially those younger than her, were struggling to learn effectively from home. Joining Princeton Learning Experience International School (PLEIS), she volunteered as an online tutor for underserved students with a mission to narrow the education gap.
Three years later, Amy now spends around 16 hours a month running her own branch with 20+ volunteer tutors, offering a variety of classes for students in grades three through twelve. More than 40 students took advantage of the help in the first session, a number that has doubled in the current summer program and one that she hopes to increase by partnering with other schools and organizations.
What inspires you to volunteer?
I began volunteering for PLEIS as a youth teacher during the pandemic in 2020, because I wanted to help younger students whose learning was negatively affected by the school closings. I continued volunteering over the years and gained some more experience with the organization.
After that, I established the Greater Princeton branch to focus more specifically on reaching schools from low-income families. I realized that some of my friends were receiving expensive tutoring. I knew a lot of other people couldn't afford it. We're high school students, so we have knowledge that we can share with younger students. We can help families who can't afford tutoring by doing it for free.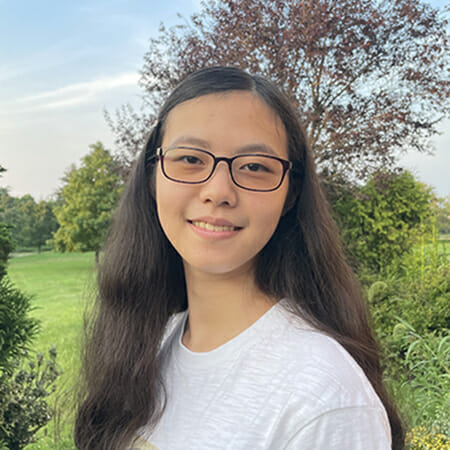 Tell us about your volunteer role with Princeton Learning Experience International school (PLEIS) Greater Princeton Branch.
I started off as the teacher and then became the co-founder and head of the Greater Princeton branch. I had to contact a lot of different people to find people who wanted to join our branch and volunteer. I also had to create different templates, for example, curriculum or managing logs, which we have to make sure teachers are getting feedback on how they teach. And I talked to one of our partners, Give Education, another nonprofit that connects economically disadvantaged families to different organizations like ours. They help us by providing students, and so I coordinate with them.
Within the branch, I help organize every single program session and event. I talk to our partners who help us by providing students. And I also help guide every department—outreach, management, curriculum and human resources. Specifically, during class time, I'm present to welcome the students and assign them to their Zoom classes and ensure everything is running smoothly.
How do classes work?
There are different sessions every year. In 2023, we had a four-month spring session, and we have a two-month summer session right now. During each session, we offer different types of classes students can choose from. Each class has two to eight students and meets twice a week. We have teachers teaching reading, math, science, and in the summer, we added in coding, history and art.
Our school has coding classes, but the volunteer teachers are independently interested as well. Our summer program is Python coding, and it's probably one of our most popular classes right now.
What's been the most rewarding part of your work?
It's hearing the feedback from students about how our classes have helped them in various ways. For example, some students have said that their grade has been increasing in school because they're taking our classes. That made me feel really good, because the goal is to help other students achieve more and learn more.
What have you learned through your experiences as a volunteer?
Making an impact on another's life can come in different forms. You can volunteer in so many different ways, and it helps different people. Even as a teenager, you can do a lot. You can share your knowledge with younger people or help out your community by picking up garbage. I've also learned to be more understanding and patient, especially when interacting with students. I've learned how to take responsibility as a leader and be very organized.
Tell us about future partnerships, programs or events that you are excited about.
Our outreach team has been working on partnering with a few school districts around the area. We've been exchanging emails with some school administrators. So, we are excited about that for upcoming sessions. And we're still in the planning process, but we have a school year session coming up in the fall. Our summer session is ending in a couple of days, and then we're going to be opening up a new session with math, reading classes, and more.
Why is it important for people to get involved in causes they care about?
Everyone only has one life. If you really care about something, then you should do something within that life you have. Your life is a gift, and you should do something about the things you care about, because anyone can make a difference.
What do you want people to learn from your story?
If you're really passionate about doing something, you should trust yourself that you can do it. I began thinking, "I'm just a teenager. I have very minimal leadership skills." But as I went on, I gradually developed more and more of those skills needed to lead the branch, and it ended up being successful. Don't let your doubts pressure you to give up, because you'll always learn along the way and you always get better.
What are your long-term plans or goals for the organization?
We really want to connect with more school districts and reach more students. We just want to help as many people as we can.
Do you want to make a difference in your community like Amy? Find local volunteer opportunities.
Share this post