Washington Teen Advocates for Research That Accelerates Inclusivity in Sports
Meet Daily Point of Light Award honoree Rakshith Srinivasan. Read his story and nominate an outstanding volunteer or family as a Daily Point of Light.
Through middle and high school, Rakshith "Rocky" Srinivasan was heavily involved in sports, focusing on football and basketball in middle school, and basketball in high school. His main focus was – and still is – to play collegiate basketball; but today, he is making a difference through a new passion for medicine and science.
As the founder of Unlimited Potential (UP), Rakshith raises funds to support research initiatives that help individuals play sports who may not otherwise be able to do so, whether due to a disability or illness. Through his volunteerism, Rakshith is striving to make athletics inclusive to all.
What inspires you to volunteer?
My basketball team's athletic director saw me as a leader, so she recommended I apply for an internship with the Washington Interscholastic Activity Association (WIAA). I was selected as one of eight applicants out of 500. It was here that I learned about adaptive sports. I met kids with disabilities and learned about the struggles they face. Just hearing what these kids had to say opened my eyes. A lot of people don't have awareness of how challenging it is to get funding and even court time for adaptive sports, simply because there isn't much representation of kids with disabilities in school sports. I quickly became passionate about getting these kids equal access to playing sports.
I suffered an ankle sprain while playing basketball, unfortunately close to the playoffs. Being sidelined for several months gave me a glimpse into the lives of people who can't play sports. I felt their frustration at not being able to play.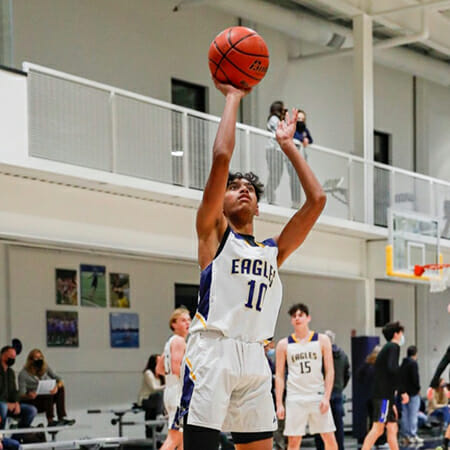 Tell us about your volunteer role with Unlimited Potential (UP).
I started Unlimited Potential (UP) in 2021 as a 10th grader. My main role is securing funding for the many research initiatives that help people play sports, whether they have a disability or a disease that prevents them from taking part in activities.
My foundation works with hospitals, research labs and professors. I originally started raising funds for orthopedics research, and that evolved over time into supporting muscular dystrophy research, the development of prosthetics and adaptive equipment like wheelchairs, and recently I've been raising funds for bone sarcoma cancer researchers.
I have also conducted my own research and published a research paper on the effect of supplements on injury prevention. I have had multiple research internships from the University of Washington, Brown University and University of San Diego in the area of orthopedic medicine, prosthetic 3D printing, mechanobiology and human kinesiology. Along with this, I have published a book, Overcoming Obstacles, which looks to convey sports medicine research in a way that is accessible for all, from the everyday person to elite athletes.
I have also been a keynote speaker and advocate for inclusivity in sports. My passion is doing what I can to help anyone, regardless of their physical condition, live an empowered lifestyle where they can enjoy any activity they want.
All of the money we raise goes directly to the hospital or research facility. I work with the Seattle Children's Hospital orthopedics research lab, helping them help patients become more mobile.
What's been the most rewarding part of your work?
Creating new relationships with different people and seeing how the research that we help fund has been helping people, at least giving them optimism for their futures. When I was the keynote speaker at the Special Olympics, I had an opportunity to talk to kids who are physically disabled. I made some amazing connections with them!
What have you learned through your experiences as a volunteer?
I've learned a lot of lessons about leadership and determination. Working with hospitals and research organizations, I got a lot of no's before I got yes's, so I had to learn to persevere. I also developed an appreciation for science, medicine and research. My old focus on sports was limiting. Now, I have a deep interest, in fact a passion, for medicine. My career goal is to become an orthopedic doctor.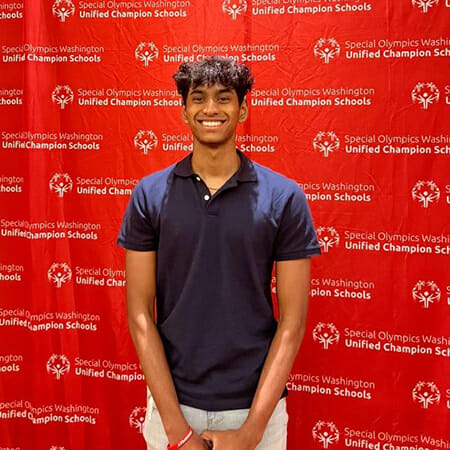 Tell us about future partnerships, programs or events that you are excited about.
I'm looking forward to working with the Sports Institute at University of Washington and other large research organizations. The Sports Institute is focused on sports medicine research. They do a lot of things similar to orthopedics, including prosthetics and post injury rehabilitation, basically whatever it takes to get someone back out enjoying a sport.
I also volunteer at the World Relief Organization where I tutor refugee kids and help them to develop their social emotional development through after school sports activities. These activities include sports camps over the summer where kids not only have a fun time, but learn life lessons through sports, such as the importance of teamwork and working hard.
Why is it important for others to get involved with causes they care about?
Volunteering has helped me find an area of passion I wouldn't have found otherwise. I'm helping other people and at the same time, helping myself grow.
What do you want people to learn from your story?
You can do anything you put your mind towards if you have a goal. Don't shrug it off or put it off. Teens can learn that they can make a difference in the community if they want to. I am still heavily involved in high school basketball, but I made time to start a foundation and get things done. I didn't lose my other hobbies, but made an impact and learned a lot about myself. Tap into something you love to do, while helping others who are less fortunate than you. The life lessons and benefits will be amazing!
Do you want to make a difference in your community like Rakshith? Find local volunteer opportunities.
Share this post