Retired Veterinarian Gives Back to Kentucky Community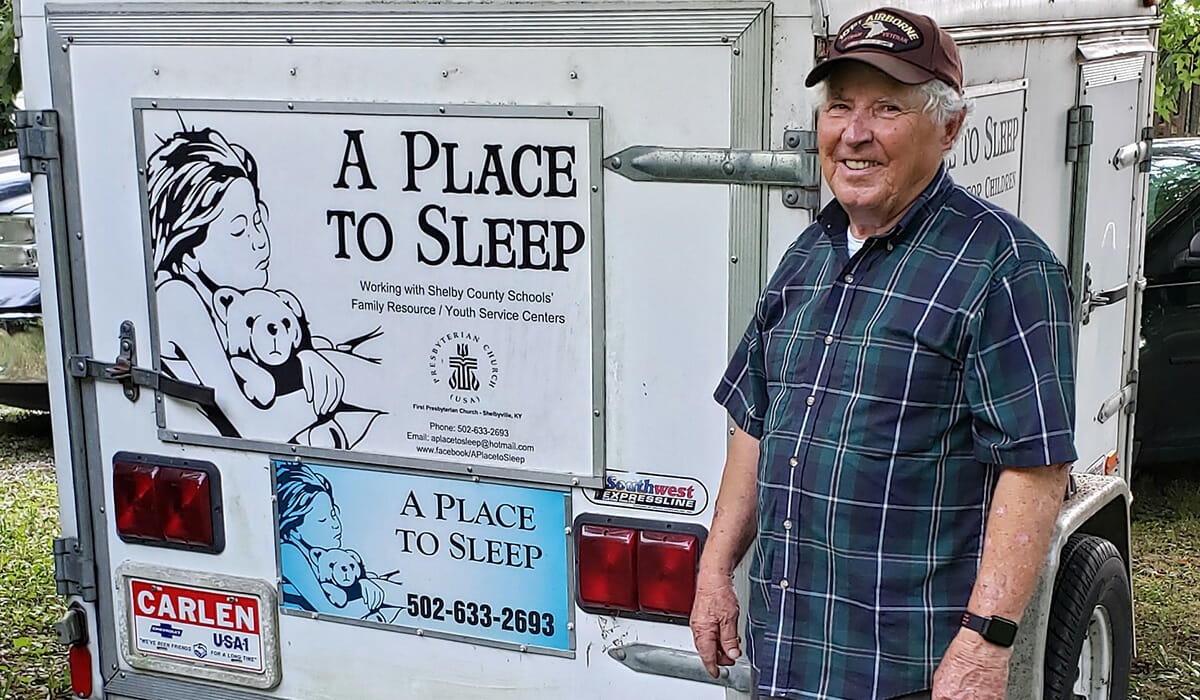 For 41 years, Shelbyville, Kentucky resident, Carlen Pippin, focused on the health and wellbeing of animals, and now the retired veterinarian now focuses his free time on the health and wellbeing of his community.
The octogenarian volunteer dedicates his time to numerous organizations in his community including Habitat for Humanity, A Place to Sleep and Veterans Rural Outreach. Carlen comes from humble beginnings and understands the importance of giving back to those in need and is today's Daily Point of Light award Honoree. Points of Light spoke to him about his service work and commitment to service.
What inspires you to volunteer?
I grew up very poor, and my mother was always going to help people in the neighborhood who were ill or needed help. From a young age, I believed this was what people did for each other. Growing up in an old four room log house without electricity or indoor plumbing for my first 15 years made me realize how important basic things like food, shelter and family were.
Describe your volunteer role
For 30 years, I have served on the Shelby County Public Health Board, and I have a passion for health. Without good health, life is much harder and less fulfilling. I lost my father at age 52 to histoplasmosis. This made me even more aware of the value of good health. And as a veterinarian for 41 years, helping keep animals healthy and active was an incentive for me to stay healthy and active. So for me, volunteering is part of staying healthy and active as well as giving back to my community and family.
Volunteering with A Place to Sleep, a small non-profit that provides beds to children, is so rewarding. To see the eyes and responses from children who receive the beds and bedding who haven't had a bed to sleep in is indescribable joy. I help deliver beds throughout the community and donate the use of my truck and old fishing trailer which I've converted into a bed delivery trailer. I serve on the Board for A Place to Sleep and enjoy spreading the word about what we do in the community to garner partnerships and solicit donations. A Place to Sleep has been an inspiration for me to give back to the youth of our community and beyond.
I volunteer with the Veterans Rural Outreach as an organizer and member. Veterans Rural Outreach is composed of less than 10 Veterans to meet the immediate needs of Veterans in Shelby County and surrounding area. This has been an inspiration and has made me become acquainted with the immediate needs of the Veterans in our community by providing food distribution, funds to purchase prescriptions, help with housing/shelter needs, and the idea of building 6 mini houses for temporary housing of homeless Veterans. Recently, a disabled Veteran who is waiting on approval came to us having a hard time making ends meet. Working with the Salvation Army, I was able to provide him with gift cards to purchase groceries. After spending almost 7 years in the US Army and 15 months in Vietnam, I discovered something. Having money in my pocket and nothing to buy was life changing. The values paced on materialistic wealth are completely overrated.
Also, I am working with Habitat for Humanity on rehabbing a home for a handicapped Veteran who had no central air conditioning or heat. It has been quite a chore serving as project manager, but we have been able to secure HVAC, rework his bathroom so that it is handicap accessible, replace all flooring, paint and more.
I am also serving as caregiver for an elderly man who I met during a food delivery. He was unable to care for himself in his home, and I have helped arrange for him to move into a nursing facility where he is being well cared for. He has no family to help him.
What has been the most rewarding part of your work?
The satisfaction of being able to help others in times of need and difficulty is all the inspiration I need to continue trying to be of help to those less fortunate.
What have you learned through your experiences as a volunteer?
There will always be a need for giving back to the community and aiding those who are less fortunate. You shouldn't get discouraged because you can't fix all the problems, just take one at a time. Just because I can't help everybody doesn't mean I shouldn't help somebody.
Are there any future partnerships, programs or events that you are excited about?
I am really excited about building the six mini homes for temporary residences of homeless Veterans. It will hopefully help reduce the suicide rate of homeless Veterans who have lost hope while trying to work with the current government Veterans assistance programs. This temporary housing will buy time to negotiate the earned services they deserve through the VA.
Why do you think it's important for others to give back?
To be fortunate enough that you can give your time and not necessarily money is, I think, a way of sharing God's blessings. It's the best way in the world to learn that it is better to give than receive. Often, your time is more valuable than money. Talking, listening, and sharing are something everyone needs. And knowing that everyone is only one step away from calamity. Any of us could quickly become the one on the receiving end instead of the giving.
What do you want people to learn from your story?
There's no doubt that the gift of giving is a gift from God. And I can't explain the joy you receive from knowing that you've helped somebody. The joy brought about by giving is something you can't buy off the shelf; it's something you have to experience. You can't tell somebody how it feels, they have to experience it. And there is no age limit on helping.
It's not a burden, volunteering is an opportunity.
Do you want to make a difference in your community like Carlen? Click here to find local volunteer opportunities? 
Share this post