Pediatric Hospital 'Big Brother' Gives Young Patients Hope for a Bright Future
Meet Daily Point of Light Award honoree Kiland Sampa. Read his story and nominate an outstanding volunteer or family as a Daily Point of Light.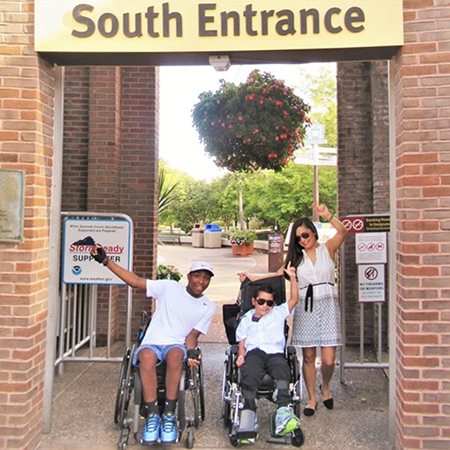 After a diving accident in 2013, Kiland Sampa found himself in a wheelchair at 15 years old. He refused to sink into a mindset of restriction and limitation, and focused on not letting his injury define his life. Concentrating on what he could do instead of what he couldn't, Kiland began to volunteer at Ranken Jordan Pediatric Bridge Hospital, a pediatric rehabilitation center, to give back to the same place and staff that had given him hope for the future.
Inspired by the courage, joy and determination of the patients and staff, Kiland was determined to make an impact on the kids at Ranken Jordan, where he learned to transition from the hospital to home. As a volunteer, he shows patients that there are still physical activities they can do, even with a disability or in a wheelchair. Kiland gives tips on how to participate in a variety of activities, demonstrates how to drive in wheelchair-adapted vehicles and plays sports with Ranken Jordan patients.
Often seen as a mentor and encouraging presence at the hospital, Kiland has continued to take on more volunteer responsibilities over time. Today, the 21-year-old assists with fundraising and events, supports children in their therapy sessions, leads public speaking events and participates in projects to add special touches to the hospital in order to make it feel more like home.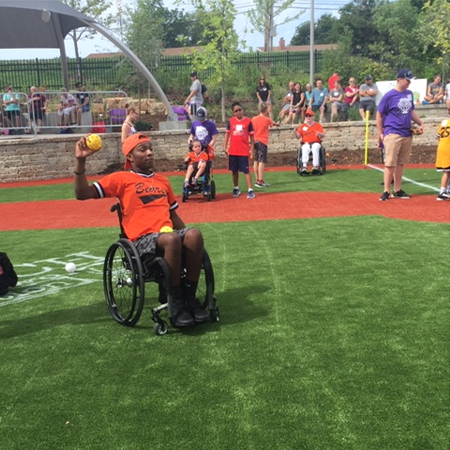 Some of Kiland's favorite memories at the hospital include teaching basic troubleshooting skills to a teen who uses a wheelchair, such as showing him how to get back up if he were to fall from his chair. Although the patient was hesitant, a few days later he told Kiland that he did in fact have to use this skill after falling. Seen as the hospital's "big brother," Kiland inspires patients to believe in themselves. In fact, he was the first person to make one child smile after a car crash took the lives of his family members.
"Some people don't understand how good they have it; things become second nature," said Kiland. "It's important for everyone to give back. Knowing that you're making an impact on someone's life is an amazing feeling, it's life changing.
Kiland's time at Ranken Jordan has not only impacted his past and present, but also his future. The hospital's patients and staff have made a mark that is rooted in Kiland's heart, and is the foundation on which he wants to build his career as a recreational therapist.
He believes that you can do anything you set your mind to, even if there's a risk of failure. "You're in control of your future, no one else is," Kiland said. "Focus on what you can do, not what you can't do, and it'll be life changing."
Do you want to make a difference in your community like Kiland? Find local volunteer opportunities.
Share this post