Illinois Teen Gives Back Through STEM
For the last year and a half Elk Grove Village, Illinois resident, Krisha Patel, has devoted much of her free time to promoting STEM for girls in her community. As a chapter leader and a National Programs Team Representative for ProjectCSGirls, an international nonprofit dedicated to closing the gender gap in computing and technology, the Illinois teen helps organize and facilitate STEM workshops in for middle school girls and encourages them to explore a variety of careers and industries.
The young teen helps with everything including curriculum building, recruiting volunteers, day of logistics, and finding host sites and mentors. Inspired by the strong sense of service instilled in her by her parents, Krisha gives back to the community and is today's Daily Point of Light Award Honoree. Points of Light spoke to her to learn more about her service work, her love for STEM and what drives her service work.
What inspires you to volunteer?
I am inspired to volunteer by numerous factors that range from my moral responsibilities to a sense of self-satisfaction. Throughout my childhood, my parents have instilled a strong sense of service within my upbringing, and they have taught me how grateful I should be for everything I have and how there are many people that would do nearly anything for such opportunities. Therefore, it is my moral responsibility to maximize the resources I have and to strive to support as many people as possible. I have also been able to learn many important life skills from my volunteering experiences and these continue to inspire me to volunteer. For instance, volunteering has psychological, social, and cognitive benefits. Volunteering increases overall life satisfaction and helps you feel good about yourself because you are helping others. It can also help to decreases stress and with time, it has genuinely become an activity that provides me with pleasure. There are also social implications to volunteering. Volunteering engages students with the community, creates special bonds with the population being served, and increases social awareness and responsibility, which has become a direct application of the lessons I learned from my parents during my childhood.
Hence, my inspiration is ultimately my satisfaction. When I help someone, they become happy and their smile and happiness give me pleasure and satisfaction and thus my strength is increased day by day to volunteer. Volunteering gives me an opportunity to spread my connectivity to people of different culture and thus, is something I am motivated to do on a consistent basis.
Describe your volunteer role.
My volunteer work consists of organizing and facilitating STEM workshops under the parent organization, ProjectCSGirls. As a chapter leader and a National Programs Team Representative for ProjectCSGirls, it is my responsibility to cultivate opportunities to expose middle school girls to the fields of STEM and encourage them to explore a variety of careers and industries, including those that have primarily been known to be male-dominated thus far. Through the STEM workshops, we begin by choosing a topic to introduce or teach and then by finding and contacting experts regarding the subject. We then collaborate with these mentors to develop curriculum to teach at the workshops and thus, engage a variety of individuals in the process. I facilitate this communication and also assist with the curriculum development. From there, I recruit volunteers to assist with the actual activities themselves on the day of the workshop and with the support of a strong team, I then open up registration to girls in my community. We also contact different companies to ask for sponsorships for food and facilities, as well as different professionals in the STEM fields to join our career panels and offer valuable advice to the girls attending the events. After hosting such an event, I then go ahead and report back to ProjectCSGirls offering an idea of what went well and what didn't to ensure that our next workshop runs even smoother.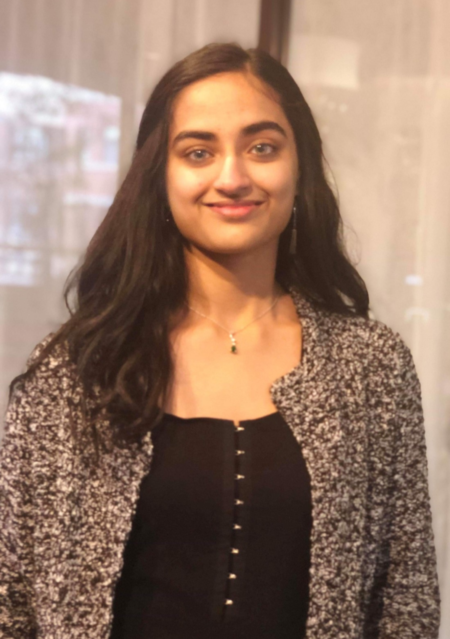 What has been the most rewarding part of your work?
Throughout my experiences and my work, I believe that the most rewarding aspect has been being able to see tangible outcomes as a result of my work. By hosting these workshops for the last 1 ½ years, I have been fortunate enough to meet girls of my age who weren't interested in STEM at all but after being able to meet experts in STEM fields and truly learning about what a STEM career entails, they have decided to pursue a STEM field. Seeing such validates my efforts and by seeing a smile on their face with satisfaction of knowing what they want to do and how happy it makes them, it truly warms my heart. I do what I do because not only does it make me happy, but I know first handedly the struggle of determining what you would like to pursue in life and what a difficult decision it can be when you aren't even aware of certain options. However, by offering this interactive opportunity to young girls, I have been able to help them out and it provides me with a sense of self-satisfaction that is incomparable.
What have you learned through your experiences as a volunteer?
As a volunteer, I have learned so much about the way a community functions and how much there is to learn from every single member of a community. I have learned how to not only initiate mutually beneficially friendships, but how to also foster those relationships. I went into the volunteering experience thinking I would be sharing my skills and teaching young girls about STEM concepts, but little did I know, I would be learning just as much from them.
I also learned a really important life lesson and that is that no matter how tough you think your life is there's always someone who has to face challenges that are even tougher than yours. After interacting with a diverse group of young girls with a variety of backgrounds, I realized how blessed I was and how grateful I should be for everything I had. As a volunteer, I began to appreciate the little opportunities I had received in life and this truly changed my mindset.
I also acquired many very important interpersonal and communication skills with making connections, putting my book-based skills to the test and applying everything I had learned thus far.
I also learned the importance of taking initiatives and truly striving to make a difference about something that you are passionate about. In fact, before I started my workshop program, many people had told me that it was highly unrealistic to organize at such a young age, but with support from my family, teachers, and mentors, I was able to and continue to achieve my goals.
Lastly, my biggest takeaway from my experiences as a volunteer includes the opportunity to experience sonder. Sonder. The profound feeling of realizing that everyone, including strangers passed in the street has a life as complex as one's own, which they are constantly living despite one's personal lack of awareness of it. Through my experiences as a volunteer, I began to realize that there is so much more to a person than what we can see at first glance and that if we truly take the time to understand the levels of depth to a person, we would realize how complex every single individual is and how much we can do to support each other. I am very glad I got the opportunity to connect with individuals on such a level and truly hope that everyone has the chance to experience such a sensation.
Are there any future partnerships, programs, or events that you are excited about?
In the near future, we will be hosting another STEM workshop focused around computer science at the Computer Science Labs of the University of Chicago in July and that will be a very important step in our journey, as we will be targeting a broader audience and will have access to resources that we haven't in the past. It will also be our largest workshop to day, with nearly 40 girls participating. As time passes and logistics become easier to handle and manage, we hope to host events in increasing frequency to reach as many girls as possible and look into collaboration with similar organizations in the Chicago or Midwest area. In addition, we hope to increase our collaboration and partnership with ProjectCSGirls going forward to maximize our reach and ultimately achieve the goals of both organizations!
Why do you think it's important for others to give back?
Volunteering in all shapes and forms strengthens our communities, brings people together and provides us with valuable experience and insight.
The benefits of giving to others are numerous and most are fairly obvious. Sharing with others, when you have abundance, is a centuries old act of human kindness that has given far-reaching benefits to generations. These benefits can be humanitarian, financial or cultural; they can give improved health, as well as freedom from disease and hunger. I believe that the most important reason to give back is based on a sense of self-satisfaction and the pleasure you get from your efforts.
All of us here in America, in particular, have numerous privileges that many people in the world can only dream of. We have access to excellent education. Policemen, firefighters, and other public servants who work for the safety and betterment of our community protect us. There are so many luxuries we simply take for granted; the idea of not having running water or reliable electricity is a completely foreign concept to us. Few of us have ever had to walk farther than the kitchen sink when we are thirsty, let alone worry about whether the water we are drinking could kill us. Many people in the world do not have these same luxuries. For this reason, I believe that each of us has the responsibility of giving back to the community.
One way we need to show our gratitude for what we have is by giving back. None of us would be where we are today were it not for the great circumstances in which we have grown up. Therefore, it is not just a good thing to give back, it is our duty to try and make the world a better place for those less fortunate than ourselves. This is why it is of utmost importance that we give back to our communities.
What do you want people to learn from your story?
From my story, I would like people to learn that although doing volunteer work may seem like hard work and not very enjoyable, there are many benefits to volunteering. I would like individuals to understand that while it undoubtedly benefits the community and those that you are giving back to, it is also extremely beneficial for yourself and the satisfaction you get from your activities. According to the Corporation for National & Community Service, giving back can: solve personal problems, strengthen communities, improve lives, connect to others, and transform your life and most of all help the people around you. People who volunteer also experience lower mortality rates, greater ability to function, and have less depression when aging than those who don't volunteer. I want individuals to give back to the community not because they have to or because it is a graduation requirement. I want individuals to truly experience the sensation of giving back once because once you've felt those emotions, it's nearly impossible to go back, but it's something you can only experience for yourself to truly understand. Hence, I want people to use my story as an inspiration to truly try new things and seek and experience pleasure from sources that you wouldn't normally expect to.
Do you want to make a difference in your community like Krisha? Click here to find local volunteer opportunities.
Share this post