Retired Volunteer Delivers Safety and Comfort to Families and Individuals
Meet Daily Point of Light Award honoree Mike Brockman. Read his story and nominate an outstanding volunteer or family as a Daily Point of Light.
Mike Brockman says as a UPS driver, he valued the connections he made with the people he met along his various routes. After retiring, Mike decided to continue connecting with his neighbors, serving help and hope to those in need.
In 2017, Mike began volunteering for HappyBottoms, a diaper bank based in Kansas City, Kansas. According to HappyBottoms, there are more than 20,000 underserved children in the Kansas City area that aren't receiving the diapers they need. Mike says as a delivery driver for the organization, he drops off thousands of donated diapers at a time to partner agencies who distribute diapers to families in need. Extending his service beyond children in the community, Mike also serves as a volunteer for HopeBUILDERS, an organization that assists homeowners with critical repairs or wheelchair ramps. Serving neighbors of all ages to ensure they are able to live safe and comfortable lives with dignity, Mike is connecting with many in his community through his volunteerism.
What inspires you to volunteer?
I am always wanting to give back. I've been blessed in my life and I just wanted to give back and help those in need.
Describe your role with HappyBottoms and HopeBUILDERS.
At HappyBottoms, I first started by wrapping diapers for families in need, but when the organization decided to begin diaper deliveries, they asked if I'd be their delivery driver. I drive the deliveries, help to unload the truck at HappyBottom partner agencies, and will pick up empty bags to bring back to HappyBottoms to be refilled with more donations.
At HopeBUILDERS, we are helping people who need critical repairs done to their home such as bathroom remodels for disabled people and wheelchair ramps. I have learned invaluable building skills while helping others in need.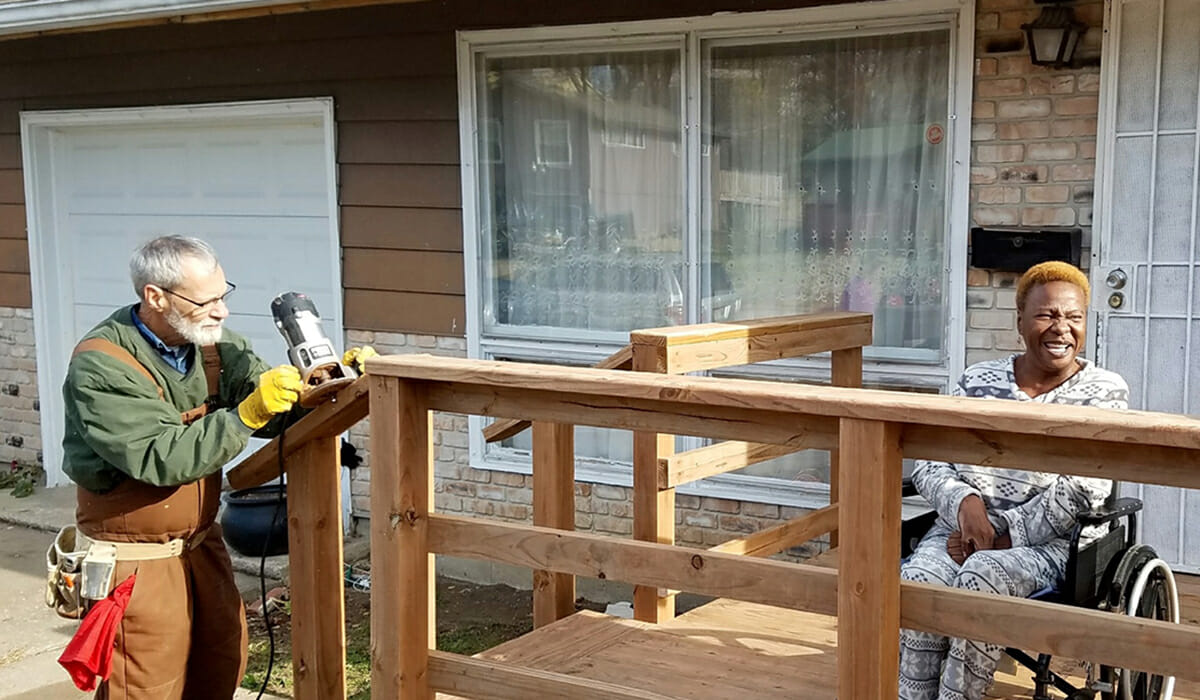 Share one personal story with me from your volunteerism.
I take the time to visit with all the people I see on a regular basis through my deliveries with HappyBottoms. I meet families who are so thankful and grateful for the service. Some of them wait for me to get there because they've run out of diapers and they're so glad to see me show up.
What's one way you hope to inspire others in your service?
If you want to give back in some way, volunteer. Anything you can do to help is a good thing, and there's such a need. I see a need for volunteers more now than ever before. Offer your time and someone will use you for whatever they can use you for.
What's been the most rewarding part of your service?
Seeing how grateful people are. I've seen some people actually cry when we build them wheelchair ramps. People are overwhelmed by our generosity when we help. It's a great feeling.
Describe what volunteerism means to you in one word.
Love. Volunteering is not a job, it's a pleasure.
What have you learned through your experiences as a volunteer?
I've learned to be more open with folks and exhibit more care. We can all get a hard edge to us sometimes, and this kind of work brings out the gentleness in you. Also, it's a way to develop more skills. When you volunteer you're learning from experts and so you are learning those skills as well.
How can readers help?
Please visit the HopeBUILDERS and HappyBottoms websites to learn more about how you can help.
Do you want to make a difference in your community like Mike Brockman? Find local volunteer opportunities.
Share this post