Retiree Offers Love, Support and Encouragement to Retirement Community Residents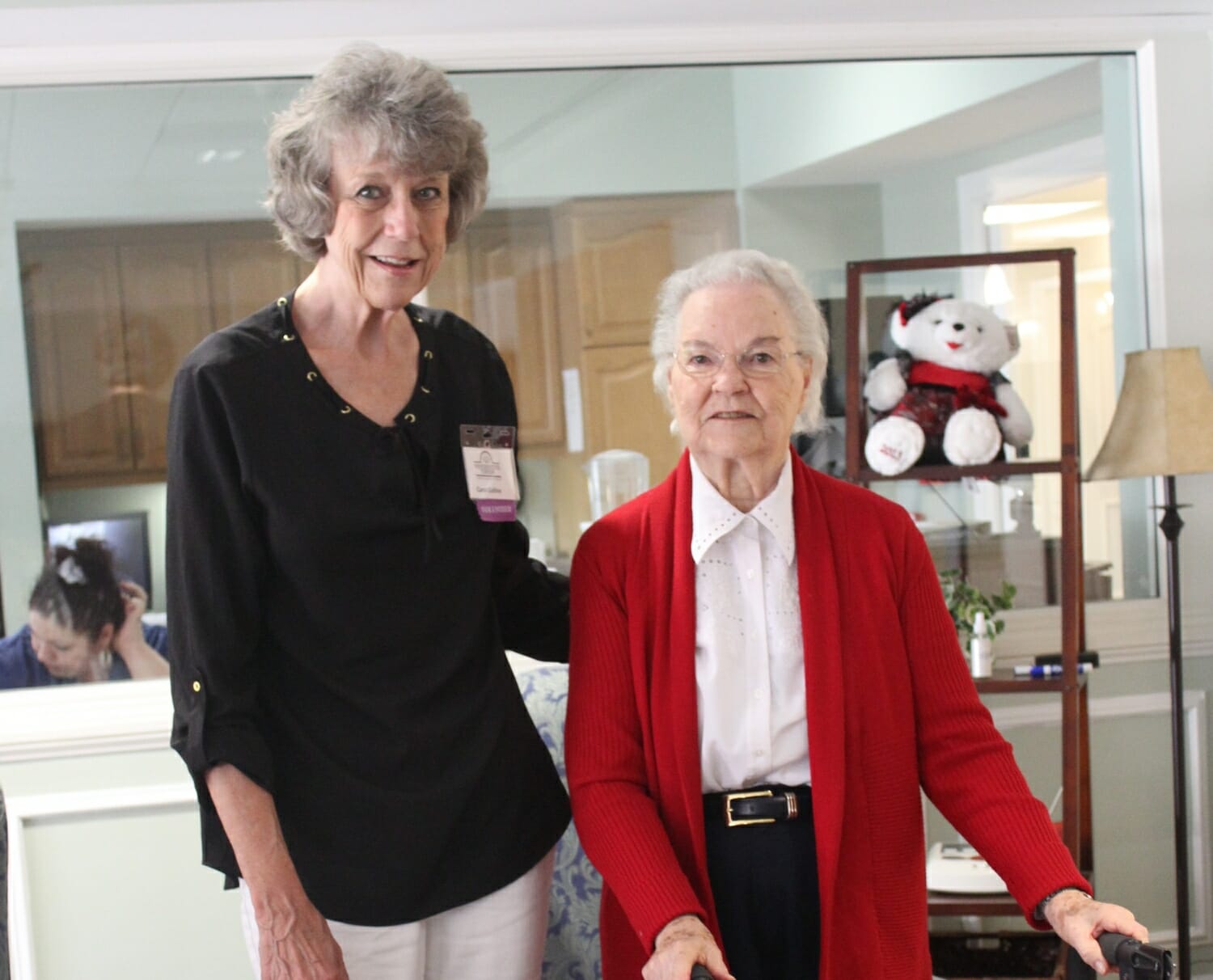 73-year-old Carol Collins says that by working at a nursing home towards the end of her career, she discovered how much she enjoyed engaging with the residents.
Now retired, the Rock Hill, South Carolina resident has committed her time to Westminster Towers, a local retirement community accredited by the national Continuing Care Accreditation Commission. Volunteering over 275 hours at Westminster Towers, Carol spends her time visiting with the residents, reading in small groups and listening to their life stories.
Carol is making a difference in her community by sharing her time with senior citizens, and is today's Daily Point of Light award honoree. Points of Light spoke to Carol to learn more about her work with Westminster Towers.
What inspires you to volunteer?
I worked in a nursing home for the last decade of my career and it really changed my idea of what they were like. Some people did not get visitors and when you talked to them, they were really interested in what you were saying or doing. I started volunteering once I retired and I felt as though there was a real need to talk, visit and engage the residents in activities to make them feel like they belong.
You formed something called the "Chicken Soup Gang" at Westminster, explain.
Yes, our Chicken Soup Gang meets several times a week. We read books from the "Chicken Soup" series. Recently, our favorite book to read has been "Chicken Soup for the Gardener's Soul." When I mention a plant, the residents will say, "Oh, I used to grow that." Then they'll tell the group how to grow that specific plant. If a book references a certain city, the residents will tell you that they've been there, and then you'll hear all about the cities they visited. It's a way for the residents to share pieces of their lives and their cherished memories.
Describe your volunteer role with Westminster Towers.
I volunteer several times a week at Westminster. I lead the Chicken Soup Gang and I help with transporting the residents around the retirement campus. On Friday's, we stroll with the residents. Other times, I'll just visit with the residents; I'll knock on doors and ask who would like to sit outside. We can visit the pool, the beauty shop, the cafeteria and get ice cream. We also go on trips, we recently went to the Biltmore Estate and we go to outlet malls. The residents love shopping for clothing at a reasonable price that still looks nice.
What do you want to be remembered for?
For caring and sharing.
What's been the most rewarding part of your work?
I didn't think the residents would be so appreciative of my service. They make me feel good for volunteering. I'm not really a pretty lady, and they all say "Wow, you're pretty." That flattery is nice, but what they're really talking about is my personality and what they see within because of the time I am spending with them. I always leave Westminster feeling elated.
What have you learned through your experiences as a volunteer?
I'm not scared to get old (laughs). I didn't know that I was as nice or appreciated as such until I worked with the residents at Westminster. You're pretty much average when you're just a worker bee in a job. Maybe you do things that are nice within your life, but the residents make you feel really special about yourself and the gifts you have to offer. The staff is also incredibly appreciative for your time as well, they thank me each time I walk through the doors.
Why do you think it's important for others to give back?
It's important to give back and not get overwhelmed, most people don't have 20 or 30 free hours to dedicate to volunteering each week. Even if you can spare one hour each week to go see someone, you'll be personally greatly rewarded. We're never too busy to fit in service, and you'll leave whenever you've volunteered feeling so much better about yourself. Truly evaluate how you spend time in your life, a lot of things we do are just wasted time. With respect to volunteering in nursing homes, this one hour of service makes such a difference for people who don't have visitors.
What do you want people to learn from your story?
I want people to try volunteering and if it's not for them, move on to a different area of service. At least try, you'll feel so much better about yourself.
Do you want to make a difference in your community like Carol Collins? Visit All For Good for local volunteer opportunities.
Post written by Marlena Militana.
Share this post