Former Nun, Retired Physician Brings Free Medical Care to All Through Mobile Clinic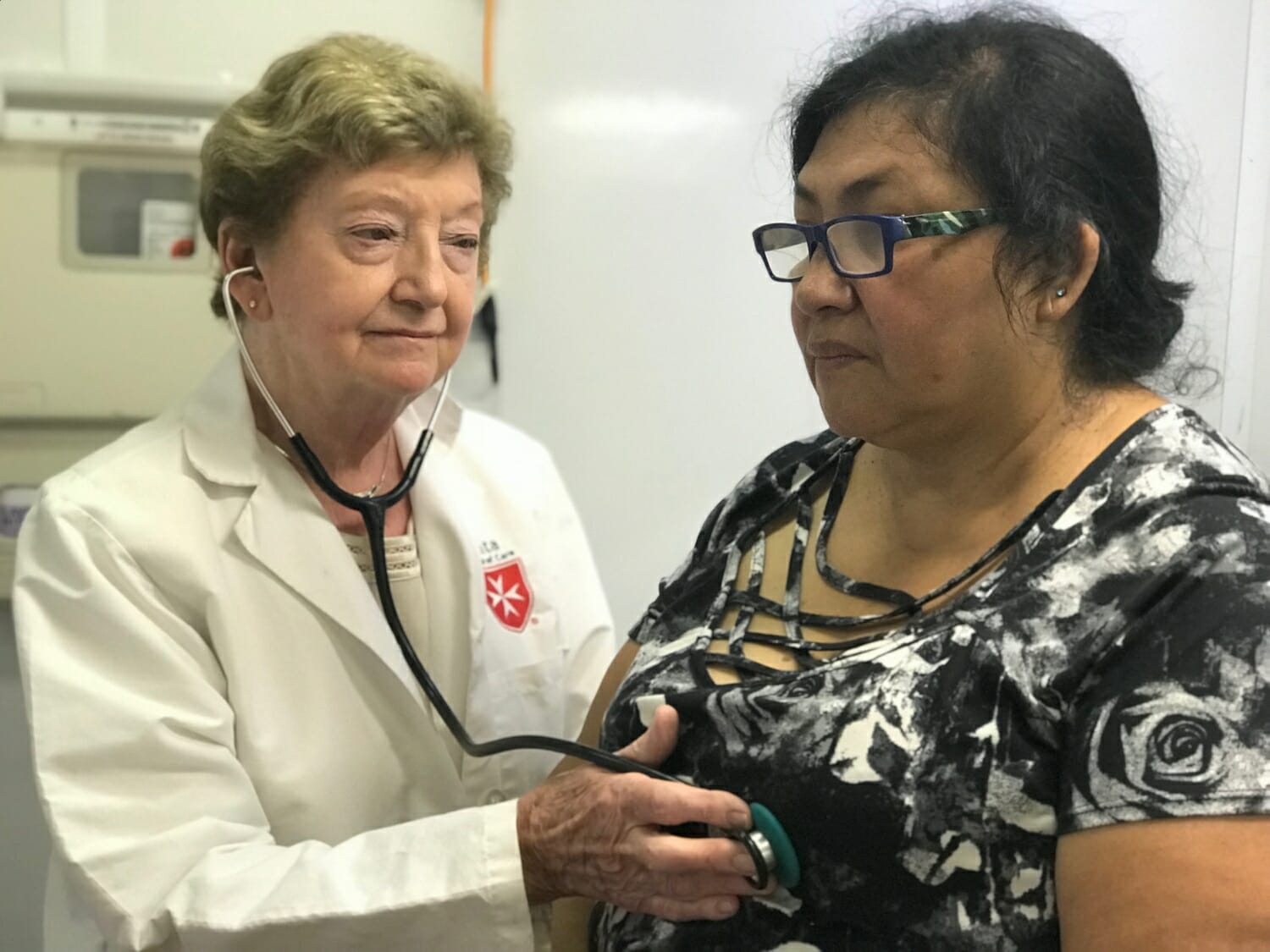 Dr. Pauline Nagle Olsen is a retired obstetrician/gynecologist, and started her life as a religious nun. Now, at 81-year-old, when asked what continues to feed her soul, she says the Malta House of Care Mobile Medical Clinic.
Witnessing the tremendous need for free, ongoing and consistent medical care in her own backyard, the Farmington, Connecticut resident started the mobile clinic in 2004. With several other community leaders, she recognized the mobile clinic as a way to continue providing medical care, but in a different format than her illustrious career had offered. Operating from a custom-built, fully equipped van that travels around low-income neighborhoods, the mobile clinic brings free medical care to the doorsteps of uninsured adults through volunteer medical and additional staff.
Providing over 48,000 patient visits since its inception, Pauline is making a difference in her community by inspiring others to support those in need in the pursuit of wellness, and is today's Daily Point of Light award honoree. Points of Light spoke to Pauline to learn more about her work with Malta House of Care Mobile Medical Clinic.
What inspires you to volunteer?
Giving back to the community is part of the fabric of life. I was fortunate to have a medical practice in Hartford, Connecticut, so when I retired, I felt that we should give something back to the community in another way.
Describe your volunteer role with Malta House of Care Mobile Medical Clinic.
I volunteer at the clinic, working as a medical provider. We are a primary care clinic, and we are open 4 days a week. I see the patients who come to the clinic, and provide them with the care they need, such as free exams, labs, x-rays and free medications.
Explain the name behind the mobile clinic.
In 2006, at least 12% of the population in the state of Connecticut was uninsured. As a part of the Order of Malta – the oldest lay Catholic organization in the church – a group of community leaders, including me, decided to do something about the major health issue we faced. We wanted to provide more consistent care to the uninsured, and try to curb the eventual ER visits that result when people aren't receiving ongoing care. Apart from the Order of Malta are the four Orders of St. John, recognized as orders of knighthood. Our mission parallels their mission to provide assistance to the sick and the poor.
What's your personal motto?
Just take one day at a time. I am grateful that my parents taught me and my siblings the importance of giving.
What's been the most rewarding part of your work?
At the end of the day, you always feel that you have been doing something special. Many uninsured adults have multiple chronic illnesses. They work 2 or 3 part-time jobs, and they are scared. What is so wonderful about the clinic is that they feel they can trust us, and we go to them, making it easier for them to see us. At the end of the day these patients are so grateful for what we do. This is why I became a doctor, to take care of people.
How can people help Malta House of Care?
We have a newsletter that is published by our foundation, please check our website for more information: https://maltahouseofcare.org/.
What kind of legacy do you want to leave behind?
That I was interested in taking care of those in need, and helping people to make a better life for themselves.
What have you learned through your experiences as a volunteer?
As a physician, working in a practice, I was more regimented. This experience with the mobile clinic has been freeing. You have that freedom to deal with the whole person, to express yourself as a caregiver. By giving back to the community, we are able to welcome each one of these patients because they have a special need. They now look at us as their primary care physicians. They come back to us to have their blood pressure taken, to receive medication. Because of our availability, they're given that incentive to take care of their health.
Why do you think it's important for others to give back?
Quoting Churchill, "We make a living by what we get, but we make a life by what we give." The importance of giving back to the community is very real.
What do you want people to learn from your story?
There are a lot of free medical clinics throughout the country. If you are a medical provider, nurse, doctor, physician assistant, APRN, I'd like to encourage you to go volunteer. Now that I'm retired, I'm at an age where I have freedom and I love to give back to the community. Here in the U.S., people are very generous with their time – and I'd encourage them to give back as they are able to.
Do you want to make a difference in your community like Pauline Nagle Olsen? Visit All For Good for local volunteer opportunities.
Post written by Marlena Militana.
Share this post
---